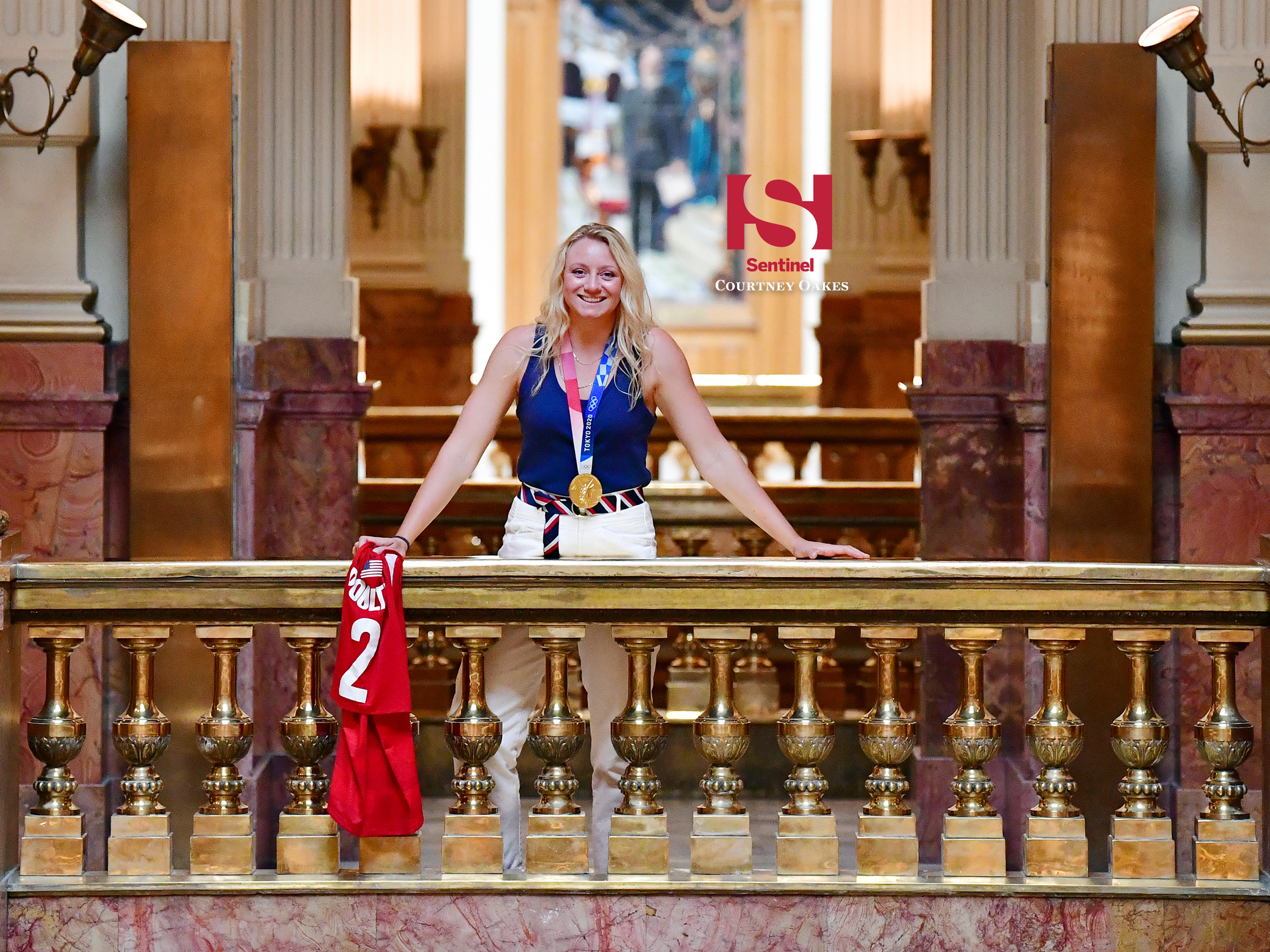 AURORA | The second half of 2021 in Aurora prep sports signified a return to normalcy in terms of competition, as the new athletic season began with traditional calendars and playoff structures in place after a season completely altered by the coronavirus pandemic.
2021 Preps Year in Review, Part I, here
Here's a look back at some of the important happenings in Aurora prep sports in the second half of 2021:
Courtney Oakes is Sentinel Colorado Sports Editor. Reach him at 303-750-7555 or [email protected] Twitter: @aurorasports. IG: Sentinel Prep Sports
FORMER EAGLECREST STAR JORDYN POULTER WINS OLYMPIC GOLD MEDAL IN TOKYO WITH U.S. WOMEN'S VOLLEYBALL TEAM
Jordyn Poulter turned Aurora gold over the summer when she returned home from the Tokyo Olympics bearing a gold medal she won along with the United States' indoor women's volleyball team.
The former Eaglecrest High School star played internationally for her country several previous times, but the 24-year-old earned her way onto the Olympic roster this summer. Poulter started for the Americans in the majority of matches and was at the controls when the Americans downed Brazil 25-21, 25-20, 25-14 Aug. 8 to bring home the country's first-ever goal medal in women's volleyball.
Poulter — who joined the likes of swimmers Missy Franklin and Clark Smith (both swimmers who graduated from Regis Jesuit) as gold medalists with Aurora prep ties —brought her shiny piece of hardware back to the area and spent a few weeks visiting schools and community events where she let people hold the gold medal and graciously took photos to any and all that wanted them.
"I definitely wouldn't be where I am without the help and support of this community. I've felt it my entire life, so I hope people can take a piece of this and cherish it. I've been happy to pass it (the gold medal) around and see people's faces light up. Most of them say 'this is heavier than I thought,' and it's awesome to be able to share that with them," said Poulter, who plays professionally in Italy.
Full gold medal story, here; Nine Lives profile on Poulter, here
REGIS JESUIT FIELD HOCKEY TEAM WINS TWO STATE TITLES IN SIX MONTHS
Half of the traditional fall sports got moved to Season C (which took place in the spring) due to the coronavirus pandemic, a group that included field hockey.
So that created an anomaly that allowed Regis Jesuit to win back-to-back state championships in just six months time. Coach Spencer Wagner's Raiders topped Cherry Creek 2-1 in overtime April 29 on a goal by Cate Lord at Stutler Bowl, which had the stands packed with fans as the first championship contested in front of a full crowd (full story, here).
Field hockey returned to the fall slate in the new season and so on Nov. 1 at All-City Stadium, Regis Jesuit hoisted the state championship trophy yet again when Katie Loftus' goal in the first half stood up in a 1-0 victory over Colorado Academy.
Ellie Johnson had the assists on the winning goals in each of the contests and MaryKate Berg earned both wins in the goal as Regis Jesuit claimed its second and third all-time state titles.
Full story, here
GRANDVIEW WINS LONG-AWAITED BOYS SOCCER STATE TITLE
The Grandview boys soccer team finally claimed a Class 5A state championship, which had eluded the program for so long despite its long tradition for top-notch play under longtime head coach Brian Wood.
The Wolves — who appeared in the semifinals just six months earlier in Season C — started the season 4-4 and were at a crossroads when Wood challenged them to run the table the rest of the season. That's exactly what senior-lead team did, going unbeaten in its last 12 games to win the first 5A state championship for an Aurora boys program since Smoky Hill in 2007, when the Buffaloes defeated the Wolves.
A goal by sophomore JT Sus gave Grandview a dramatic 1-0 win over Legacy in the semifinals, but the Wolves had a much easier time in the championship game Nov. 18 at Switchbacks Field in Colorado Springs against Fossil Ridge.
With goals by seniors Luke Williams and Charlie Lucero in short succession in the first half, Grandview had the lead for the majority of the game and sealed the title when senior Dylan Thompson scored again to answer the only goal by the SaberCats.
Grandview boys had won just two state championships all-time coming into the 2021 calendar year, but soccer became the second as it followed track & field in Season D.
Full story, here
GRANDVIEW GIRLS VOLLEYBALL TEAM TAKES HOME 5A RUNNER-UP TROPHY FOR SECOND TIME IN SIX MONTHS
The Grandview girls volleyball team earned two chances to play for the Class 5A state championship in the span of six months and both times ran into a team that played slightly better in crunch time.
The Wolves fell to Rampart in four sets during the championship match in Season C and it was the same number of sets that spelled defeat to Centennial League rival Cherry Creek on the same floor at the World Arena, as the opening set slipped out of Grandview's grasp and coach Rob Graham's team couldn't rally against the Bruins, who ratcheted up their defense over the final two sets.
Despite 17 kills from junior Haley Gluz and 13 from sophomores Emerson Deferme, Grandview couldn't add to its all-time total of five state championships.
Full story, here
SIGNIFICANT COACHING DEPARTURES
A large changing of the guard in Aurora prep coaching ranks took place, especially in girls volleyball, as Terry Miller (Cherokee Trail's original coach) and Eaglecrest stalwart Tanya Bond retired after Season C, with Harry Hendon and Morgan Gradishar taking their respectively places for the new season in the fall.
Tari Wood, architect of Grandview's girls soccer dynasty, retired and couldn't coach her team to the finish after the season was extended past June 1 (full story, here), while Regis Jesuit chose to move on from original girls basketball coach Carl Mattei just a few months after he led the program to its eight trip to the state finals (full story, here).
Other notables: The Regis Jesuit boys tennis team came away with one championship at the Class 5A state tournament as the No. 3 doubles team of junior Liam McDonnell and freshman KC Eckenhausen captured the title at the end of a run with plenty of drama (full story, here). No. 1 singles player Conor Kaczmarczyk played for a state championship for a fourth time in as many varsity seasons, but finished as runner-up (full story, here). …Two Aurora boys golfers placed in the top 10 as Grandview's Lukas Beisner tied for 6th at the 5A state tournament at Colorado Springs Country Club and Vista PEAK's Dawson Thulin finished in 8th place at the 4A state tournament at Denver's City Park G.C. ……In its first season under new head coach Tom Doherty, the Grandview football team advanced all the way to the Class 5A semifinals before falling to top-seeded Valor Christian. …Cherokee Trail junior Mckenna Mazeski finally turned in the performance she wanted in her third career trip to the Class 5A state cross country meet, as she finished seventh in the girls race. Aurora's other top-10 placer came in the 2A boys race in Nabil Hassan of Lotus School For Excellence, while the Cherokee Trail boys (led by Hunter Strand) posted its second-highest finish ever as it took third in the 5A team standings. …The Smoky Hill and Cherokee Trail softball teams represented Aurora at the Class 5A state tournament and both were eliminated in the first round, as the Centennial League champion Buffs fell to Mountain Vista and the Cougars dropped their game with Legend. …The Overland co-op gymnastics team finished sixth at the Class 5A state meet, while junior Mattea Dolan (Grandview) and sophomore Maya Richman (Overland) qualified for individual event finals. …Former Grandview girls basketball and girls volleyball standout Addison O'Grady returned to the school in August to receive the prestigious Freddie Steinmark Award, which is given annual to one male and one female prep athletes from across the state that "represents the complete package of athletic talent, academic success and leadership." O'Grady had a 4.52 GPA and did extensive volunteer work in addition to helping the Grandview girls volleyball team to the 5A state championship match and the girls basketball team to the semifinals (full story, here). …The Eaglecrest football team had a difficult fall season, but had a highlight over the summer as it won the annual Hog Wars strength and teamwork competition held by Rangeview High School for the first time (full story, here). …Grandview girls basketball star Lauren Betts also earned an international gold medal over the summer as she helped the U.S. U-19 women's basketball team win the U19 FIBA World Cup Championship tournament in Debrecen, Hungary. …Former Grandview ace pitcher Kevin Gausman, in the midst of an outstanding season with the San Francisco Giants, earned selection onto the National League All-Star Team that took part in the Major League Baseball All-Star Game that was played at Coors Field in Denver (full story, here). Gausman wasn't done making news, however, as he signed a $110-million free agent contract with the Toronto Blue Jays (full story, here). …Former Grandview girls basketball star Michaela Onyenwere received Rookie of the Year honors in the WNBA for her play with the New York Liberty (full story, here).