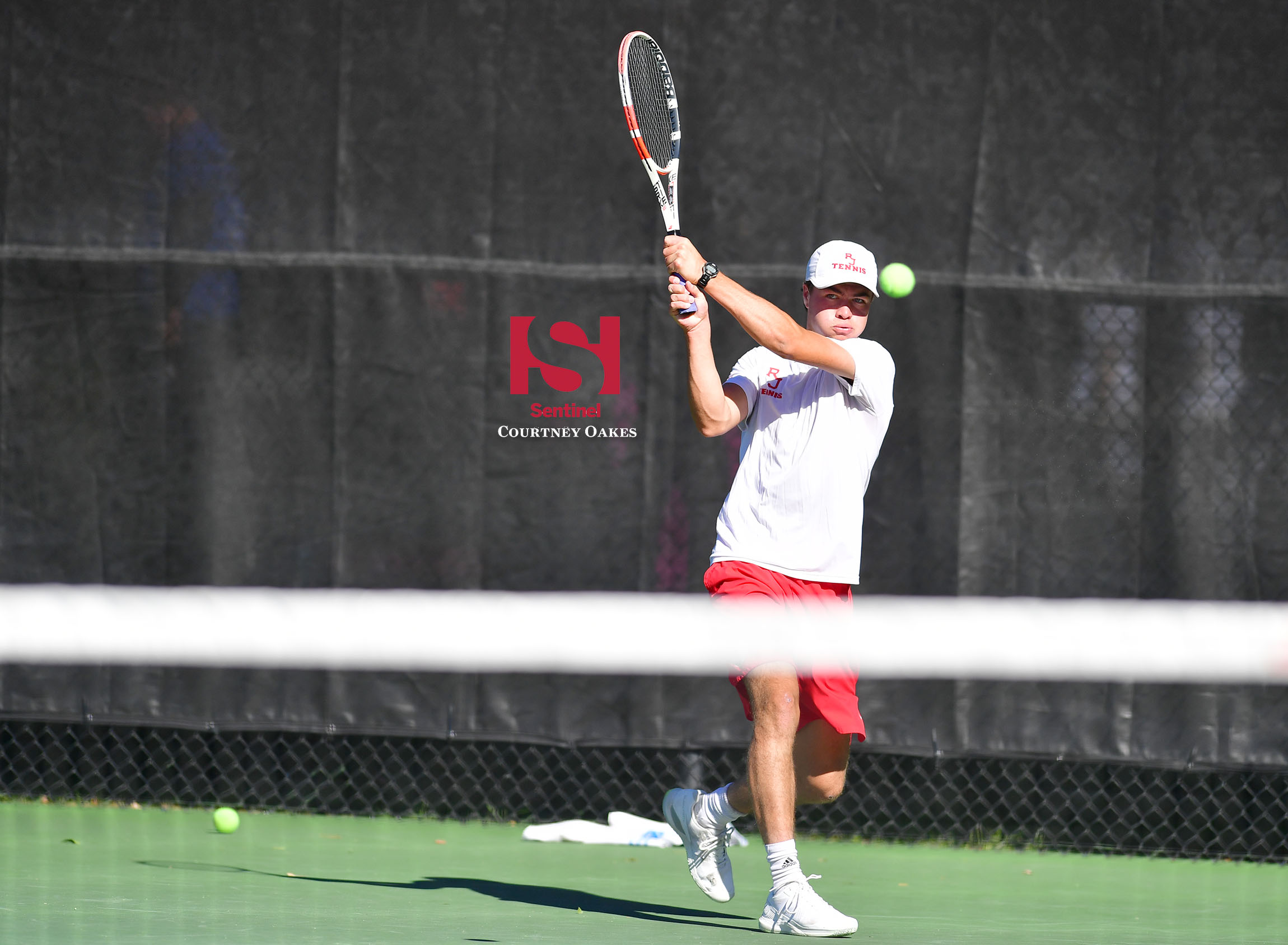 DENVER | Conor Kaczmarczyk lost only two matches in his senior season — and only four in four years of high-level varsity competition with the Regis Jesuit boys tennis team — but that last defeat really hurt.
Kaczmarczyk's fantastic final season came to an end Saturday as Cherry Creek's Aram Izmiran, who he had beaten twice during the regular season, bested him 6-3, 7-6 (5), in the No. 1 singles state championship of the Class 5A boys state tennis tournament in front of a large crowd at Gates Tennis Center.
All four of Kaczmarczyk's varsity seasons ended in state championship matches and he had been bidding to finish with state crowns at Nos. 1, 2 and 3 singles. He won No. 3 singles as a freshman in 2018 and claimed the No. 2 title last season, while he finished second at No. 1 doubles with graduated Grigor Karakelyan as a sophomore.
But many of Kaczmarczyk's shots that normally went for winners were just inches off and the consistency of Izmirian — who had to rally from a big deficit the previous day just to get to the final — proved to much as he suffered his first loss since Aug. 31, 2020, in a dual match against Izmirian's teammate, Matt Batmunkh (who he later defeated in the No. 2 singles state championship match).
Two of Kaczmarczyk's state tournament victories had been decisive — a 6-0, 6-1 win over Chatfield's Daniel Smith in the first round and a 6-2, 6-0 defeat of Monarch's Conner Smith in the semifinals — but he had to gut through a quarterfinal match against Fossil Ridge's John Shelby (winning 5-7, 6-4, 6-2) to get to the title match.
Izmirian returned shot after shot and came out top in the key points, especially in the clinching tiebreak after Kaczmarcyzk had roared back from a 5-2 deficit to tie it up at 5-5. Two wide shots from Kaczmarczyk after good rallies ended the match.
Kaczmarczyk's play, however, helped a largely inexperienced Regis Jesuit team finish fourth in the 5A team standings. Coach Laura Jones had a state champion in the No. 3 doubles team of freshman KC Eckenhausen and junior Liam McDermott along with a fourth-place finisher in the No. 1 doubles team of senior James Lynch and junior Aidan Sobolevsky.
The only other loss of the season for Kaczmarczyk came to another state champion in 4A winner Jacob Gold of Kent Denver, who defeated him at the Cherry Creek Invitational.
Courtney Oakes is Sentinel Colorado Sports Editor. Reach him at [email protected] Twitter: @aurorasports. IG: Sentinel Prep Sports
CONOR KACZMARCZYK'S 2021 CLASS 5A NO. 1 SINGLES RESULTS
Championship: Aram Izmiran (Cherry Creek) def. CONOR KACZMARCZYK (REGIS JESUIT), 6-3, 7-6 (5)
Semifinals: CONOR KACZMARCZYK (REGIS JESUIT) def. Conner Smith (Monarch), 6-2, 6-0
Quarterfinals: CONOR KACZMARCZYK (REGIS JESUIT) def. John Shelby (Fossil Ridge) 5-7, 6-4, 6-2
First round: CONOR KACZMARCZYK (REGIS JESUIT) def. Daniel Smith (Chatfield), 6-0, 6-1