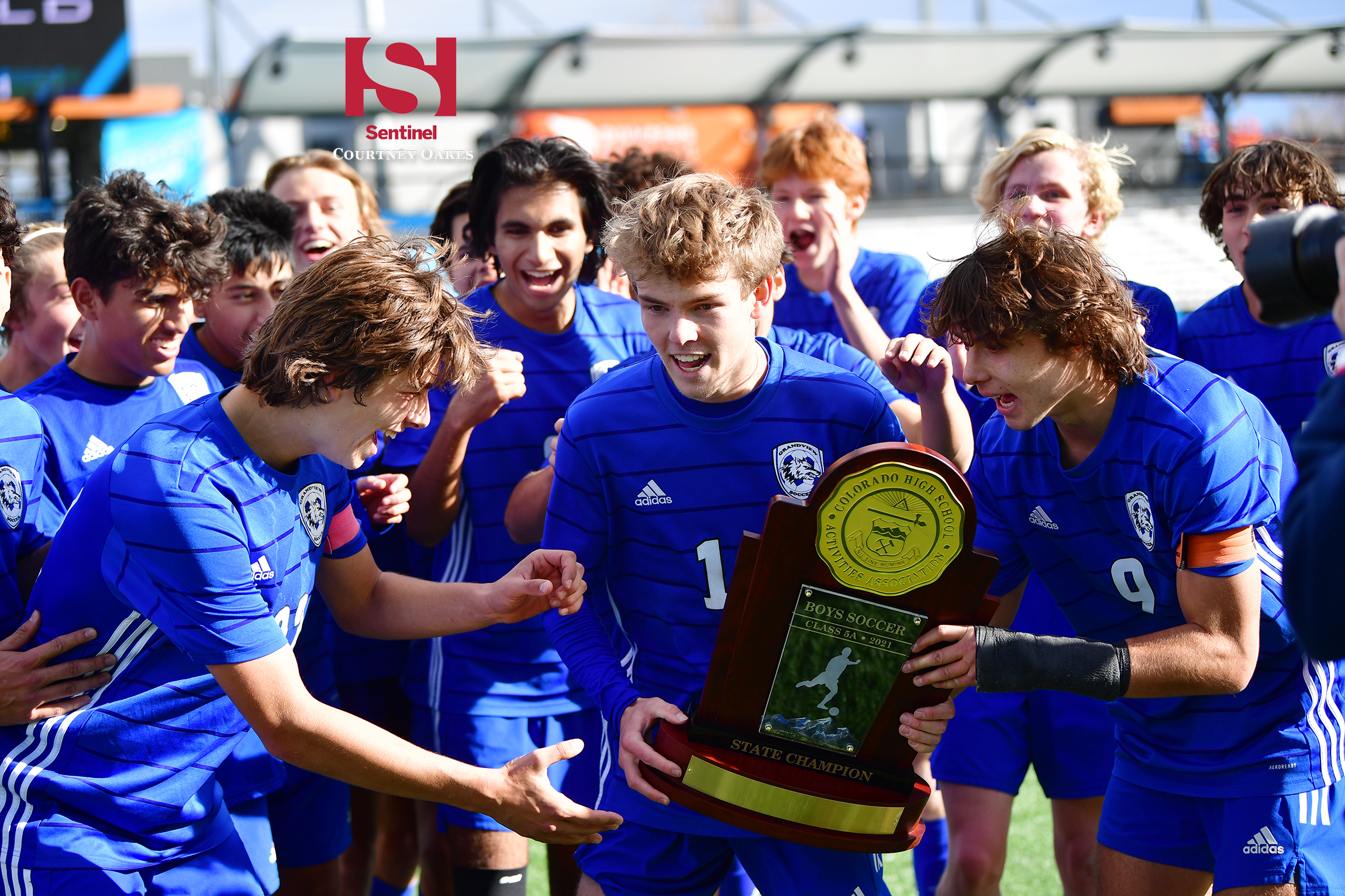 COLORADO SPRINGS | Every time the Grandview boys soccer team got knocked over the past two months, it got right back up and kept going.
Like a boxer that refused to lose, the Wolves lifted themselves up from a disappointing 4-4 start to the season and went on a 12-game unbeaten streak — that was not without its challenges — and finally hoisted the Class 5A state championship trophy Nov. 13.
A very successful, but title-less Grandview program used every scrap of resiliency it had to make it all the way to Weidner Field, then enjoyed a relatively drama-free 3-1 victory over Fossil Ridge, another upstart looking for its first state title.
"Fantastic, that's all you can say," said veteran Grandview coach Brian Wood, who had seen three other championship chances come up short for the program before finally ending up on the winning end.
"The resilience of these guys, they just don't give up," he added. "They keep battling no matter what happens. It's been that way since the beginning."
A Grandview team with largely the same roster lost to Cherry Creek in last season's semifinals and believed coming into the season that a state championship was possible.
But a discouraging 4-4 start allowed doubts to creep in and the Wolves faced the prospect of difficult Centennial League play that could have prevented them qualifying for the postseason at all if it went wrong.
Wood told his team that things had to change and challenged them to win the rest of their games, which they ended up doing, capturing the Centennial League championship along the way and working through the playoffs as the 11th seed with wins over Regis Jesuit (2-1 in overtime), Silver Creek (1-0), Mountain Vista (2-0) and Legacy (1-0).
"Before league play, we were 4-4 and things weren't going well," senior Charlie Lucero said. "We had to humble ourselves and really look inwards and treat every game from then on like it was the playoffs.
"We really had to focus and prepare and we came to work every single day. When you come to practice to work and come into every game mentally prepared, good things happen."
The Wolves needed a goal with less than two minutes left in regulation in the semifinals against Legacy — which was scored by clutch sophomore JT Sus — but the championship game turned out to be relatively mundane, at least from Grandview's perspective.
A team that at times struggled to score one goal on offense found itself up 2-0 in the first half on scores by seniors Lucero and Luke Williams, who put the Wolves on the board first with a rebound goal in the 20th minute.
Senior Ben Beckman put a free kick into the box, where it was mishandled by Fossil Ridge keeper Alexander Seguin, leaving a loose ball that Grandview sophomore Xabier Citte got a foot on. The ball was deflected to Williams, who buried it in an open net to put the Wolves in front.
With just under five minutes left, Lucero doubled the lead when he ran onto a ball deflected by a diving Seguin and spun a shot off the bar post and in.
"It was a nice change of pace; we've been a second-half team the entire season, so it was good to put two goals away in the first half and get a lead," Williams said.
"We came out and had intensity from the first second, so that was a nice change of pace for sure."
Grandview also got energy from a large crowd that packed the stands at the field that is home to the Switchbacks FC club, with many of the faithful also making the trek to Colorado Springs to attend the 5A girls volleyball state tournament.
Fossil Ridge — the No. 17 seed which had defeated three straight opponents in overtime, including top-seeded Boulder — cut the deficit in half with a goal by Will Boyle in the 70th minute with the only one of the six shots on goal to get past sophomore keeper Nikhil Patel.
The Wolves responded just two minutes later, however, when Williams touched a pass to senior Dylan Thompson, who drilled it into the net from long range.
It warmed Wood's heart to see it.
"I can't tell you how many times I see Dylan out on the field practicing that same shot and he hits it in the state championship game to seal it," Wood said. "These seniors take ownership of what they are doing and it sure makes it a lot easier to coach."
As much as Wood appreciated the players' efforts, they also really wanted to give him a state championship after all of the years of dedication he had put into the program.
The seniors also get to leave a legacy of resiliency that they hope carries on.
"Hopefully we leave a winning mentality," Beckman said. "Learning how to go through adversity and then just build and peak at the right time."
Courtney Oakes is Sentinel Colorado Sports Editor. Reach him at [email protected] Twitter: @aurorasports. IG: Sentinel Prep Sports
2021 CLASS 5A BOYS SOCCER STATE CHAMPIONSHIP GAME
(11) GRANDVIEW 3, (17) FOSSIL RIDGE 1
Score by halves:
Fossil Ridge  0  1 — 1
Grandview    2  1 — 3
SCORING
First half
Grandview — Luke Williams, 20th minute
Grandview — Charlie Lucero, 35th minute
Second half
Fossil Ridge — Will Boyle (Quinn Ybarra), 70th minute
Grandview — Dylan Thompson (Williams), 72nd minute