AURORA | The Aurora Police Department announced an investigation into the sudden violence on Interstate 225 during a Saturday protest march for Elijah McClain, including a driver who sped toward the crowd blocking lanes and a protester who apparently shot and wounded two people in the seconds that followed.
On Sunday evening, Aurora police described their new investigation and asked for evidence amidst public calls to identify the speeding driver, whom eyewitnesses said could have killed or seriously injured protesters blocking I-225. 
The protest march Saturday began at the Aurora Municipal Center. Organized by the Party of Socialism and Liberation's Denver branch, Aurora Cop Watch, Frontline Party for Revolutionary Action and supported by a "Wall of Moms," the protest began near 5 p.m. near city hall. 
Hundreds of people gathered on the lawn to hear speeches. Activists demanded murder charges against Aurora police officers and first responders who took part in stopping and subduing Elijah McClain in August 2019 after a passerby called 911 and described him as "sketchy." Officers placed McClain, who was unarmed and never suspected of a crime, into a now-banned control hold that caused him to briefly faint. He went into cardiac arrest shortly thereafter and died at a hospital six days later.
Protesters then marched peacefully west on East Alameda Avenue and onto Interstate 225. Police had blocked off a portion of the interstate, and no cars traveled on the northbound lanes.
The Party for Socialism and Liberation has not responded to repeated requests for comment on why the march entered I-225.
Scores of drivers effectively became stranded on the southbound side of the interstate as hundreds of marchers threaded between vehicles.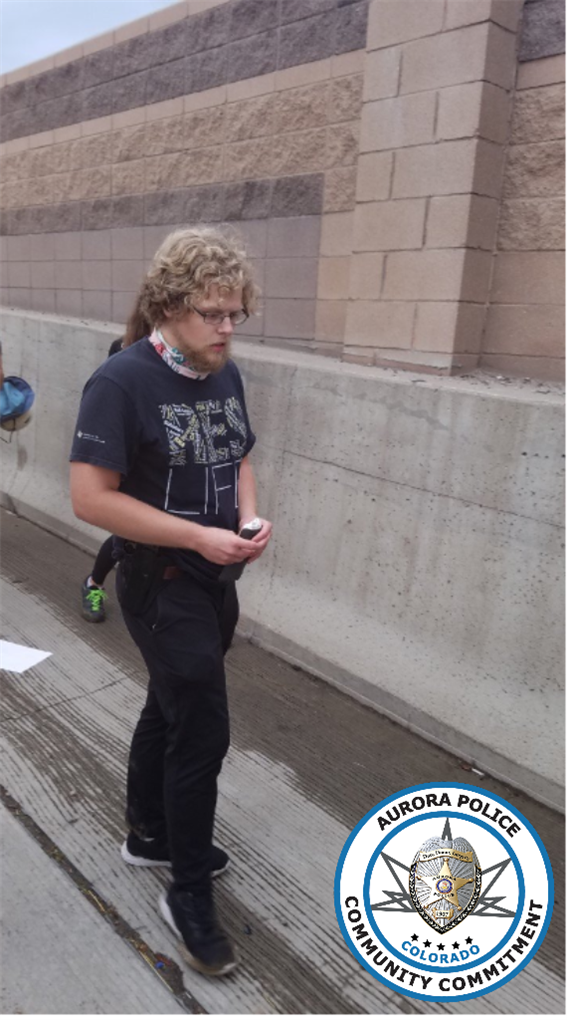 Activists handed flowers to Black drivers stranded on the interstate. Many drivers honked their horns and raised fists in support.
But tempers were running high between protesters and some motorists who had found themselves suddenly stuck on I-225 in the throng swallowing southbound lanes.
One woman told protesters a pregnant woman was in her car; another man said he was exhausted and no friend of crooked police officers but was exhausted after a long shift at work. A man aggressively barked at protesters to keep away from his vehicle while organizers with loudspeakers railed against imperialism and called for a rebellion against the American state.
Near 7 p.m., according to eyewitnesses, a driver in a blue Jeep accelerated toward the crowd standing on the empty, northbound side of the Interstate. Sebastian Sassi maneuvered his white truck in front of the Jeep, slowing it down and possibly preventing deaths, according to eyewitnesses. Protesters also told the Sentinel a person in the crowd fired a handgun toward the Jeep driver, injuring at least one fellow protester.
READ: 'Hero' driver sacrificed truck to save lives during Elijah McClain protest on I-225 in Aurora
Police said Sunday one adult male was shot in the leg and another was shot in the head, but only experienced a grazing wound. Both victims made their way to area hospitals and their injuries are not life threatening, according to police. 
"At this time it is unknown if multiple people fired their weapons, or if it was just one individual," police officers said on an official blog. 
On Twitter, police said Monday they had identified the apparent protester who fired a weapon toward the Jeep.
APD also said its officers quickly found the Jeep Saturday, questioned the driver and impounded the vehicle as evidence. APD identified the driver as a male. In early interviews, the driver said he had found himself surrounded by protesters on I-225 "who were yelling and striking" his car. 
"He claims that the reason that he drove towards the protesters is because he was scared and trying to get away," police said in a statement. 
That account differs from eyewitness testimony collected by the Sentinel as well as video evidence observed by reporters.
The Party for Socialism and Liberation condemned APD on Facebook for failing to immediately arrest the driver of the Jeep.
To conduct its investigation, APD implored protesters to submit evidence and testimonies concerning both the Jeep and the subsequent shooting.
PERRY: City Hall faux protester farce turns Aurora into Portlandia, not Portland
"We are seeking the public's assistance. We need any pictures, videos, or eyewitness accounts that show the events leading up to the Jeep driving into the crowd. Those can be submitted to Denver Metro Crime Stoppers. We are also seeking pictures, videos, and eyewitnesses who observed the shooting," APD wrote on its blog. 
Members of the public can anonymously submit tips to Denver Metro Crime Stoppers and be eligible for a reward of up to $2,000.
On Sunday, Mayor Mike Coffman said he had asked Interim Police Chief Vanessa Wilson for a briefing about the protest. He was largely concerned about the events following the official March, when a smaller group of protesters took to vandalizing the Aurora Municipal Court building.
In a Facebook post Sunday he was critical of Aurora police standing back from protesters while they vandalized the city hall complex.
"I understand that our police department chose to show restraint last night by not using nonlethal munitions but now these individuals smell weakness" Coffman said in the statement. "My concern is that they will be back again and again until they achieve their goal."
The next day, APD officials told the Sentinel the mayor had made no such request to the department.
The official protest march ended as night fell on the Aurora Municipal Campus. The vast majority of protesters left the campus. About 150 people remained, clad in gas masks, makeshift armor and holding umbrellas. Some people held shields.
At that point, protesters pushed down a newly erected spiked-steel fence created to cordon the public from police headquarters. They ripped off plywood protecting windows from vandals and began smashing glass at about 8 p.m., taunting police with chants.
Police put out a small fire inside the building that houses the Aurora Municipal Court after someone shot a fire cracker into the building. More than a dozen windows on the building in the Aurora municipal complex were smashed during a chaotic scene that unfolded as night fell.
The scene is now bedlam. Windows are being smashed. Fireworks going off in the direction of police. Breaking glass can be heard all around. This is not June 27. pic.twitter.com/l3okY8YTzf

— Quincy Snowdon (@QuincySnowdon) July 26, 2020

The crowd used plywood torn from buildings as shields and moved into East Alameda Parkway. There, for a short time, protesters forced traffic to turn around and drive over a raised median, for about 30 minutes.
Police reported no arrests during the evening, and there were no physical confrontations between officers and protestors. Still, police issued multiple dispersal orders from a loudspeaker and threatened to use chemical weapons against anyone who stayed in the area. No such agents were used.
That event marked a change from how officers interacted with protestors at a violin vigil held to honor McClain on June 27. At that event, officers deployed pepper spray and foam rounds as musicians punctuated the area with music. Police actions at that event has since prompted a class action lawsuit.
Past Sentinel Colorado Coverage of Elijah McClain:
• Class action lawsuit alleges excessive force by Aurora cops at Elijah McClain vigil
• Aurora City Council unanimously approves scope of Elijah McClain investigation
• Aurora council panel suggests DC civil rights attorney to lead new Elijah McClain query
• Thousands gather across the country to remember Elijah McClain
• 3 Aurora officers fired for involvement in Elijah McClain photo lampoon appeal terminations
• Aurora probe into Elijah McClain death will focus on policy; AG to consider possible…
• EDITORIAL: Don't vandalize Aurora's moment to seize police reform and justice for Elijah McClain
• Elijah McClain protesters entrench at Aurora police station
• Aurora chief, protesters pillory cops who mocked Elijah McClain death in photos, prompting protests,…
• Aurora police defend Elijah McClain protest response to city lawmakers
• FBI has been investigating Aurora police since last year in connection with Elijah McClain…
• VIDEO: The June 27 Elijah McClain protest in Aurora in 90 seconds
• Aurora cops put on leave pending investigation of inappropriate photos focusing on Elijah McClain…
• Special Aurora City Council meeting called over questions of police tactics at Elijah McClain…
• Marathon Elijah McClain protest in Aurora runs gamut from comity to chaos
• PERRY: Aurora police used tear gas during Elijah McClain protest and cried foul about that reality
• Polis orders special prosecutor to reinvestigate death of Elijah McClain
• Tens of thousands of calls to re-examine Elijah McClain death inundate Aurora agencies
• PERRY: Only we can decide if it was wrong for police and medics to kill Elijah McClain
• Elijah McClain tragedy, illustration and anger ripples across social media
• Aurora axes contract with former state trooper hired to reinvestigate death of Elijah McClain
• Aurora lawmakers demand new Elijah McClain death query; chief mandates new police procedures
• AURORA POLICE PANEL: Cops acted properly in scuffle leading to the death of Elijah…
• Protestors, attorney condemn Aurora police treatment of Elijah McClain case
• Adams County DA: No criminal charges against Aurora police, medics in death of Elijah…
• CORONER: Cause of Elijah McClain death unclear; homicide by Aurora police not ruled out
• Protesters shut down Aurora City Council meeting over officer-involved death of Elijah McClain
• UNLIKELY SUSPECT: Those who knew Elijah balk at Aurora police account of his death
• 4 finalists for Aurora police chief make their case at public forum
• Aurora lawmakers slated to impanel police review task force Monday
• Polis signs broad Colorado police reform bill: 'black — lives — matter'
• Aurora introduces ban on police carotid control holds, solidifying recent policy changes
• After nixing police union rep, Aurora lawmakers create new task force scrutinizing cops
• Colorado House advances police reform measure after emotional debate
• Police brutality and racism protestors face Aurora: 'America, you owe black people'
• THE COLOR OF BLACK AND WHITE: Aurora area officials and residents offer paths out…
• Aurora eyes new contract as body camera conversation amps up
• State lawmakers, impacted Aurora families announce police oversight bill
• EDITORIAL: Blacks will be killed, abused by police until voters elect and force leaders…
• Aurora police chief fields questions about shootings, body cams and officer conduct
• Aurora lawmakers approve task force to study police controversies
• SEARCH WARRANTED: Amid turmoil, Aurora seeks a new police chief
• Aurora lawmakers give first OK to police review task force
• AURORA'S NEXT TOP COP: Residents outline qualities desired in next police chief
• Feds grant Aurora police $850K over 3 years to offset expected body camera price…
• INDEPENDENT INQUIRY: Aurora leaders, residents discuss police oversight following officer-involved deaths
• Aurora lawmakers give first OK to police review task force
• PERRY: Aurora Police torch the last of their credibility with another Friday night 'bomb-fire'
• Aurora City Council faction dons pro-police shirts but dodges another protest
• PERRY: Aurora city council cop-shirt pranksters look like heartless brats
• EDITORIAL: Don't undermine Aurora public meetings by hiding — arrest illegal disrupters
• TOWN HALL: Residents, elected officials push for Aurora police shooting, force transparency, oversight
• POLICE INVOLVED DEATH: Aurora first responders injected ketamine 17 times in 2019, records show
• Aurora police release scant details on spate of lethal, injurious interactions between officers and…
• PERRY: Dancing around officer-involved deaths and shootings, Aurora police shoot at their own feet
• Aurora police schedule press conference to address recent deaths related to officer-interactions
• Family of man who died after Aurora police encounter say it was 'cold-blooded murder'
• PERRY: Stop letting police control the information about the people they kill
• Aurora police release few details on masked man who momentarily lost pulse following 'struggle'…
• EDITORIAL: Colorado protesters, leaders deserve praise for historic police reform feats — which are…
• PERRY: Racism and pandemic crises brings out the good, the bad and the smugly…
Full Aurora Police Bodycam Video of Elijah McClain Encounter