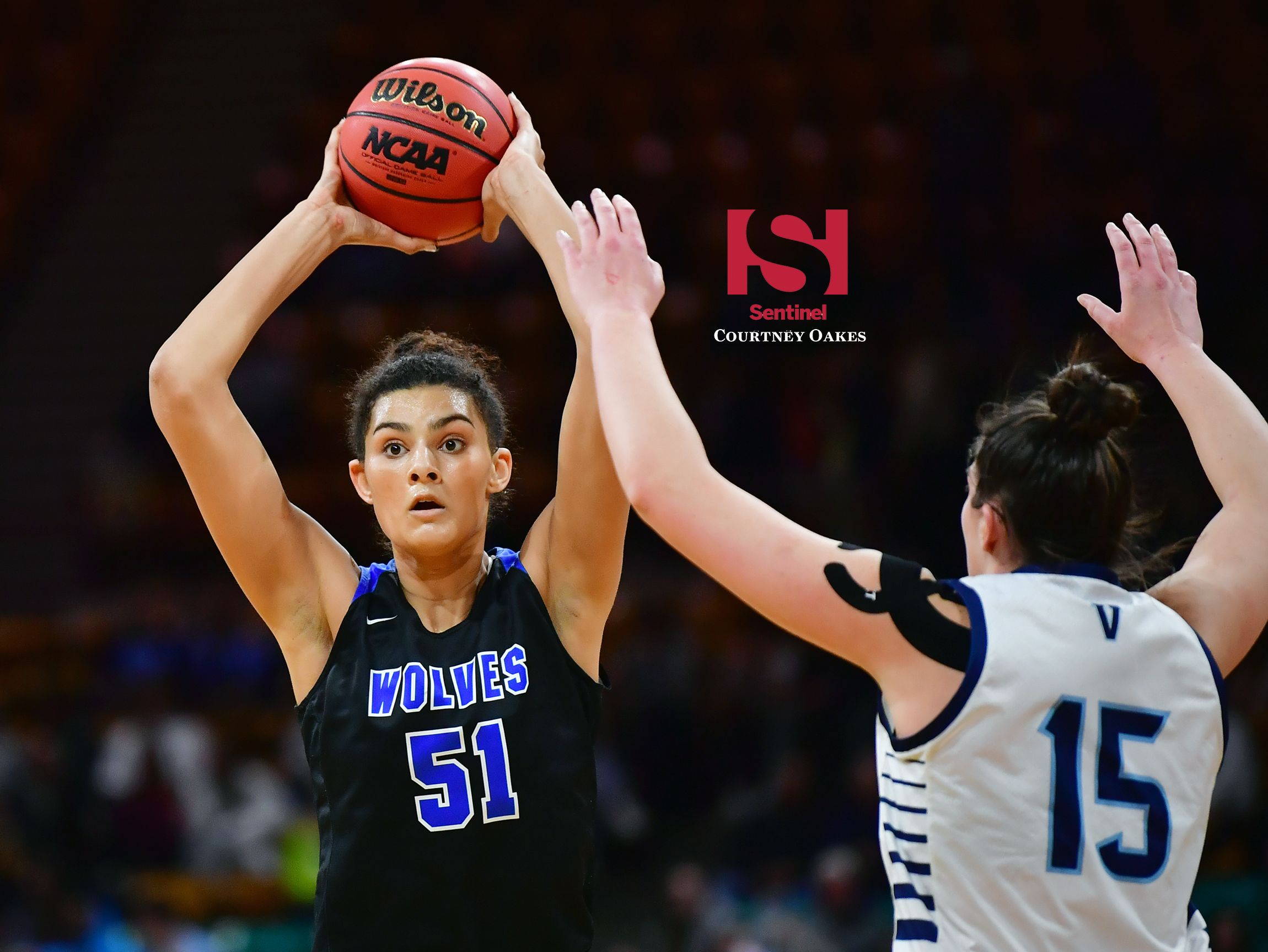 Grandview's epic journey to the Class 5A state championship put the finishing touches on an outstanding 2021-22 girls basketball season for Aurora.
The Sentinel Colorado All-Aurora 2021-22 Girls Basketball Team — selected by the Sentinel in conjunction with balloting of city coaches — has significant representation from teams that went deep into the Class 5A state playoffs, if not all the way to the state championship (the Wolves).
The city's top five includes two of the central figures for coach Josh Ulitzky's Grandview team, which navigated some rough patches during the season, but won its last 13 games and captured the program's third all-time state championship and first since 2018 with a decisive win over Valor Christian.
Star center Lauren Betts had as decorated a senior year as just about anybody in the country as she earned a spot in the McDonald's All-American Game, made the Naismith All-American first team, made CHSAA's All-State first team, received Gatorade's Colorado Player of the Year and Centennial League POY honors in addition to concluding her long-standing quest to win a state championship.
Betts did absolutely everything she could individually to help her team win.
Thriving with a new special addition to her team — her freshman sister, Sienna, who got to play with her for the first time — the 6-foot-7 star dominated with an expanded array of offensive moves in the paint, improved range on her jump shot (when needed) and excellent decision-making in the passing game, while she was an eraser on the defensive end.
Betts averaged 17.2 points, 11 rebounds and 3.6 blocked shots to lead her team in all three categories.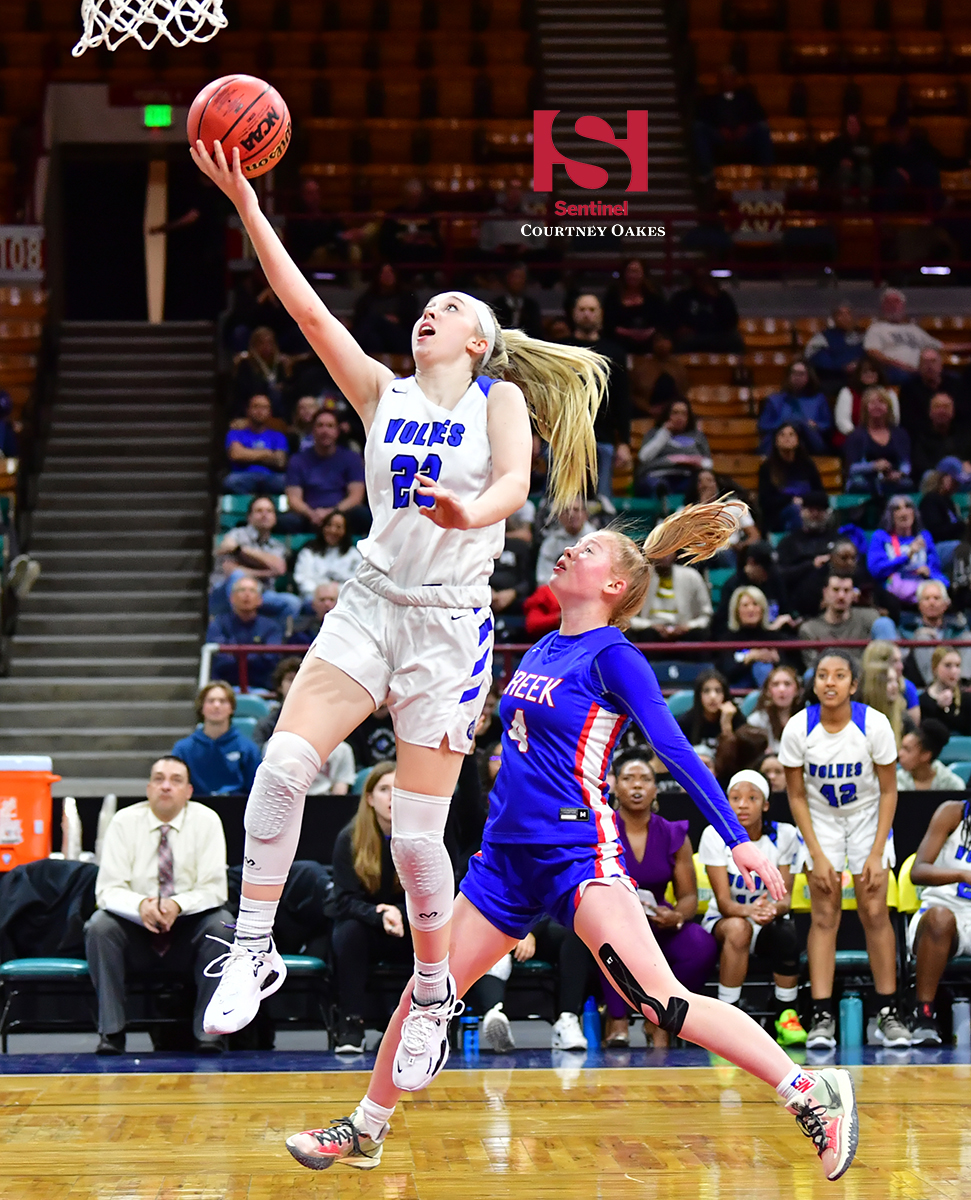 Fellow senior and fellow All-Centennial League first team selection Marya Hudgins added a bookend state championship to her prep career — winning as a senior with Grandview after she was part of a championship-winning program in Georgia as a freshman — and she was crucial in winning Grandview's third all-time state title and first since 2018.
As a whole, the Wolves didn't shoot as much from the perimeter as in the past (the presence of the Betts sisters on the inside made that not as necessary), but Hudgins gave them a stressor to defenses from the outside.
The Santa Clara University signee knocked down 40 3-pointers on the season and averaged 16.4 points per game to finish second on the team, while she also contributed 6.5 rebounds and a team-leading 1.9 steals per game. In the postseason, Hudgins was even better as she averaged 19 points per contest, even while sitting a decent amount in lopsided Grandview victories.
Aurora had the distinction as home to the state's leading scorer for the first time in awhile, as the honor went to Vista PEAK's Breanna Jefferson, who had an explosive offensive senior season for coach Howard Payne's Bison.
Jefferson had always shown the ability to score, but the 5-foot-3 guard took it to another level in her third varsity season and paced all scorers in Colorado — regardless of classification — with an average of 23.6 per game.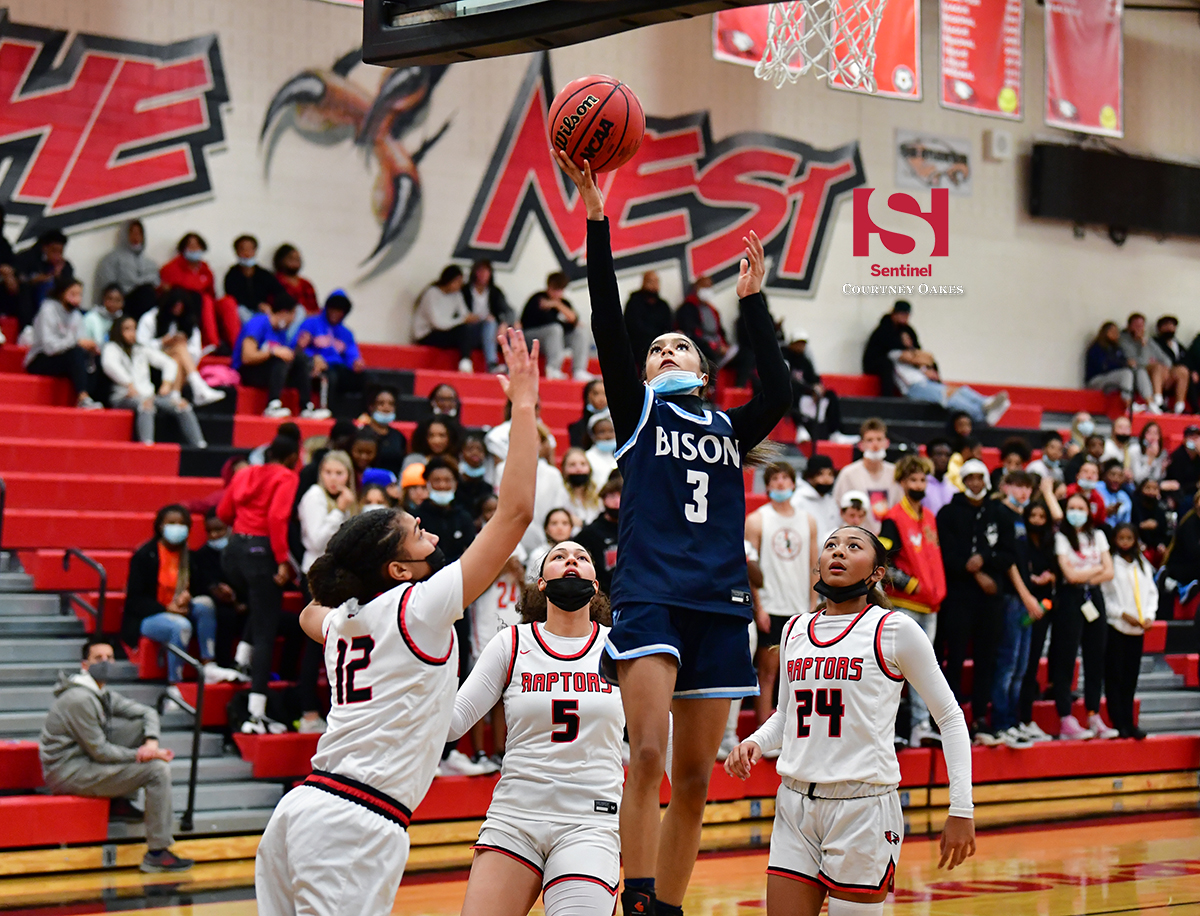 Boosted by 50 made 3-pointers and nearly 100 trips to the free throw line, her average was four points better than that of Valor Christian's Raegan Beers (a McDonald's all-American), who was the 5A runner-up at 19.6 ppg. Jefferson's career-high of 37 points came in a win over Denver South, while she scored 22 or more points in nine straight games late in the season.
With an average of 4.4 steals per game that ranked fourth in 5A, Jefferson earned EMAC Player of the Year honors to boot, made the EMAC and Show All-Star games and had a growing list of suitors for her future college career before she chose to commit to Colorado State-Pueblo.
If Jefferson hadn't won the league's POY honors, it likely would have gone to Rangeview senior Ny'Era West, who was once again the tone-setter among an experienced group for coach La Monte Weddle's Raiders, who made at least 5A's Sweet 16 for the fourth straight season.
West played bigger than her 5-foot-7 frame and led Rangeview in rebounding at 7.8 per contest in addition to 15 points per game. She also tied for first on her team with 3.1 steals per contest and finished 0.2 off a tie for the lead in assists per game with 2.4.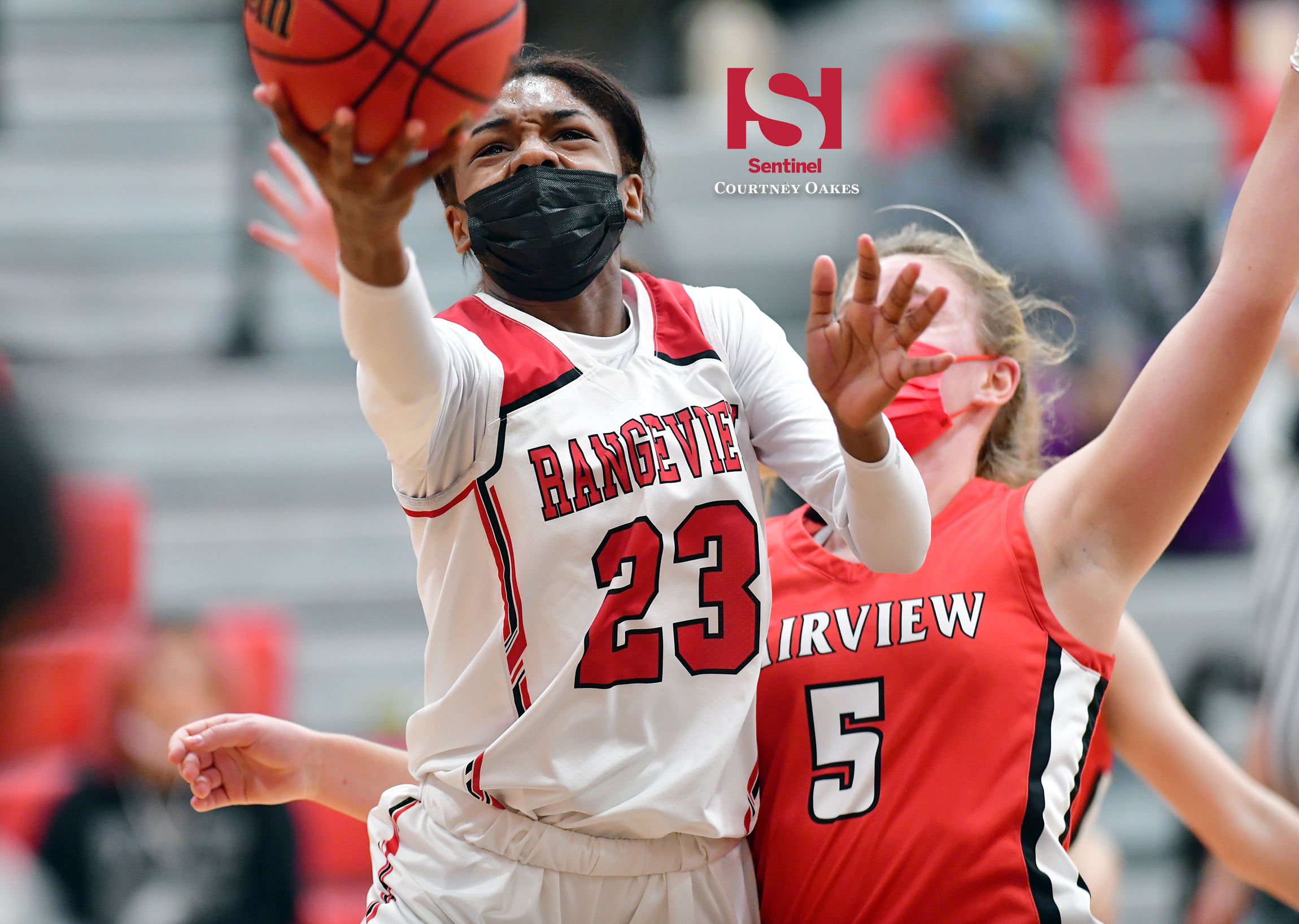 In the postseason, West was at her best. She gutted through injury in crunch time to help the Raiders seal a tough playoff win against Denver East and then poured in game-high 27 points in Rangeview's highly-competitive Sweet 16 loss to eventual semifinalist Highlands Ranch.
West averaged 16.6 points, 6.6 rebounds and 3.8 steals per game in a four-year varsity career.
In the first season under new head coach Jordan Kelley, Regis Jesuit had a young core that rose to the occasion as the Raiders won 15 games and extended the program's streak of making at least the Sweet 16 to six seasons.
One of the top young talents was sophomore Hana Belibi — younger sister of former Regis Jesuit star Fran Belibi — who led her team in scoring (14.2 points, up from 8.0 as a freshman) and rebounding (8.1 rebounds, up from 5.9 last season) per contest.
Showing an ability to shoot from the outside (30 made 3-pointers), Belibi also worked the mid-range and interior to score in double figures 19 times in 24 games. Her season-high of 24 points came in the Raiders' Sweet 16 loss to Chaparral, while she poured in 22 against state champion Grandview (just one shy of Betts' 23 in a near upset win for Regis Jesuit) and 18 against runner-up Valor Christian.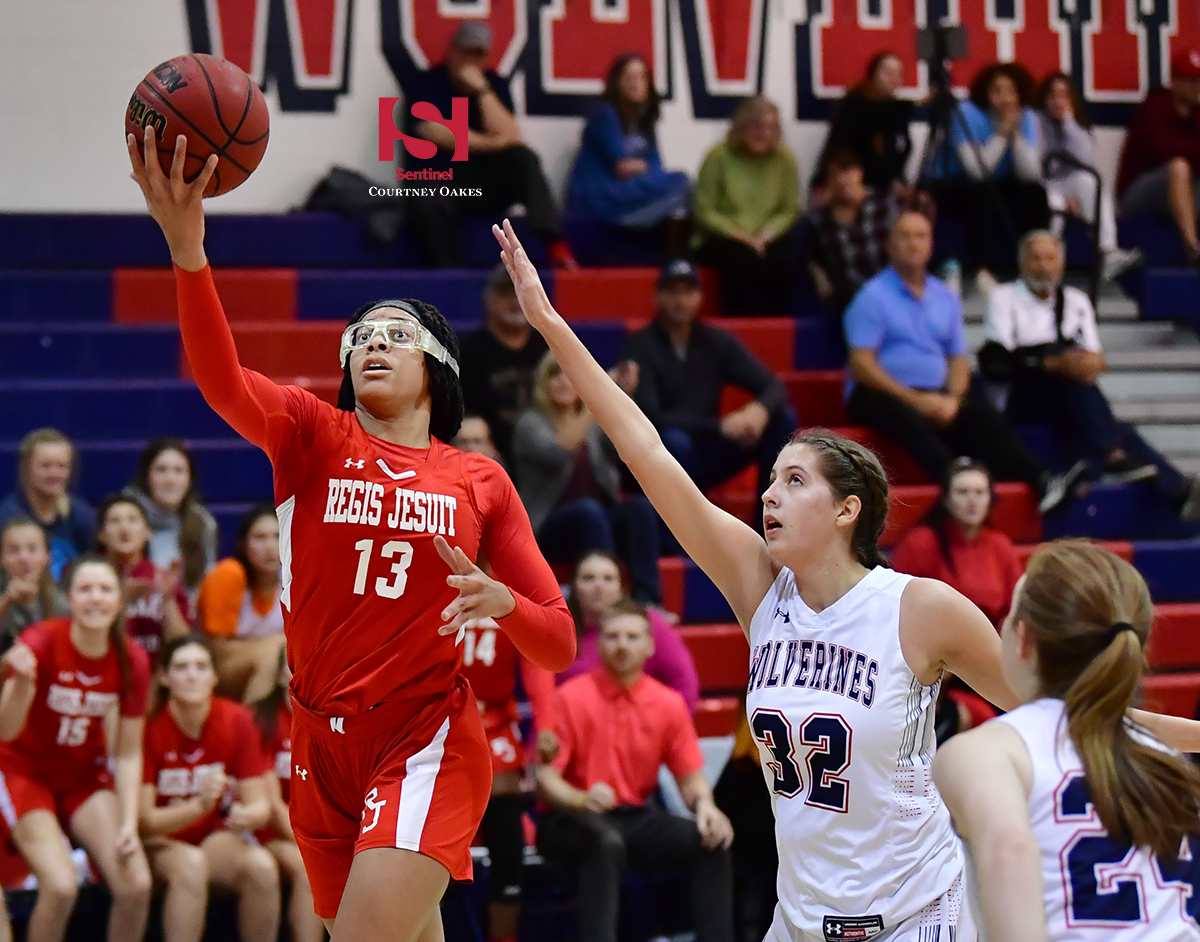 Belibi — an All-Continental League first team pick — also had eight double-doubles, including three straight to end the regular season and one in an opening playoff win over Arvada West. She added nearly a blocked shot per game as well.
All-Aurora second team: While joining a Grandview program with high expectations and playing an incredibly tough schedule at such a young age, Sienna Betts clearly got better as the season went along. The 6-foot-3 freshman was a very reliable contributor on a game-in, game-out basis, in which she very nearly averaged a double-double like her big sister with averages of 10 points and 9 rebounds per contest, plus a tie with her sister for team-high honors with 3.5 assists per game and nearly 2 blocked shots. Jefferson's compliment on the inside with the Bison was fellow senior Mikenzie Jones, a frontcourt standout who returned from injury after winter break and helped elevate Vista PEAK's play across the board. The All-EMAC first team pick and recent University of Denver commitment averaged 12.4 points, 8.5 rebounds and 4.8 blocked shots per game. Eaglecrest's final won-loss record (12-12) belied the Raptors' capabilities of playing with some of the state's best teams and juniors Nia McKenzie — an All-Centennial League first team honoree — and all-conference second team pick Laci Roffle were among the main reasons. Scoring was spread around for coach Robby Gabrielli's Raptors, but McKenzie averaged team-bests of 11.3 points, 6.3 rebounds and 3.5 steals, while tying for the top mark in assists at 2.8 per contest. Roffle stuffed the stat sheet on a game-by-game basis as well for Eaglecrest, as she finished second in scoring average a 9.9 points per game as well as rebounding (5.1 rpg) and steals (2.2 spg) and led the way with 1.4 blocked shots per contest. Another key cog in Regis Jesuit's lineup was sophomore Coryn Watts, who came in just behind Belibi in scoring average at 14.0 points per game, aided by 65 made 3-pointers (most among Aurora players). She as also first on team in steals per game (2.7) and second in rebounding (4.7 rpg).
Courtney Oakes is Sentinel Colorado Sports Editor. Reach him at [email protected] Twitter: @aurorasports. IG: Sentinel Prep Sports
2021-22 SENTINEL COLORADO ALL-AURORA GIRLS BASKETBALL TEAMS
FIRST TEAM
Hana Belibi, soph., Regis Jesuit; Lauren Betts, sr., Grandview; Marya Hudgins, sr., Grandview; Breanna Jefferson, sr., Vista PEAK; Ny'Era West, sr., Rangeview
SECOND TEAM
Sienna Betts, fr., Grandview; Mikenzie Jones, sr., Vista PEAK; Nia McKenzie, jr., Eaglecrest; Laci Roffle, jr., Eaglecrest; Coryn Watts, soph., Regis Jesuit
Honorable mention: Damara Allen, soph., Cherokee Trail; Zane Bullock, jr., Rangeview; Amaya Charles, sr., Grandview; Sierra Culbreath, sr., Cherokee Trail; Jameri Hartsfield, sr., Gateway; Eianna Jackson, fr., Vista PEAK; Shaya Kelley, jr., Aurora Central; Taniah Knox, sr., Gateway; Madden McHugh, sr., Regis Jesuit; Jasmine McNeal, sr., Smoky Hill; Lailah Modine, jr., Hinkley; Destiny Moore, soph., Overland; Jazlynn O'Roy, fr., Aurora Central; Yamoni Perez, fr., Smoky Hill; Jolene Ramiro, jr., Eaglecrest; Ashlyn Stapleton, jr., Vista PEAK; Leilah Swanson, jr., Hinkley; Genesis Sweetwine, sr., Rangeview; Amya Winfrey, sr., Rangeview
OTHER WINTER SPORTS 2021-22 SENTINEL COLORADO ALL-AURORA TEAMS
— Winter Sports All-Aurora 2021-22: Talent pool plenty deep on All-Aurora Boys Basketball Team
— Winter Sports All-Aurora 2021-22: Double-digit state placers appear on All-Aurora Boys Wrestling Team
— Winter Sports All-Aurora 2021-22: State champion Blythe Cayko leads All-Aurora Girls Wrestling Team
— Winter Sports All-Aurora 2021-22: State champion Weber leads Regis Jesuit wave on All-Aurora Girls Swim Team
— Winter Sports All-Aurora 2021-22: Raiders, Bruins mix nicely on All-Aurora Ice Hockey Team