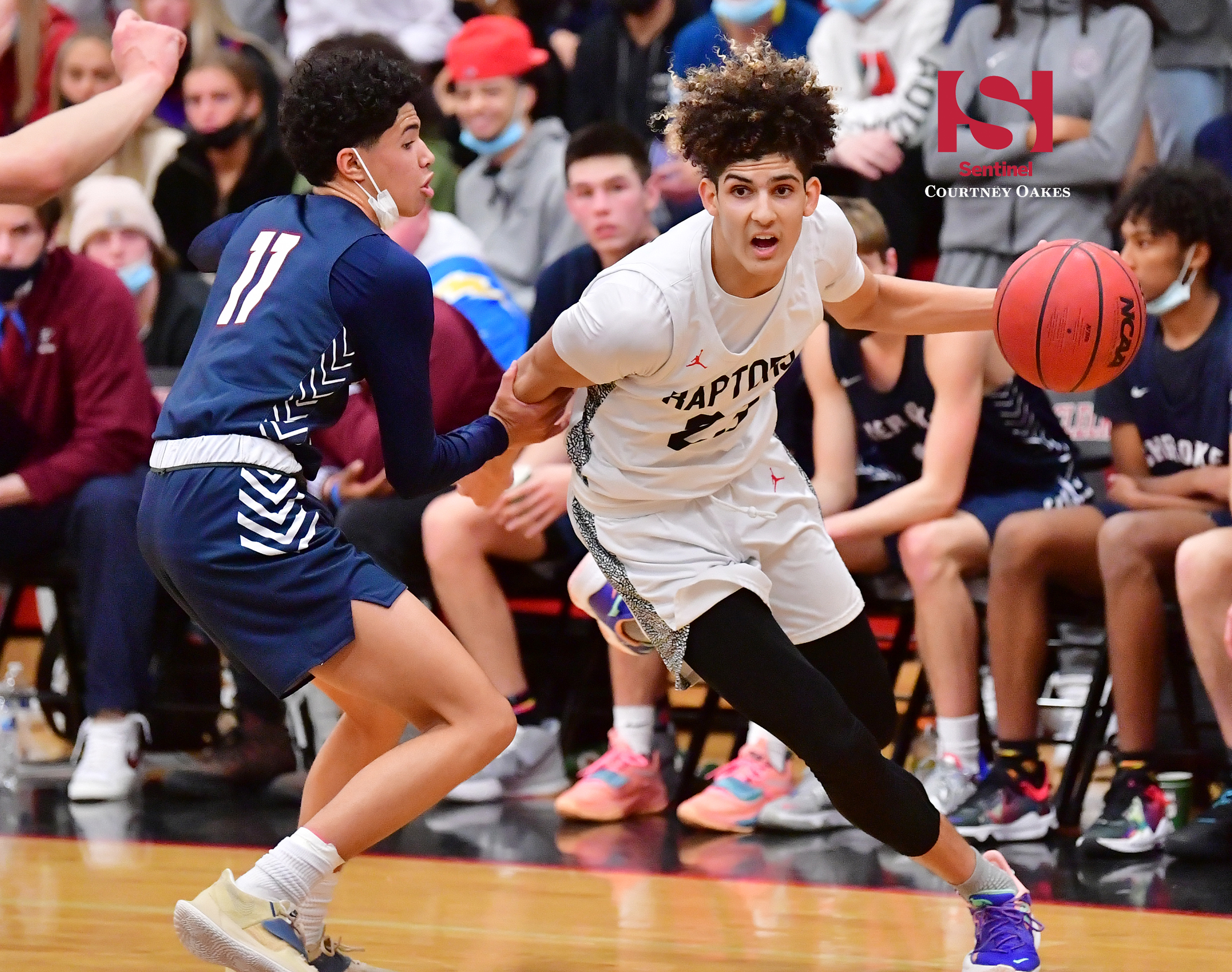 A rare drought in terms of Class 5A state championships in Aurora extended to three seasons, but there was no doubt that the city's boys basketball talent reigned supreme as a whole.
That is reflected in the impressive composition of the 2021-22 Sentinel Colorado All-Aurora Boys Basketball Team, which was chosen by the Sentinel in conjunction with balloting of Aurora coaches.
Picking from a pool that included two players of the year in their respective conferences and 23 players who earned first or second team honors across four leagues proved quite difficult. Those two players of the year (Eaglecrest's Mostapha Elmoutaouakkil in the Centennial League and Rangeview's Elijah Thomas in the EMAC) appear on the Sentinel's top five, which is rounded out by a pair of Smoky Hill star teammates in Anthony Harris Jr. and Brayden Maldonado and Overland junior Marzouq Abdur-Razaaq, who was simply outstanding in his return from major injury.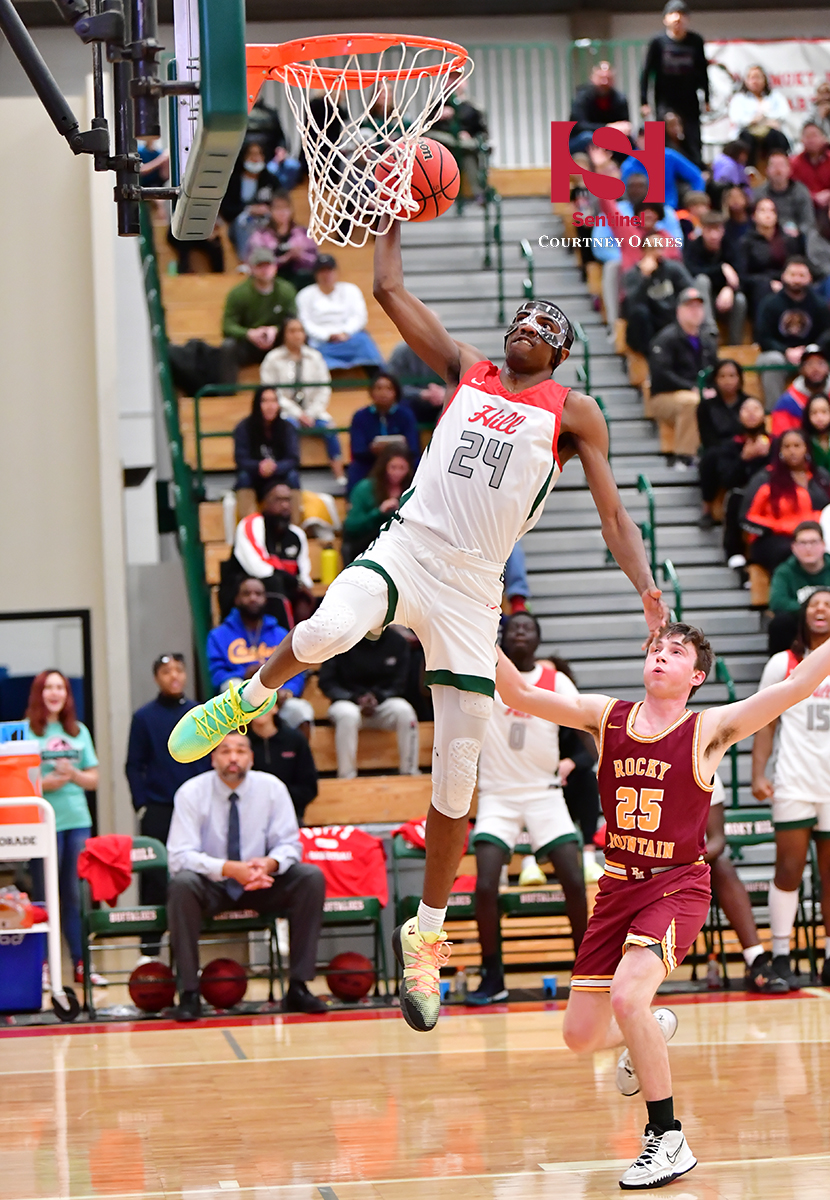 Eaglecrest remained Aurora's last hope to win the area's first state championship since Rangeview in 2019 — though the 2020 Final Four included two Aurora teams before it was wiped out by the coronavirus pandemic — before it was stopped in the Great 8.
The Raptors played excellent team basketball during a season in which they earned 20 wins, lost just one time in 13 Centennial League contests and had a double-digit lead in the game with the Wolverines, but Elmoutaouakkil — who received the most votes from league coaches — was the fulcrum.
The versatile 6-foot-5 forward flashed on offense in every game with high-flying dunks, tough finishes in traffic or big 3-pointers, all of which added up to an average of 19.9 points per game that led Aurora players and put him fourth in 5A. He scored in double figures in all 25 of the Raptors' 25 games and added 5.8 rebounds, 2.5 assists and 2.1 steals per game.
To get to the Great 8, Eaglecrest had to get past rival Smoky Hill, which featured no less than three All-Centennial League first team selections, which included Harris Jr. and Maldonado. Smoky Hill had the ingredients of a championship contender, but found its path blocked by Eaglecrest in the 5A Sweet 16.
Harris Jr. topped the list of players in Aurora — and perhaps the whole state — as must-watch, as his athleticism allowed him to do uncommon things that went viral on almost a nightly basis.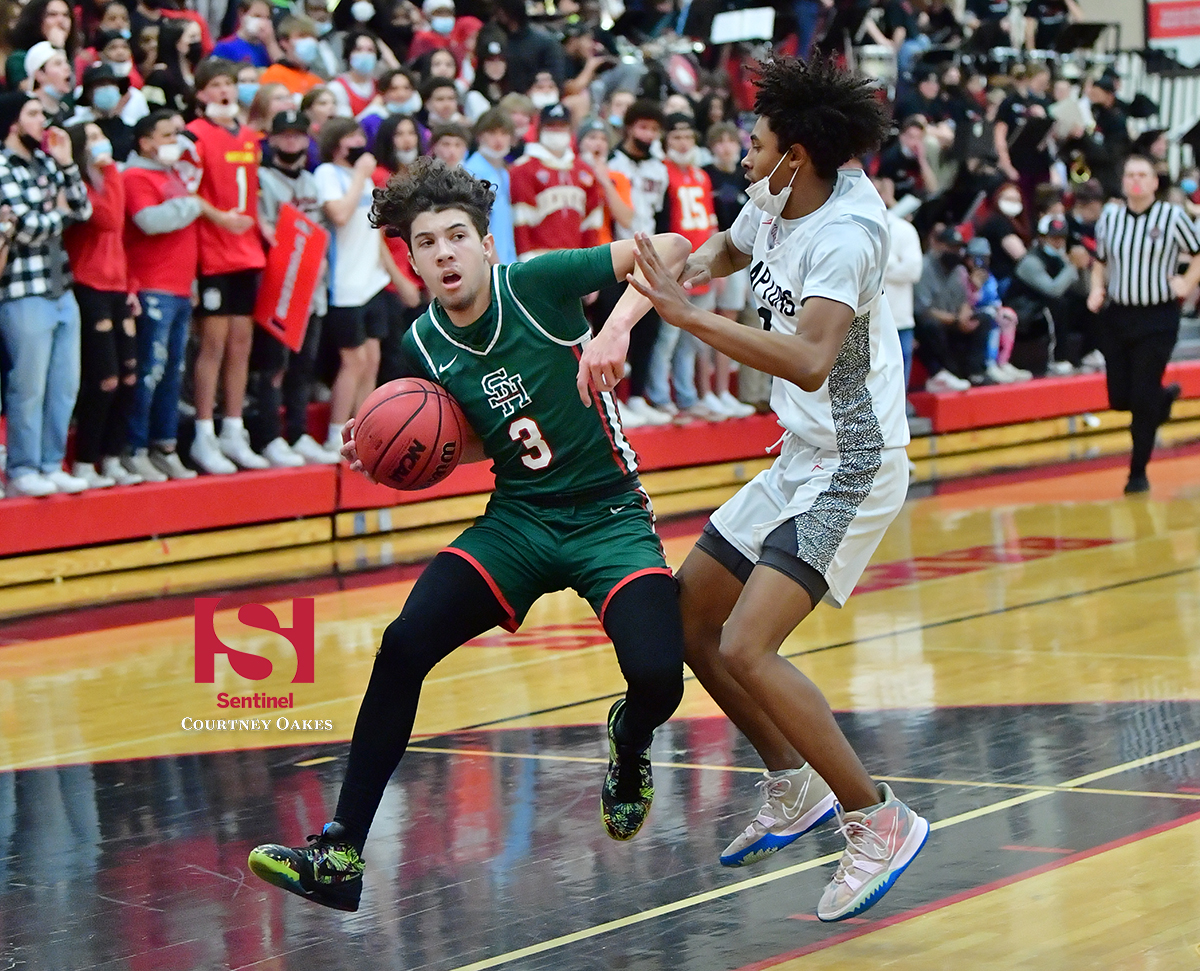 Coming off a football season in which he was a nightmare matchup for opposing defenses, the same held true on the court, where Harris Jr. had the shooting ability to be a mismatch for larger foes and had the quickness to get by smaller opponents and get to the rim when he wanted to.
Harris Jr's spectacular dunks — highlighted by the Eastbay, between-the-legs, throw-down he had to seal a playoff victory over Rocky Mountain — added flash to an outstanding all-around game that saw him average 14.8 points and 12.2 rebounds per contest, plus 2.8 blocked shots. His season-high of 27 points came on two occasions, vs. Corona del Sol in an tournament in Arizona and against Arapahoe.
From his guard spot, Maldonado terrorized the opposition as well with his ability to score in bunches against anybody.
Before winter break, Maldonado poured in 23 points against two-time state champion ThunderRidge in a game in which his shot to win it regulation was just off and the Buffaloes lost in overtime. With a season-high of 27 points reached twice (against Eaglecrest and Mullen), he averaged 18.3 points per contest plus 5.3 assists, which led Aurora players and ranked seventh among 5A players.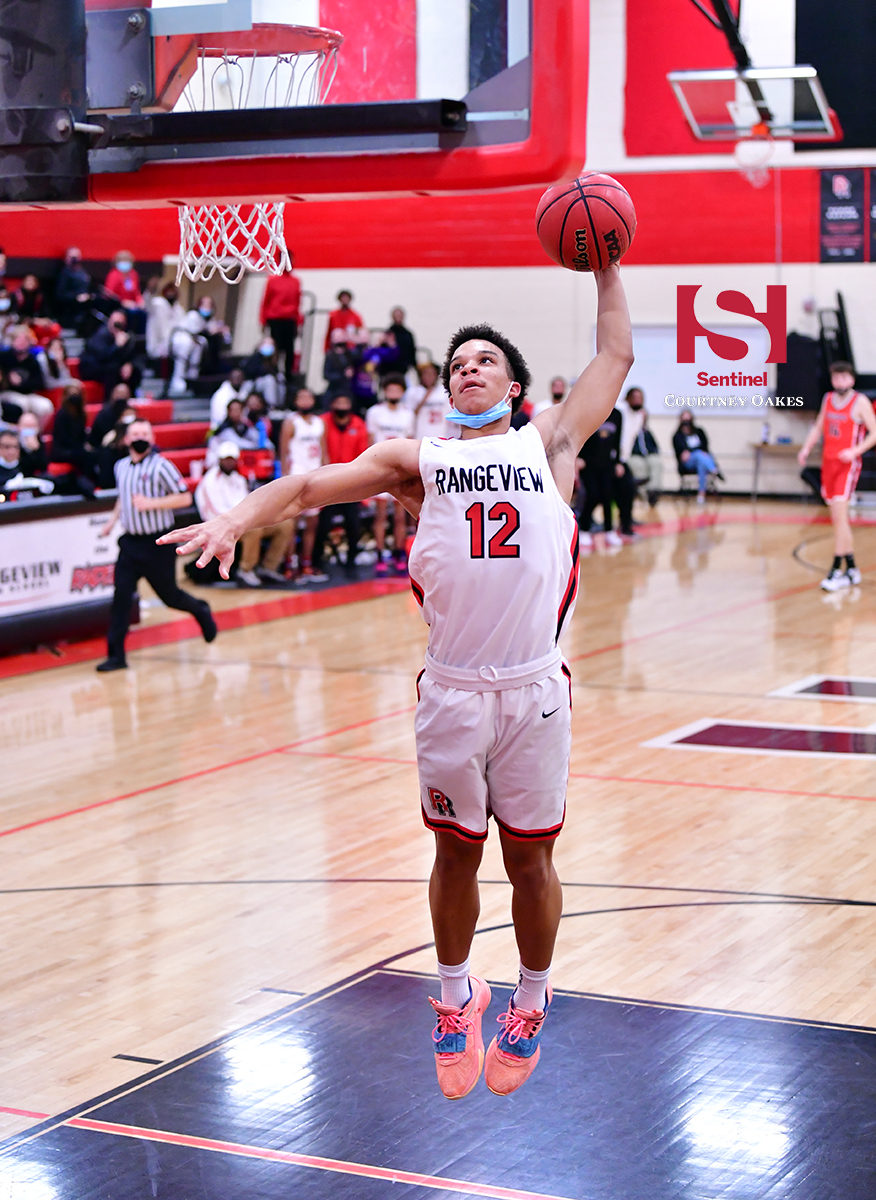 Thomas played an important regular role as a junior for Rangeview, but took his game to another level for the Raiders, who had a lot to replace from a team that went to the Final Four in 2021.
The 6-footer played above the rim at times and also proved very effective from behind the 3-point arc, Thomas averaged 14.4 points per game in addition to 5.5 rebounds, 4.7 assists, 2 steals and a blocked shot per game, with every single one ranking him first or second on his team in those categories.
Abdur-Razaaq showed great promise in the first three games of his sophomore season before he suffered a major knee injury.
That injury looked well in his past in his return for coach Danny Fisher's Trailblazers, as he was one of only three Aurora players to average a double-double, joining Harris Jr. and Regis Jesuit's Kyle Sandler on his way to making the All-Centennial League first team. He was second in the Centennial League in scoring (to Elmoutaouakkil) with an average of 19.2 points per game and his 10.1 rebounds per contest ranked only behind Harris Jr.
Abdur-Razaaq scored in double figures in every single game — no small feat as Overland played an incredibly difficult schedule — and saved his best game for last when he had a career-high 28 points and second-most rebounds (15) in the Trailblazers' close 5A second round at Mountain Vista.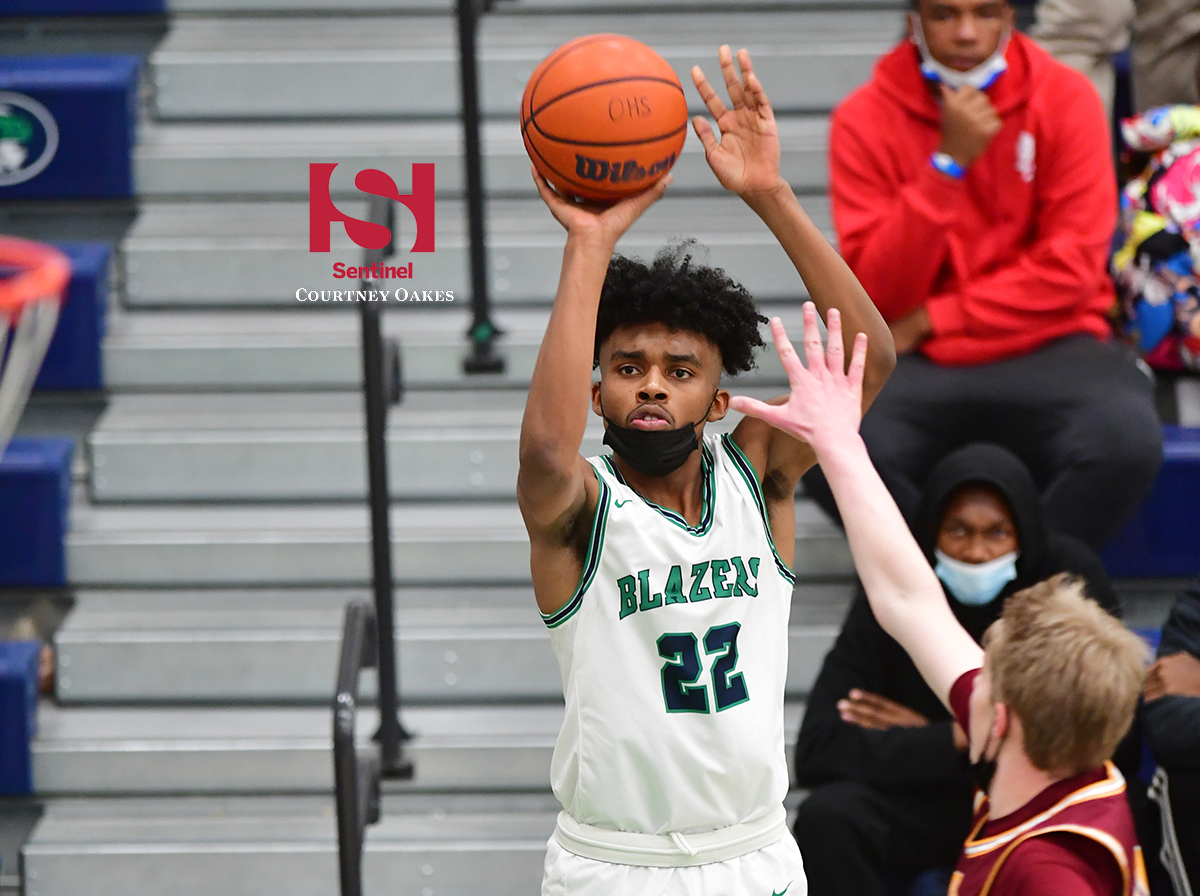 All-Aurora second team: There is no doubt that the next group could challenge the first, especially when it comes to playmaking ability. Senior KK Stroter got a chance to show out this season after waiting his turn to join the Rangeview lineup as a regular. The 6-foot-4 front court player's explosiveness on both ends of the floor stood out in each and every one of the Raiders games and he finished as the team's leading scorer (15.7 ppg) and rebounder (6.8 rpg), while swatting 1.3 shots per game as well. Regis Jesuit's season ended a round earlier than in the previous two seasons in a Sweet 16 upset loss to Legacy, but senior Kyle Sandler and junior TaRea Fulcher were outstanding for a team that had to replace nearly its entire lineup from the previous season. Sandler — an All-Continental League first team selection — was one of three Aurora players to average a double-double and he did so with total of 12.3 points (helped by a team-leading 46 made 3-pointers) and 10.9 rebounds per contest. Fulcher pushed the pace for  and fearlessly took the ball to the basket for the Raiders to finish or kick out to open teammates. The All-Continental League second-teamer led his team in scoring (14.6 ppg), assists (2.4) and steals (1.4) per game. Rickey Mitchell Jr. made a huge jump from sophomore to junior year for Smoky Hill and gave the Buffaloes a legitimate third scorer as he jumped from an average of 7.4 points in 2020-21 to 16.0 points per game in 2021-22, while he was second on his team with an average of 2.9 assists per game to make the All-Centennial League first team. Senior Jayden Washington gave Eaglecrest the inside play it needed to compliment the strong play of its guards and he finished first on the Raptors in rebounding (5.8 rpg) and second in scoring at 12.2 points per contest as he played at an All-Centennial League first team level.
Courtney Oakes is Sentinel Colorado Sports Editor. Reach him at [email protected] Twitter: @aurorasports. IG: Sentinel Prep Sports
2021-22 SENTINEL COLORADO ALL-AURORA BOYS BASKETBALL TEAM
FIRST TEAM
Marzouq Abdur-Razaaq, jr., Overland; Mostapha Elmoutaouakkil, sr., Eaglecrest; Anthony Harris Jr., sr., Smoky Hill; Brayden Maldonado, sr., Smoky Hill; Elijah Thomas, sr., Rangeview
SECOND TEAM
TaRea Fulcher, jr., Regis Jesuit; Rickey Mitchell, jr., Smoky Hill; Kyle Sandler, sr., Regis Jesuit; KK Stroter, sr., Rangeview; Jayden Washington, sr., Eaglecrest
HONORABLE MENTION: Oriel Bailey, soph., Gateway; Elijah Carlson, sr., Vista PEAK; Cai'Reis Curby, jr., Aurora Central; Austin Gibson, sr., Cherokee Trail; Victor Harp, sr., Overland; Jaelan Johnson, sr., Aurora Central; Simon Kibbee, jr., Grandview; LaDavian King, fr., Eaglecrest; Alante Monroe-Elazier, soph., Vista PEAK; Hanif Muhammad, soph., Rangeview; Xander Smith, sr., Hinkley; Peyton Taylor, jr., Eaglecrest; Dayvon Vaughns, sr., Hinkley; A'jhzan Williams, sr., Vista PEAK; Connor Yslas, sr., Cherokee Trail
OTHER WINTER SPORTS 2021-22 SENTINEL COLORADO ALL-AURORA TEAMS
— Winter Sports All-Aurora 2021-22: Duo from state champion Grandview paces All-Aurora Girls Basketball Team
— Winter Sports All-Aurora 2021-22: Double-digit state placers appear on All-Aurora Boys Wrestling Team
— Winter Sports All-Aurora 2021-22: State champion Blythe Cayko leads All-Aurora Girls Wrestling Team
— Winter Sports All-Aurora 2021-22: State champion Weber leads Regis Jesuit wave on All-Aurora Girls Swim Team
— Winter Sports All-Aurora 2021-22: Raiders, Bruins mix nicely on All-Aurora Ice Hockey Team