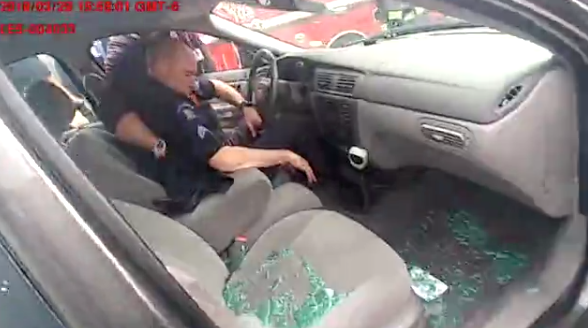 Aurora residents, and anyone who must venture here, will surely take great comfort in hearing that cops who punch disabled women in the face, or who pass out drunk in their police cars and get promoted, "are inconsistent with the Aurora Police Department's core values."
That was the message the city's latest interim police chief, Art Acevedo, imparted to a freshly disgusted community that equates "Aurora Police Department" with "Dumpster Fire."
At this point, it's that exclamation, not Acevedo's euphemism, that better describes the sheer skulduggery and outright horror that erupts from APD like Old Faithful.
"Thar she blows," was the observation from the media deck this week when word leaked out that one of the cops who has helped make APD the world-infamous entity it has become was back in the news.
Officer — nay, Agent, now — Nathan Meier is the celebrity Aurora cop who in 2019 had vodka for breakfast before starting his shift at APD. He had so much breakfast that he passed out drunk in his locked police car and had to be extricated by fellow officers and medics.
Despite committing one of the most spectacular DUIs of all time in Aurora, then-Officer Meier faced no charges for drunken driving to the place he parked his car and passed out, on duty. 
As the sordid tale spilled into the public, it became clear some police administrators wanted to help out Meier by keeping it all on the down low.
Even the DA at the time speculated that had you and yours been discovered passed out drunk in your car along the road, you would most certainly have been given a free ride to the local drinky drunky holding cell. At the very least, you would have had enough blood pulled from your arm at the local ER to convict you at an inconvenient later date.
All this and more resulted in shake-ups in the chief's office. It led to APD veteran Vanessa Wilson becoming the interim, then permanent police chief.
One of the first things Wilson did is make it clear the handling of the Meier get-out-of-having-to-go-to-jail debacle would be thoroughly investigated.
And the former interim chief tied into the mess suddenly resigned from the department.
Meier, however, as we all learned this week, did not.
Sources say that it wasn't as if no one at APD tried to push Meier off of the force. Supervisors apparently worked to at least keep Meier from a cop job where anyone might recognize him or where he would have to show up in court.
"Your honor, the officer on my client's stolen-gun-attempted-robbery-and-animal-cruelty charges is Nate Meier."
The familiar ring from the bench would be, "case dismissed."
Now, unable to fire him — because, well, there were no charges in the case, and he might have just been really sleepy — Meier was sent to places in APD where he wouldn't make a mess or headlines.
Until this week.
He applied for, and was apparently bestowed, a promotion in rank from officer to agent, as part of the civil service system in the city.
Acevedo, and even some conservative city lawmakers who have taken to social media to beg Meier to turn down the promotion, say the city had no choice under current city regs but to bestow the new rank and salary increase. 
"I actually had him come into my office, and we had a very frank conversation," Acevedo told CBS news during an interview focusing on Meier's promotion. "He as the individual has actually done what he was supposed to do, which is turn his life around. … I believe it saved his life, as a person."
That's nice.
The problem Acevedo and too many other police and city officials fail to appreciate is that Meier is a police officer, who should be held to higher standards than the general public. Or in the case of Aurora Police, he should be held to at least the same standards.
Meier, justly, forfeited his credibility as a guy in Aurora who gets to carry a loaded gun and enforce the law.
While shooting dead his own integrity, he also inflicted collateral damage to a department where other cops stay sober on the job and have no tolerance for those who don't.
Aurora Police now forfeit their own gasping credibility by promoting him, and certainly by defending the promotion, or not exclaiming something even worse.
And of course there was worse, again. 
"There she blows" was the call from the media as news leaked out later this week that Aurora Police Officer Douglas Harroun, 32, had been charged with the off-duty felony assault against an at-risk adult.
I have to admit, nothing distracts a public horrified by promoting drunken cops like another cop who punches a disabled woman several times in the face because he thought she was mouthy about walking her dog slowly in the parking lot as he rode up behind her in his car.
Add this to the list of APD highlights, like forcing a car filled with Black women and girls face down on scorching pavement after a bungled, erroneous stolen car check. And the time an Aurora cop pistol whipped a Black guy during a call on possible vagrancy. And there was the time a cop shot a guy in the butt through his living room window.
Last spring, after firing Wilson — apparently because conservative police-toadies on city council thought Wilson was too tough on cops who make the department so infamous — Aurora brought back former chief Dan Oates for a six-month stint.
Wilson brandished an image of upholding the promise to Aurora — after state officials and courts mandated reform — the police department would finally become "accountable and transparent."
Oates, not so much. In fact, not at all.
In that short amount of time, Oates:
quietly detached the strategic Community Relations unit from the chief's immediate command.

discretely fired and then immediately un-fired a newly hired cop that was arrested in Arkansas for a drunken brawling incident.

unilaterally refused to discipline a top police commander embroiled in a dubious scheme with another APD officer to sneak into an estranged spouse's house, violating a restraining order, get stuff and then put it back. Rather than discipline the officer after conviction by the Internal Affairs Unit, and the Chief's Review Board, Oates eradicated the entire review board, ignored the IA investigators and promoted the commander to division chief. Then, he carved into the IA unit.
If not for reporters at the Sentinel and CBS4 News, you'd never know any of that.
Do you see a pattern here? Maybe a "pattern and practices" problem the state Attorney General called out when forcing Aurora into a consent decree to reform the police department, or else?
Obviously, those leading the Aurora City Council, city hall and the police department don't see this as serious of a problem as the rest of the world does.
It's nice that Acevedo says that the cops keeping Aurora's dumpster fire in the headlines all the time don't represent the "core values" of the department.
But they absolutely represent what most people think the Aurora police department is all about, and continues to be.
It's too bad that police union officials and their city-council sycophants think their police chief shouldn't talk tough about these debacles, and fire cops who get arrested for anything, or behave like the criminals they're charged with arresting. 
Perpetuating Aurora's repugnant "patterns and practices" of defending criminal and malfeasant cops only continues to impugn and discourage the vast majority of APD cops who know better, act better and deserve better than this vapid tragedy of errors.
Follow @EditorDavePerry on Mastadon, Twitter and Facebook or reach him at 303-750-7555 or [email protected]