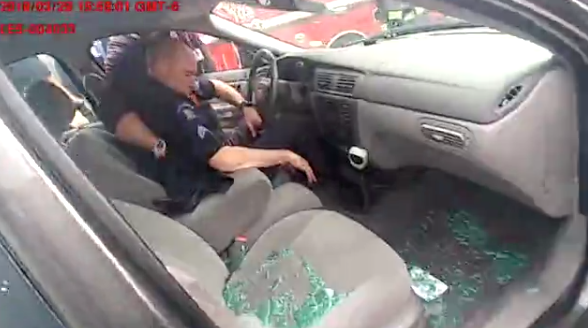 AURORA | Almost four years after being caught passed out drunk in his police vehicle and avoiding criminal consequences, Aurora police officer Nate Meier has been promoted, according to Aurora police.
Meier's name was included on a list of sworn Aurora Police Department employees who passed a promotional exam to advance from the rank of officer to agent, according to publicly available test results posted on the City of Aurora's website.
The promotion was first  reported by CBS Denver. The station aired parts of a recorded conversation with interim police chief Art Acevedo, who said Meier had "turned his life around" since the 2019 drunken driving incident, which garnered national media attention.
"I actually had him come into my office and we had a very frank conversation," Acevedo told the station. "He as the individual has actually done what he was supposed to do, which is turn his life around. … I believe it saved his life, as a person."
The chief later wrote in a Twitter post that he was "disappointed" the CBS Denver TV story did not mention that the promotion in Meier's case was the result of an automatic process that he would have been unable to block. The department did not immediately respond to a list of questions from The Sentinel about Meier's promotion.
In March 2019, Meier was found drunk and unresponsive in his unmarked police vehicle by Aurora police. First responders had to break the window of the car to remove Meier, who later said he had been drinking vodka at home during his shift and blacked out.
While officers said Meier smelled like alcoholic beverages, police did not formally investigate Meier for drunken driving. Then Deputy Chief Paul O'Keefe said he wanted to protect Meier, who he believed could have been suffering from a medical problem.
Former Arapahoe County District Attorney George Brauchler said at the time he did not have enough evidence to prosecute Meier due to the failure of police to take a sample of Meier's blood and case law that limits the admissibility of information shared during the internal affairs process. Brauchler openly speculated that a civilian in Meier's situation would have been treated differently by police.
O'Keefe resigned when then-chief Vanessa Wilson announced she would be opening an investigation into his handling of the Meier incident. Meier kept his job, though he was demoted and temporarily suspended.