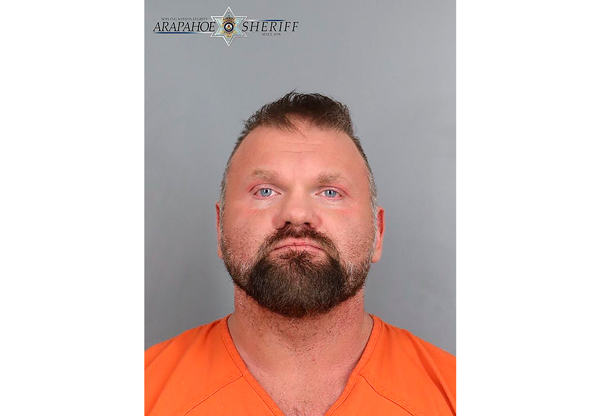 AURORA | An Aurora Police Department officer faces a felony charge for allegedly punching a disabled woman who was walking her dog outside his building complex while off-duty Wednesday evening.
Douglas Harroun, 32, has been charged with third degree assault against an at risk adult, a class 5 felony.
Around 9:30 p.m. Jan. 11 Aurora police reportedly requested the support of Arapahoe County Sheriff's Office to investigate an altercation involving an APD officer, according to a Thursday news release from the sheriff's office.
"Deputies responded to a scene in the 15000 blk of E. Briarwood Circle in Aurora," the agency said. "Witnesses told deputies they observed a male punching a woman several times in the head and the face."
The victim is a 49-year-old physically disabled woman who was transported to a local hospital with injuries, the agency said.
An arrest affidavit for Harroun said that he and his wife were driving up to the complex where their home is located in his Jeep as the victim was walking her dog in the middle of the road. The dog was not on a leash and Harroun had to drive slowly behind her as he approached the parking garage, the affidavit said.
The woman yelled at Harroun for following her and he and his wife then got into a verbal argument with her, the affidavit said. They then got out of the car and continued to argue.
Witnesses then observed Douglas punch the victim in the left side of her face, the affidavit said. The victim "fell to the ground and Douglas got on top of her and continued to punch her in the head four to five more times."
The affidavit said the woman has a chronic pain disorder that affects the nerves in half of her body, and has injuries consistent with what witnesses described.
Harroun has been placed on indefinite suspension without pay, according to a Thursday afternoon news release from APD. The department also said it is opening an internal affairs investigation into the incident.
"The alleged actions Wednesday night are inconsistent with the Aurora Police Department's core values," APD interim chief Art Acevedo said in a statement. "We want to thank our partners at the Arapahoe County Sheriff's Office for responding and taking the lead on the investigation."
The release said that Harroun was hired in 2020 and was placed on paid administrative leave after being involved in a non-fatal shooting on Dec. 31.
An unidentified man was shot in the leg while APD officers were arresting a domestic violence suspect at a north Aurora residence shortly before midnight on New Year's Eve. APD spokesperson Matthew Longshore said Harroun was still on administrative leave from that shooting at the time of his arrest.
Harroun is currently being held on a $25,000 bond in the Arapahoe County Jail, according to online records. He is scheduled to appear in Arapahoe County District Court on Jan. 18.
This is a developing story and will be updated.