JOHANNESBURG | Olympian Oscar Pistorius has not been pardoned by the president of South Africa for the murder of his girlfriend, contrary to an online report shared on social media.
Department of Correctional Services spokesman Singabakho Nxumalo dismissed the report that the 31-year-old runner had been pardoned by President Cyril Ramaphosa as "fake news."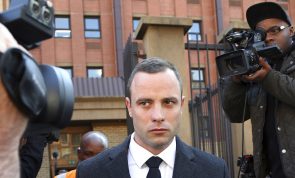 The double-amputee runner actually lost a bid this week to get out of prison. He is serving a 13-year sentence for the death of 29-year-old Reeva Steenkamp five years ago at his home in the eastern suburb of Pretoria, South Africa's capital. South Africa's highest court on Monday dismissed Pistorius' request to review the sentence.
The report appeared on a site called breaking-cnn, although it did not appropriate the cable network's logo.
Pistorius' sentence was increased last year for the death of Steenkamp, who he shot four times through a locked door in his home on Valentine's Day in 2013. Pistorius has said he mistook his girlfriend for an intruder.
Pistorius must serve at least half of his sentence before he can be considered for parole.