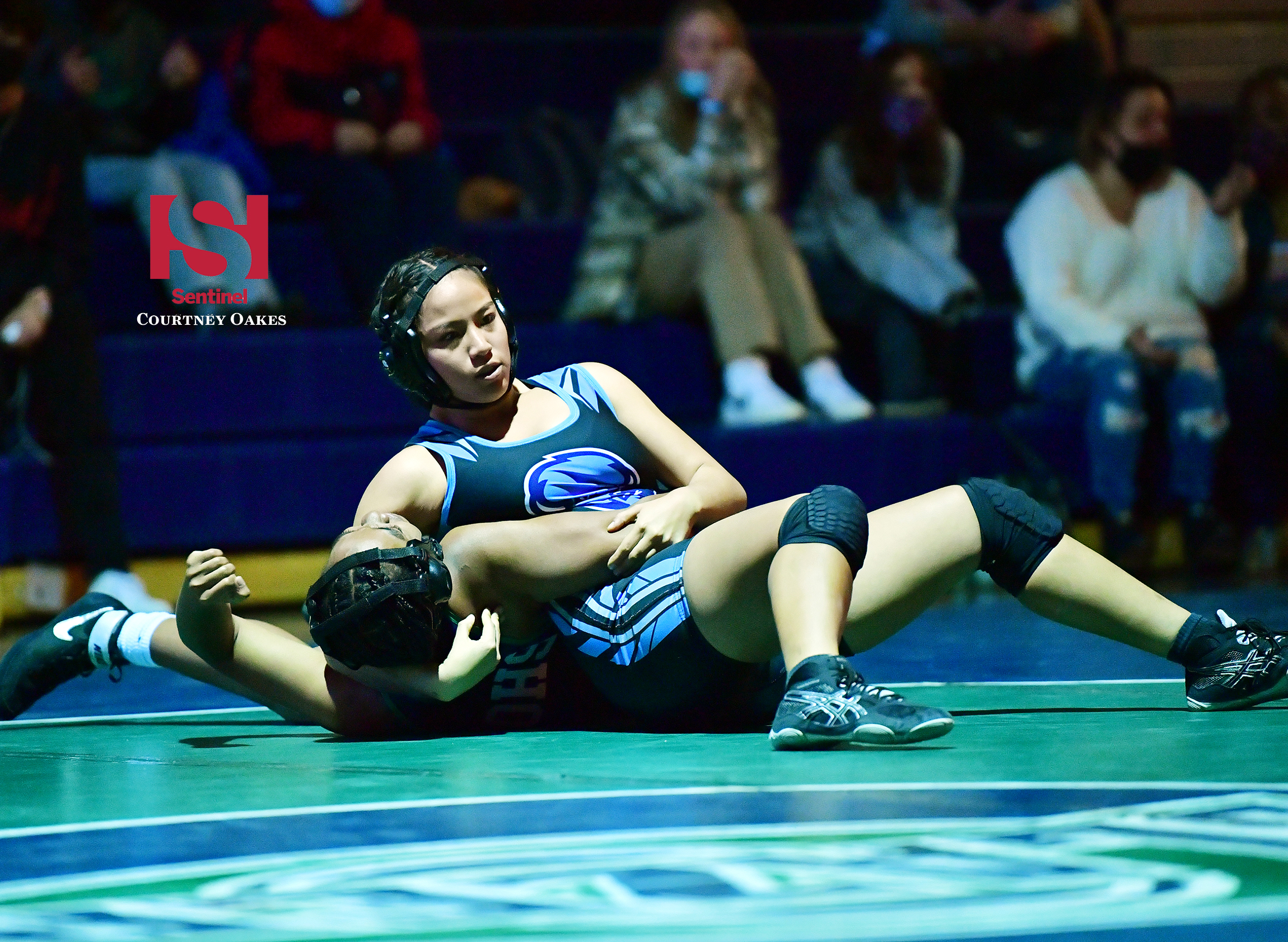 AURORA | A look back at some of the key games, tournaments and happenings in Aurora prep sports from Jan. 12-19, 2022:
Courtney Oakes is Sentinel Colorado Sports Editor. Reach him at [email protected] Twitter: @aurorasports. IG: Sentinel Prep Sports
WEDNESDAY, JAN. 19: The Overland boys basketball team has picked up some momentum since the start of Centennial League play and won its third game in a row with a 56-45 victory over visiting Cherry Creek in the first of two league meetings between the programs. The Trailblazers improved to 4-9 overall and 3-1 in the Centennial League …The Cherokee Trail boys basketball team got a much-needed Centennial League victory as it rallied to send its game with visiting Mullen into extra time and prevailed 64-56 in double overtime. Senior Austin Gibson's 18 points — boosted by four 3-pointers — led the way for the Cougars (6-7, 1-3), who got 12 apiece from junior Keean Lloyd and senior Chase Titus. Senior Connor Yslas just missed a double-double with nine points and 11 rebounds. …Senior Mostapha Elmoutaouakkil dropped in 30 points — two short of his career-high set as a junior — and the Eaglecrest boys basketball team topped visiting Arapahoe 78-59 to improve to 10-4 overall and 4-1 in Centennial League play. Senior Jayden Washington finished with 14 and freshman LaDavian King 10 for the Raptors. …The Smoky Hill boys basketball team kept up its high-scoring ways with an 82-59 Centennial League win at Grandview, which record its season-high offensive output. The Buffaloes sit at 9-5 overall and 4-1 in the league, while the Wolves are 3-11 and 1-4. …The Cherokee Trail girls basketball team trailed Mullen by just three points at halftime, but watched the Mustangs outscore it 41-14 in the second half in a 65-35 Centennial League loss. Senior Damara Allen led the Cougars (7-8 overall, 1-3 in league) with 19 points. …The Eaglecrest girls basketball team remains looking for its first Centennial League win of the season after a 59-36 road loss at Arapahoe. …The Vista PEAK girls wrestling team downed Mountain Vista 36-24 in a dual match that saw it get pins from Reagan Perez (127 pounds), Jayden Abreo (136) and Samiah Andrews (215). …Emmanuel Martinez (126 pounds) and Van Nawl (145) won by fall for the Aurora Central boys wrestling team, but the Trojans fell to Highlands Ranch 45-30.
— The Aurora prep sports scoreboard for Wednesday, Jan. 19, here
TUESDAY, JAN. 18: The Smoky Hill girls basketball team picked up its ninth win of the season by holding off a late charge from Westminster in a 48-43 victory. Freshman Yamoni Perez had the go-ahead basket late in the fourth period as part of her team-high 13 points, sophomore Madison Stangle added 12 and seniors Jazlyn Lindsey — who closed out the first half with a 3-pointer from just past midcourt — and Jasmine McNeal added seven each. … The Regis Jesuit boys basketball team dropped an 81-61 Continental League contest to visiting Mountain Vista despite 21 points from TaRea Fulcher plus Kyle Sandler's 17 (plus 10 rebounds)….KK Stroter tallied 16 points and fellow senior Elijah Thomas had 14 as the Rangeview boys basketball team won its third straight tight game with a 48-45 road win at Ralston Valley….The Rangeview girls basketball team got held to single digits in all four quarters of a 54-29 loss to top-ranked Valor Christian. Senior Ny'Era West was the lone Raider in double figures with 14 points. …Senior Madden McHugh made five 3-pointers on her way to 15 points (the second-highest total of her career) and the Regis Jesuit girls basketball team topped Mountain Vista 58-40. Sophomore Sophia Meyer joined her in double figures with 12. …The Gateway girls basketball team outscored Adams City by three points in the fourth quarter and that was its margin of victory in a 48-45 EMAC road win. … …The Vista PEAK boys and girls wrestling teams both rallied from early deficits to finish off a sweep at Overland. The Bison girls were down 18-0 after three matches, but evened it up after receiving three forfeits and went ahead on Leilani Camaal's pin of Overland's Ariana Butler and went on to win 30-18. The Vista PEAK boys also got down big after the Trailblazers opened with wins from Dominic Pacheco (106), Ke Mar Allen (132), Eric Kelly (138), James Rada Scales (145) and Traevione Luster (152), but scored 36 of the last 39 points in a 42-25 win. Oscar Valdez (195), Nathan Hunholz (220) and Joseph Maes (285) finished off the dual with wins by fall for the Bison.
— The Aurora prep sports scoreboard for Tuesday, Jan. 18, here
MONDAY, JAN. 17: A very light day due to the holiday honoring Dr. Martin Luther King Jr. saw the Vista PEAK girls basketball team travel to Doherty and fall 70-58 in non-league play. …The Regis Jesuit girls basketball team finished up a three-game set at the Classic In the Country Challenge in Berlin, Ohio, with a 50-49 victory over Laurel (Ohio), aided by 18 points from sophomore Coryn Watts and 11 from junior Savitri Jackson, plus a double-double (10 points, 11 rebounds) from sophomore Hana Belibi.
— The Aurora prep sports scoreboard for Monday, Jan. 17, here
SATURDAY, JAN. 15: Despite 24 points from Rickey Mitchell and 22 from Brayden Maldonado, the Smoky Hill boys basketball team dropped a 67-65 Centennial League contest at Cherry Creek. …Mostapaha Elmoutaouakkil tallied 17 points and assisted on Jayden Washington's deciding basket as the Eaglecrest boys basketball team edged Grandview 40-38. …The 1-2 combination of senior Victor Harp (22 points) and junior Marzouq Abdur-Razaaq (21) helped the Overland boys basketball team to a 68-51 Centennial League win over Mullen. Freshman Jayden Kelsey added 13 for the Trailblazers….Seniors Lauren Betts (19), Marya Hudgins (17) and Amaya Charles (10) were in double figures as well as freshman Sienna Betts as the Grandview girls basketball team tuned up for out-of-state play with a 68-44 Centennial League win over Eaglecrest. …Senior Ny'Era West was honored for passing the 1,000-point career mark (story, here) and then contributed 13 points, while senior Genesis Sweetwine went for 19 and the Rangeview girls basketball team rolled past Rocky Mountain 66-47. …The Vista PEAK girls basketball team posted a lopsided 70-29 win over Sierra. …The Grandview boys wrestling team finished third among 19 scoring teams at the Arvada West Invitational behind six placers, including runners-up Sonny Quintana (145 pounds), Charlie Herting (160), Talen Rice (182), Maxwell Kibbee (195) and Angelo Falise (285). …The Cherokee Trail boys wrestling team tied for 21st out of 68 teams from multiple states in Utah at the Rockwell Rumble. Senior Derek Glenn Jr. finished 3rd at 120 pounds and Chance Matthews claimed 6th at 113. …The Eaglecrest girls wrestling team claimed third place among 21 scoring teams at the Vista Ridge Alpha Female Tournament with eight placers and a champion in junior Blythe Cayko at 185 pounds. Vista PEAK also competed and tied for eighth with Samiah Andrews' runner-up finish at 215 pounds leading the way.
— The Aurora prep sports scoreboard for Saturday, Jan. 15, here
FRIDAY, JAN. 14: The Regis Jesuit boys basketball team prevailed over Rock Canyon battle of ranked Continental League teams as the Raiders emerged with a 60-58 home win. TaRea Fulcher scored 21 points, Kyle Sandler 19 and Archer VanSickle 11. …Dayvon Vaughns tallied 17 points, Xander Smith 13 and Malietoa Fifita 11 to lead the Hinkley boys basketball team to a rousing 66-50 home win over Aurora Central, which got 20 points from senior Brian Weatherford and 12 from junior Cai'Reis Curby. …Robbie Dembeck scored the lone goal as the Regis Jesuit ice hockey team topped Resurrection Christian 1-0 in a Foundation Game. …The Eaglecrest boys and girls wrestling teams swept Vista PEAK with wins of 69-9 and 51-9, respectively. Eight of the wins for the Raptors' boys came via pin, while the girls had three in a match that also featured a very competitive 147-pound match that saw Gianna Falise of Eaglecrest top Leilani Camaal of Vista PEAK 9-7 in overtime.
— The Aurora prep sports scoreboard for Friday, Jan. 14, here
THURSDAY, JAN. 13: An intense Centennial League boys wrestling dual between Eaglecrest and Grandview tipped early in the favor of the Raptors before the Wolves won the last seven matches for a 47-24 win. In the marquee matchup in terms of On The Mat's rankings, Eaglecrest's Mike Witt (ranked No. 6 at 285 pounds) edged fourth-ranked Angelo Falise of Grandview, 4-3. The match started on a high note for the Raptors when 13th-ranked 182-pounder Hunter Baird won a 6-4 decision over the Wolves' seventh-ranked Talen Rice. …Damara Allen poured in 20 points and Sierra Culbreath added 14 as the Cherokee Trail girls basketball team knocked off Eaglecrest 37-29. Laci Roffle led the Raptors with 14 points. …Marya Hudgins (16), Lauren Betts (14) and Sienna Betts (13) scored in double figures as the Grandview girls basketball team topped rival Cherry Creek 54-34. …The Rangeview boys basketball team rallied from a double-digit second half deficit for a 76-74 win over Valor Christian with five players reaching double figures, led by Malik Frazier with 24 points.
— The Aurora prep sports scoreboard for Thursday, Jan. 13, here
WEDNESDAY, JAN. 12: The Aurora Central boys wrestling team topped Skyview 42-38 as Daniel Bartley (126 pounds), Emmanuel Martinez (132), Van Nawl (152) and Manuel Millan (195) won by fall. …Breanna Jefferson had a career-high 37 points as the Vista PEAK girls basketball team topped Denver South 75-68.
— The Aurora prep sports scoreboard for Wednesday, Jan. 12, here