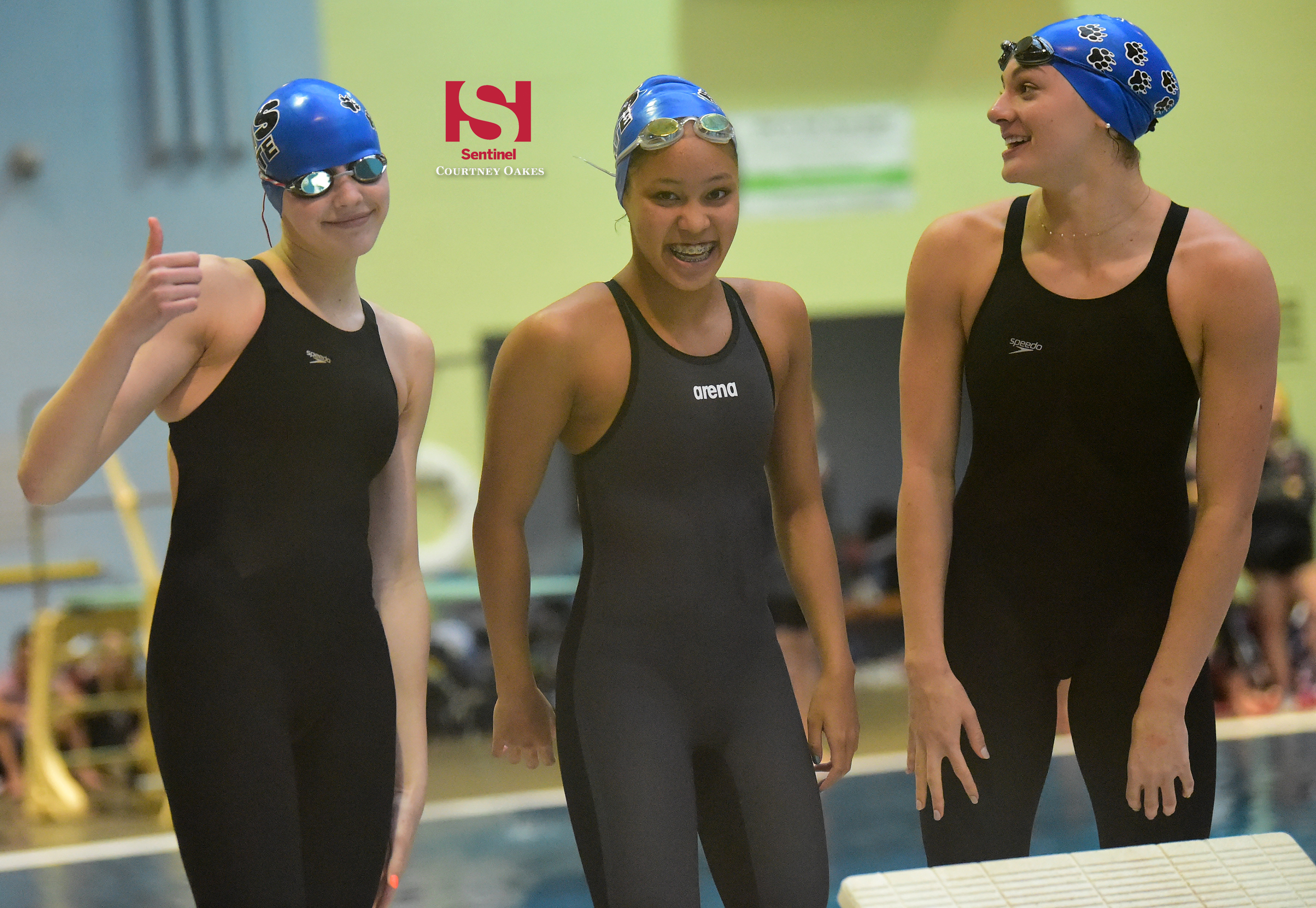 THORNTON | More points were available at the Class 5A girls state swim meet this season and Grandview was glad to grab plenty of them.
With 112 points collected, Wolves more than doubled their 2018 total of 53 points in this season's competition — which saw 20 scoring positions per event instead of 16 — thanks to final swims in the championship finals Saturday at the Veterans' Memorial Aquatic Center, though they finished one spot lower (12th) in the final team standings.
All three relay teams placed in the top 10 for coach Karen Ammon's Grandview team, which also got a combined four championship and consolation finals swims from senior Lyssa Wood and sophomore Julia Matney as well.
Wood, a four-time state qualifier, posted the best individual finish for the Wolves with her ninth-place result in the 500 yard freestyle.
With a finals time of 5 minutes, 15.91 seconds, she placed in the top 10 in the event for the third straight season, following a sixth-place result in 2017 and eighth last season. Wood also finished 17th in the 200 IM, though her time of 2:09.38 was three seconds lower than her pre-meet seed time.
Matney qualified for state in the 100 butterfly for the second time in as many seasons and made a huge jump in the results. She placed 43rd in the prelims last season with a time of 1:02.93, but qualified for the championship final this time — with a season-best time of 57.32 seconds — and clocked a 57.46 in the final to place 10th.
Matney also qualified in the 100 breaststroke for a second straight season and took a big leap in that event as well, as she swam nearly 10 seconds faster than in 2018 and placed 20th.
Grandview's relay teams all benefited from the expansion of the championship finals from eight to 10 teams this season. The 200 medley relay team of Matney, fellow sophomores Hailey Matthews and Jadyn Phillips and junior Lily Williams moved up 11 spots from its pre-meet seeding to finish ninth.
Courtney Oakes is Sentinel Sports Editor. Reach him at 303-750-7555 or [email protected] Twitter: @aurorasports. FB: Sentinel Prep Sports
GRANDVIEW'S 2019 CLASS 5A STATE SWIM PLACERS
Julia Matney (10th, 100 yard butterfly/20th, 100 yard breaststroke); Lyssa Wood (9th, 500 yard freestyle/17th, 200 yard individual medley); Relays — 200 yard medley relay (Hailey Matthews, Julia Matney, Jadyn Phillips, Lily Williams), 9th; 200 yard freestyle relay (Julia Matney, Jadyn Phillips, Lily Williams, Lyssa Wood), 10th; 400 yard freestyle relay (Alyssa Russum, Lyssa Wood, Lily Williams, Jadyn Philips), 10th
GRANDVIEW'S PRELIM RESULTS
200 yard medley relay: 9. Grandview (Hailey Matthews, Julia Matney, Jadyn Phillips, Lily Williams), 1 minute, 49.48 seconds; 200 yard freestyle: 37. Alyssa Russum, 2:01.14; 200 yard individual medley: 19. Lyssa Wood, 2:10.53; 50 yard freestyle: 43. Lily Williams, 25.33; 66. Nicole Reiser, 26.03; Jenna Moss NS; 100 yard butterfly: 9. Julia Matney, 57.32; 39. Alyssa McKenna, 1:00.84; 41. Alyssa Russum, 1:01.06; 100 yard freestyle: 22. Jadyn Phillips, 53.93 (2nd alternate); 500 yard freestyle: 9. Lyssa Wood, 5:11.51; 200 yard freestyle relay: 10. Grandview (Julia Matney, Jadyn Phillips, Lily Williams, Lyssa Wood), 1:38.95; 100 yard backstroke: 36. Hailey Matthews, 1:01.03; 100 yard breaststroke: T18. Julia Matney, 1:07.41; 400 yard freestyle relay: 10. Grandview (Hailey Matthews, Lyssa Wood, Lily Williams, Jadyn Phillips), 3:39.74