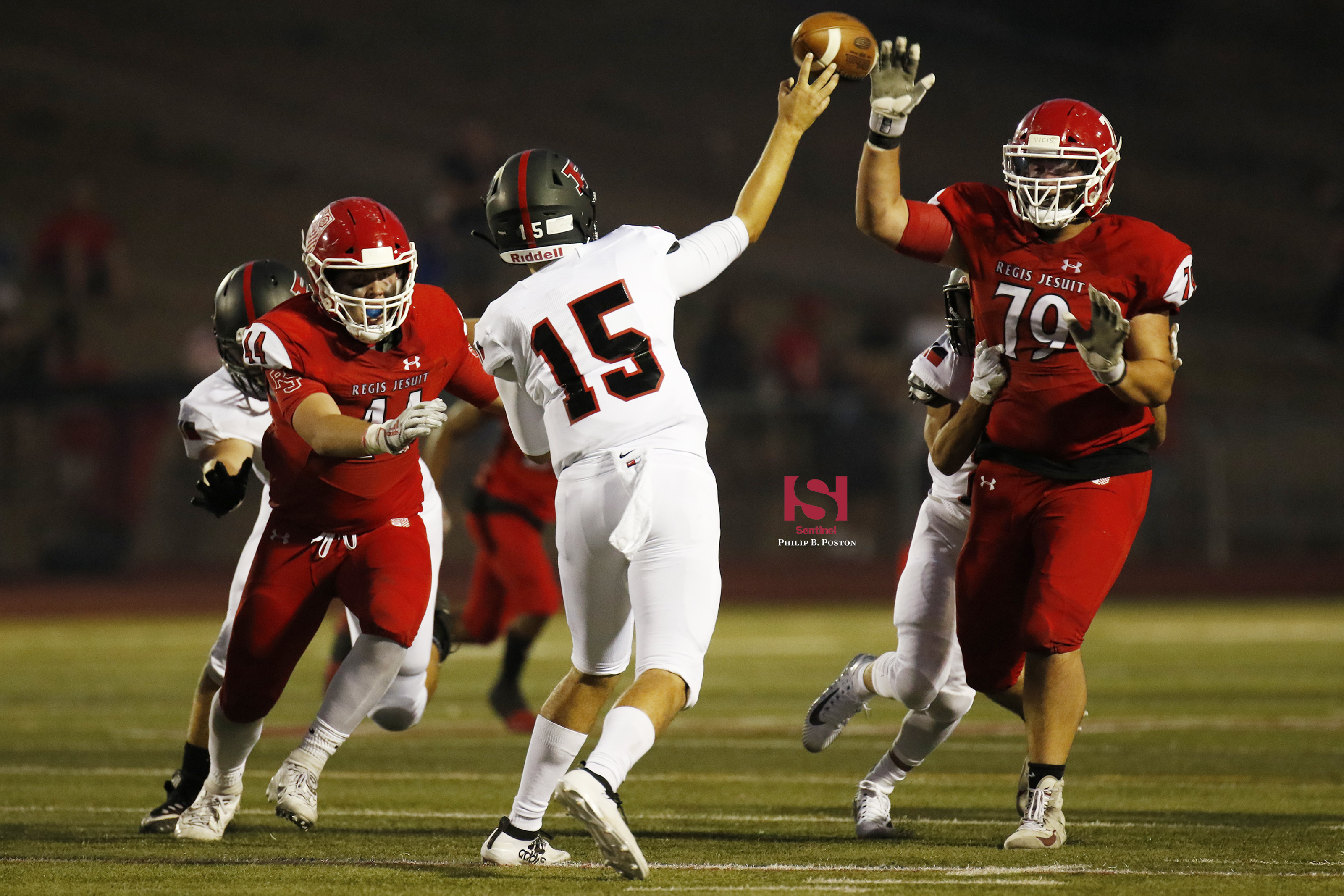 AURORA | Football had the longest wait of any fall sport to begin the 2019 season and local teams christened the new season with a bang.
Nine of Aurora's 11 programs were in action — all save Hinkley and Vista PEAK, which make their debuts in the upcoming week — and they finished with a cumulative 6-3 record.
In the most high-profile game of the week as far as Class 5A preseason rankings were concerned, Regis Jesuit rallied in the closing minutes to knock off Pomona 23-13 at Lou Kellogg Stadium. The teams met for the first time since the semifinals of the 2016 5A state playoffs and the Panthers were in position to win the rematch with a 13-9 lead inside the final four minutes of regulation.
Raiders' sophomore quarterback Nicco Marchiol had other ideas, however, as he stepped up in the pocket and launched a pass that hit senior wide receiver Jackson Connelly — a track star during the spring — in stride that went for an 80-yard, go-ahead touchdown.
Regis Jesuit recovered a loose ball on the ensuing onside kick and junior David Dody reached the end zone on a 38-yard run to put the game away for the Raiders.
Junior Jordi De la Torre had the other nine points for coach Danny Filleman's Regis Jesuit team on a trio of field goals, with a long of 43 yards.
With help from the late bomb, Marchiol finished with 316 yards passing, while Connelly ended up with 149 yards on seven catches. Senior Bryce Sloan (89 yards) and sophomore Dallas Macias (60) also contributed to the big night. The Raiders won with just 53 yards rushing on 30 carries, with the majority coming on Dody's 38-yard run.
Here's how things went for the other Aurora teams in action in Week 1 (full scoreboard):
AURORA CENTRAL: The Trojans won their opener for the second year in a row with a 22-12 win over Northfield on Aug. 31 at All-City Stadium in Denver. Coach Austin Able's Aurora Central team overcame a penalty-marred first half in which was held off the scoreboard and rallied for 22 points in the second half. Senior quarterback Tray Willard rushed for a touchdown and threw one to freshman CaiReis Curby, senior Anthony Alvarado ran for a score and senior Julian Graham-Simmons brought down Northfield's quarterback in the end zone for a safety. Week 2: Aurora Central (1-0) has its home opener at Aurora Public Schools Stadium at 6:30 p.m. Sept. 6 against Standley Lake.
CHEROKEE TRAIL: Coach Joe Johnson's Cougars topped Rock Canyon 17-13 Aug. 30 at Legacy Stadium to push its win streak against the Jags to four games. Week 2: Cherokee Trail (1-0) travels to Shea Stadium at 7 p.m. Sept. 5 to face Mountain Vista (0-1).
EAGLECREST: The Raptors earned a win for Shawn Marsh in his debut as head coach, going on the road to top Highlands Ranch 30-20 Aug. 30 at Shea Stadium. Marsh's son, Max Marsh, rushed for two touchdowns and threw for one (to junior Ty Robinson) in his first game as Eaglecrest's quarterback, while AJ Heber connected on a field goal. Senior David Creal returned an interception return for a touchdown as the Raptors' defense — which also got two interceptions from junior Seyi Oladipo — rose to the occasion, especially late. Game photo gallery, here. Week 2: Eaglecrest (1-0) plays host to Fountain-Fort Carson (1-0) at 7 p.m. Sept. 6 at Legacy Stadium.
GATEWAY: The Olys visits Nevada last season to match up with Las Vegas and had hosting duties this time as the Wildcats came in and earned a 49-24 victory Aug. 30 at Aurora Public Schools Stadium. Gateway took a 10-0 lead and maintained a three-point edge at halftime in a game delayed by lightning, only to see Las Vegas score 42 points in the final two quarters to win going away. Junior Erick Covington threw for 115 yards and two touchdowns, including one to junior Antwuan Smith early, and also ran for one as part of a 99-yard rushing game. Junior RJ Webster picked up 125 yards on the ground for coach Taylor Calvert's Olys. Week 2: Gateway (0-1) take the home field at APS Stadium at 4 p.m. Sept. 7 with Montezuma-Cortez (0-1) set to visit.
GRANDVIEW: The Wolves were in fine form from the opening kickoff, as they scored 14 points apiece in each of the first three quarters on their way to a 49-7 win over Chaparral Aug. 30 at EchoPark Stadium. On a night in which coach John Schultz's team fell just short of the 400 yard mark in rushing, junior Noah Schmidt racked up 209 yards and scored twice, while sophomore Moosah Alsaffar found the end zone three times. Junior quarterback Jacob Burr rushed for a touchdown and threw one to senior Ty Hussey. Week 2: Grandview (1-0) welcomes Highlands Ranch (0-1) to Legacy Stadium at 7 p.m. Sept. 5.
OVERLAND: The Trailblazers gave a spirited effort in the debut of former assistant DaVaughn Thornton Sr. as head coach, but fell behind Smoky Hill early and couldn't catch up in a 48-26 loss Aug. 29 at Stutler Bowl. With the Wagon Wheel traveling trophy at stake, Overland answered Smoky Hill's early score with a touchdown pass from senior Mark Thrower to freshman Ismael Cisse. In the second half, the Trailblazers scored twice via return on senior Jaheim Roper's 88-yard kickoff return and senior Camwrin Harris' late interception return to the end zone. Roper also had an interception that set up Thrower's touchdown pass to senior Jawan Lacour. Week 2: Overland (0-1) is back at Stutler Bowl for a 7 p.m. contest Sept. 5 against Regis Jesuit (1-0).
RANGEVIEW: Coach Brandon Alconcel's Raiders were the first Aurora team to open the season, as they kicked off Aug. 29 against ThunderRidge at Aurora Public Schools, a game which ended 42-14 in favor of the Grizzlies. Rangeview scored in the opening half when junior quarterback Reece Berkey connected with sophomore Demario Williams in the end zone, while sophomore Brian Figueroa rushed for the Raiders' other TD in the second half. Week 2: Rangeview (0-1) opens Metro 10 play against Smoky Hill (1-0) at 6 p.m. Sept. 7 at Legacy Stadium in a game that is centered on Veterans' Appreciation.
SMOKY HILL: The Buffaloes kept the Wagon Wheel traveling trophy with a 48-26 victory over rival Overland Aug. 29 at Stutler Bowl, as coach Tom Thenell's team piled up 34 points in the second half alone to keep the Trailblazers at bay. Senior running back Obie Sanni gained 229 yards on the ground and scored five touchdowns, including three in the second half, while junior quarterback Leslie Richardson III (277 yards passing) threw a pair of scores to junior wide receiver Alec Pinkowski. Senior Ryan Hollingsworth led Smoky Hill in receiving with 79 yards. Week 2: Smoky Hill (1-0) plays host to Rangeview (0-1) at 7 p.m. Sept. 7 at Legacy Stadium in a game that is centered on Veterans' Appreciation.
Courtney Oakes is Sentinel Colorado Sports Editor. Reach him at 303-750-7555 or [email protected] Twitter: @aurorasports. IG: Sentinel Prep Sports