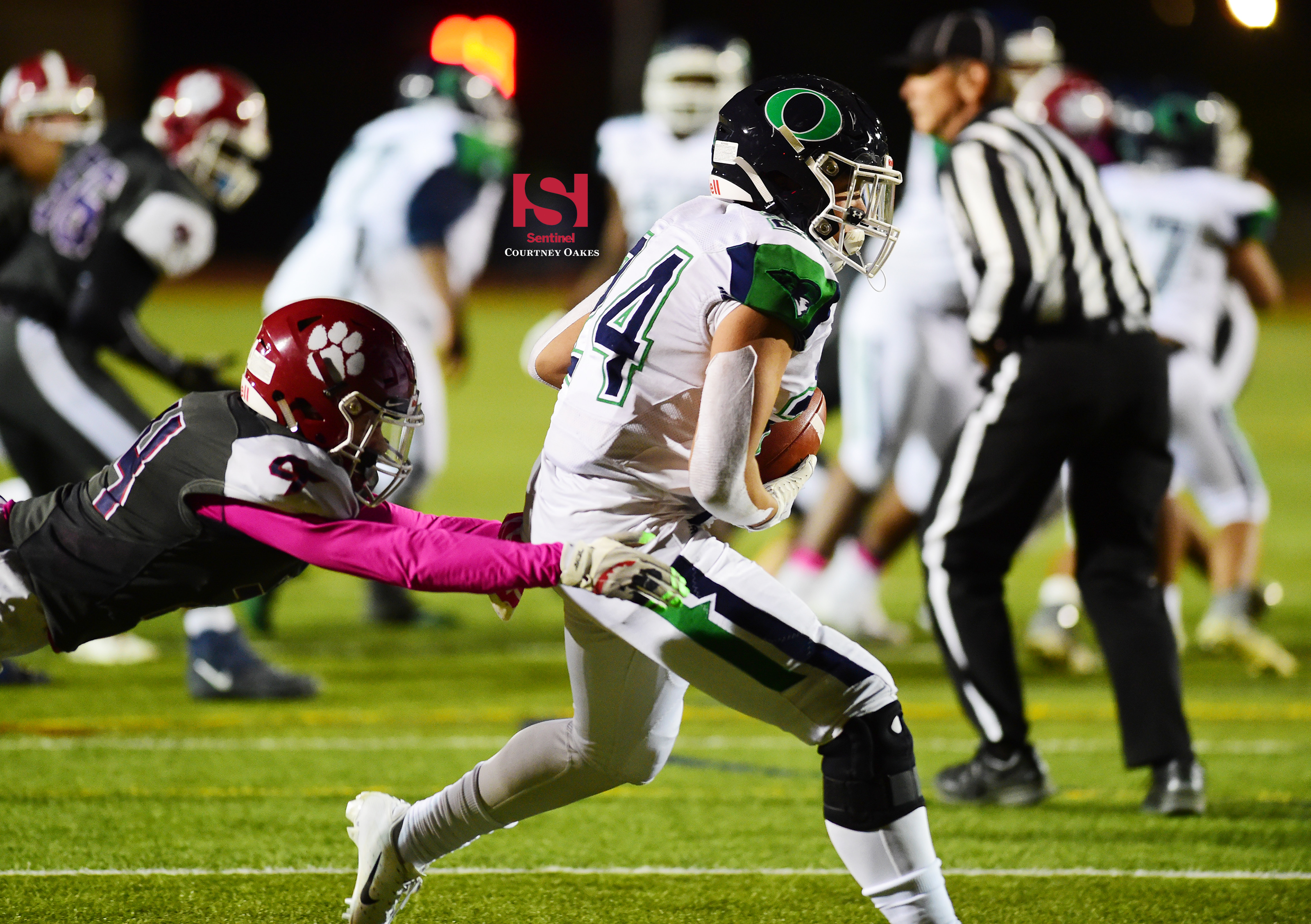 AURORA | Week 8 for Aurora prep football teams was filled with largely one-sided results — six of nine games were decided by double-digit points — but Rangeview's Metro 10 road victory at Boulder was a certified thriller.
Through three quarters, the Raiders' visit to Recht Field looked like one of those lopsided contests as coach Brandon Alconcel's team trailed the Panthers 28-7 in Metro 10 play.
The game ended in unlikely fashion, however, as Rangeview rang up 28 unanswered points in the final quarter — including a 70-yard touchdown pass from junior quarterback Reece Berkey to senior Davon Desmond inside the last minute — for a 35-28 victory.
Berkey hit Desmond with a short pass in the flat and after a few spin moves and blocks in the middle of the field, the speedster worked his way across the field and up the sideline into the end zone for what proved to be the winning score.
Desmond finished the night with four touchdowns for Rangeview, which evened its record at 4-4 overall — in the wake of a 1-win 2018 season — and moved into the upper half of the Metro 10 standings at 4-3 in league play.
Trey Rogers also had a rushing touchdown for the Raiders, winners of four of their last five games.
Among other highlights of Week 8 for Aurora teams, Regis Jesuit, Smoky Hill and Vista PEAK all remained undefeated with double-digit victories.
Here's a look at what happened in Week 8 for city teams:
Courtney Oakes is Sentinel Colorado Sports Editor. Reach him at 303-750-7555 or [email protected] Twitter: @aurorasports. IG: Sentinel Prep Sports
AURORA CENTRAL: Coach Austin Able's Trojans fell to 1-6 overall and 0-2 in 4A Metro League play with a 56-12 road defeat against Heritage Oct. 17. Freshman Simeon Veasley rushed for a touchdown for Aurora Central. Next: The Trojans head to EchoPark Stadium Oct. 25 for a 7 p.m. league contest against Ponderosa (4-3, 2-0).
CHEROKEE TRAIL: The Cougars kept the momentum going from its win over rival Grandview the previous week and came away with a 30-20 Metro East victory against Overland on Oct. 17 at Legacy Stadium. Senior Julian Williams rushed for a pair of touchdowns in the second half, while senior Torrey Sanders rushed for one and caught a scoring pass from junior Jayden Lavigne for coach Joe Johnson's Cherokee Trail team, which improved to 6-2 overall and 2-1 in league play. Next: The Cougars play host to undefeated Cherry Creek (8-0, 3-0) in Metro East play at 7 p.m. Oct. 25.
EAGLECREST: The Raptors made a couple of early mistakes that ended up snowballing later in a 41-3 loss at Cherry Creek Oct. 18. A week after racking up a season-high 56 points against Overland, Eaglecrest was held to a season-low against the tough Bruins, as coach Shawn Marsh's team only put three points on the board on a Coby May field goal in the second quarter. Cherry Creek's defensive picked off two passes (one at the goal line) and recorded eight sacks. Defensively, the Raptors allowed more points than they had since Week 2 of the 2018 season against Fountain-Fort Carson, which also had 41. Next: Eaglecrest pays a visit to Littleton Public Schools Stadium at 7 p.m. Oct. 24 to go against Arapahoe (5-3, 1-2) in Metro East play.
GATEWAY: Coach Taylor Calvert's Olys found the going tough Oct. 17 at Aurora Public Schools Stadium against visiting Ponderosa, which piled up 35 points in the opening half of its way to a 42-7 victory. Gateway's lone score came in the fourth quarter when junior quarterback Erick Covington hooked up with Maliq Alford on an 80-yard touchdown pass. Junior RJ Webster fell just short of the 100 yard rushing mark for the Olys, while he also registered 10 tackles on defense. Next: Gateway plays host to Montrose (7-0, 2-0) in a 4A Metro League contest at 1 p.m. Oct. 26 at APS Stadium.
GRANDVIEW: Coach John Schultz's Wolves had another Metro East grind on their hands Oct. 18 at Legacy Stadium and prevailed over Arapahoe 14-6. Junior running back Noah Schmidt, battling injury of late, had his largest rushing game in three weeks with an 184-yard effort that included one trip to the end zone. Junior quarterback Jacob Burr failed to throw a touchdown pass for only the second time all season, but he caught one (on a pass from senior wide receiver Jordan Smith) in the second half. Colton Martin had a team-high 11 tackles and one of three interceptions. Next: The Wolves visit Stutler Bowl at 7 p.m. Oct. 25 to take on Overland (3-5, 0-3) in Metro East play.
HINKLEY: Coach Michael Farda's Thunderbirds fell to Standley Lake 32-27 Oct. 17 to drop to 5-2 overall and 0-2 in the Pioneer League. Quarterback Xavier Starks rushed for a touchdown and threw one to Richard Taylor before he left with in injury and Ty'ren Draper (rush) and Cristian Gonzalez (via pass from Jerry Taylor) also scored. Next: Hinkley treks to the Western Slope for a league contest against Fruita Monument (4-3, 2-0) in a 7 p.m. Oct. 24 contest at Stocker Stadium.
OVERLAND: Coach DaVaughn Thornton Sr.'s Trailblazers rallied in the second half, but fell to Cherokee Trail 30-20 in Metro East play Oct. 17. Senior quarterback Mark Thrower threw touchdown passes to senior Jawan Lacour, junior Kamari Brown and freshman Ismael Cisse (who caught a 2-point conversion pass to boot) in the second half for Overland (3-5, 0-3). Next: The Trailblazers take the Stutler Bowl turf at 7 p.m. Oct. 25 for a Metro East contest against Grandview (7-1, 2-1).
REGIS JESUIT: Coach Danny Filleman's Raiders staved off a challenge from Doherty in a 35-23 win Oct. 18. Junior running back David Dody tallied three touchdowns, sophomore quarterback Nicco Marchiol threw for two and ran for one and sophomore Dallas Macias also scored as Regis Jesuit moved to 8-0 and 3-0 in the South League. Next: The Raiders conclude their home schedule at Lou Kellogg Stadium with a 7 p.m Oct. 25 contest against Fountain-Fort Carson (3-5, 2-1) on Armed Forces/First Responders Appreciation Night.
SMOKY HILL: The Buffaloes rolled past Adams City Oct. 18 for a 51-7 Metro 10 victory that handed coach Tom Thenell his milestone 200th career victory. Senior running back Obie Sanni piled up 107 yards and two rushing touchdowns, junior quarterback Leslie Richardson III threw for 164 yards and scoring passes to senior Ryan Hollingsworth and junior Alec Pinkowski and sophomore Marvin Jones also reached the end zone. The Buffaloes (8-0, 7-0) also scored twice defensively on an interception return by senior Chase Lyons and fumble recovery by senior Dasani Darnell. Next: Smoky Hill holds its Senior Night during a 7 p.m. Oct. 24 Metro 10 contest against Mountain Range (3-5, 2-4) at Stutler Bowl.
VISTA PEAK: Coach John Sullivan's Bison tallied a season-high in points in a 59-7 Pioneer League road win at Centaurus Oct. 19. Vista PEAK — one of only three undefeated teams remaining Class 4A at 7-0 (2-0 league) — rushed for six touchdowns, two each from junior Montral Hamrick and senior Gene Sledge Jr., plus one for junior Ja'derris Carr-Kersh (who also scored on a reception from junior quarterback Victor Owens), senior Dennis Flippin and sophomore Javion Kibble. Next: The Bison play host to Standley Lake (3-4, 2-0) in Pioneer League play at 6:30 p.m. Oct. 25 at Aurora Public Schools Stadium.