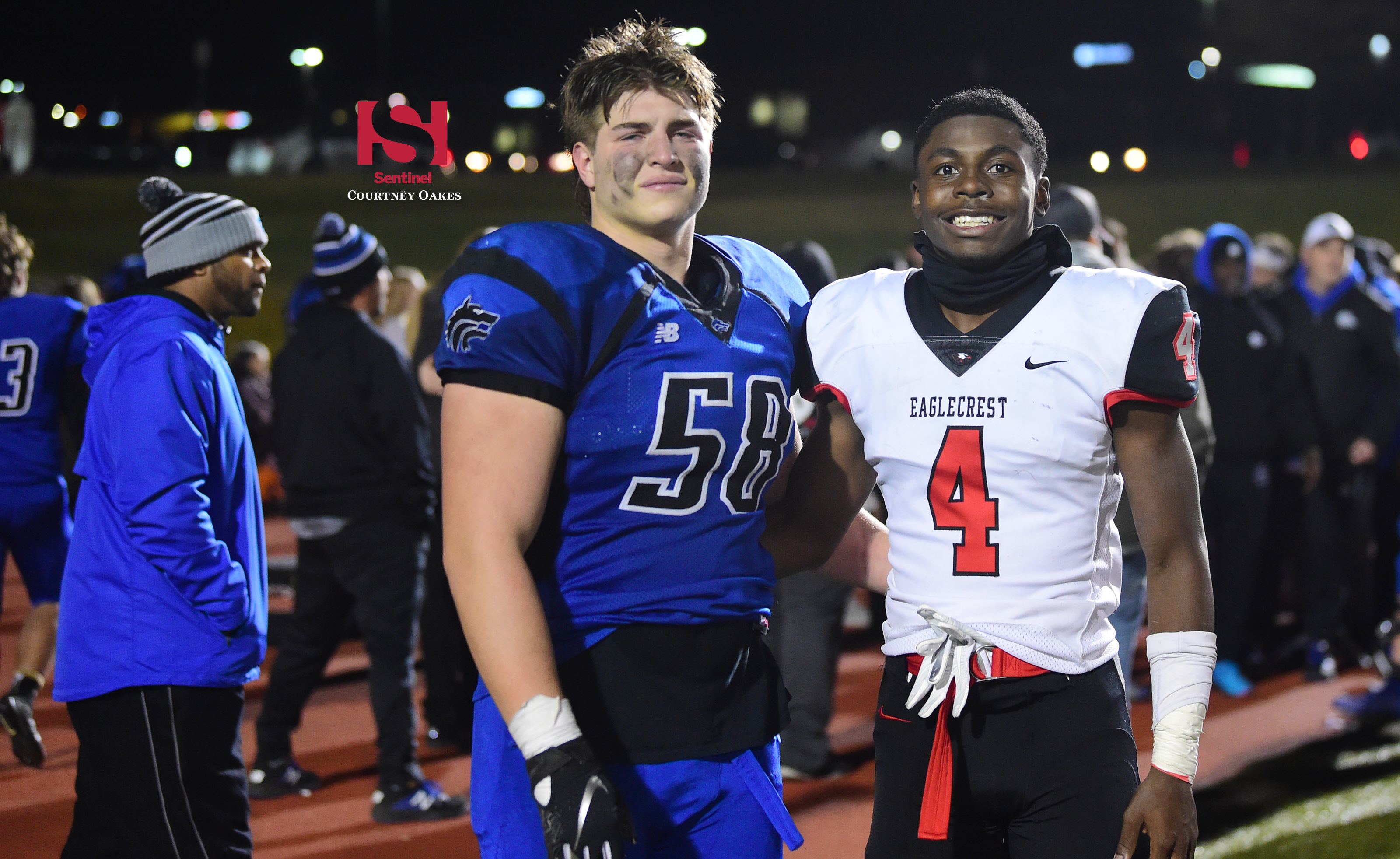 Pick your up-and-down or back-and-forth analogy — rollercoasters, peaks and valleys or whatever you prefer —and it likely applied to the Class 5A state football playoff game between Eaglecrest and Grandview Nov. 15.
The Raptors and Wolves, longtime fierce rivals, added another wild chapter to their recent history with their topsy-turvy meeting on the turf at Legacy Stadium, which has witnessed most of the craziness.
A tumultuous fourth quarter and overtime — which saw a combined 35 points after a relatively mundane first three quarters — ended with Eaglecrest on top 28-21.
"My dad (Eaglecrest head coach Shawn Marsh) always says a football game is like a rollercoaster," said senior quarterback Max Marsh, who has got a baptism by fire into the rivalry after arriving prior to this season with his dad from the Western Slope.
"It has its peaks and its valleys and you just have to fight," he added. "You try to get to the peaks and when you are in the valleys, you have to fight out of it and that's what we did. I'm proud that we were able to fight out of the valley."
The Raptors fought themselves into the 5A quarterfinals for the fourth straight season and will face a tall task in No. 2 Ralston Valley (11-0), which awaits at 7 p.m. Nov. 22 at the North Area Athletic Complex. Grandview (8-3), meanwhile, fell short of advancing to the quarterfinals for the first time since 2009.
Owing to quality coaching staffs on both sides and players who grew up playing with and against each other in the neighborhoods around the nearby schools, the Eaglecrest-Grandview rivalry has simply been one of the state's best and one of its most competitive over the past decade.
The last six meetings between the programs, which have happened over four seasons — including two straight postseason matchups, which the teams have split — have all been decided by a touchdown or less. That scant margin has also applied to eight of the last 10 (Grandview mixed in double-digit victories in 2013 and 2015) and three of those have needed overtime to decide.
In 2018, there was the memorable regular season meeting that included Ty Robinson's 1-handed touchdown catch on a fourth down bomb from then-quarterback Dylan James that rallied the Raptors to a one-point victory and the teams later waged their version of the Ice Bowl in the playoffs, which the Wolves won by five.
This season's regular season meeting went to the Wolves by three points and the playoff game could have gone either way.
A see-saw fourth quarter that started tied 7-7 ended knotted at 21-21. A wild, toe-tap on the sideline interception by Robinson seemed to have sealed it for the Raptors, but a Colton Martin blocked punt quickly led a tying touchdown on a pass from Jacob Burr to Noah Salazar.
The difference came down to Eaglecrest's conversion to open overtime, when Marsh (who threw for three touchdowns and ran for another) hooked up with senior Jalen Stewart on a third-down touchdown pass.
The Raptors' defense — buoyed by a large penalty on Grandview's first play — survived a fourth-down pass to the end zone to end the game.
"We knew we were going to have a chip on our shoulder; we came in ready and we knew we could beat them," Stewart said. "It's a dream come true. From last year's heartbreaking loss to them, to win this year is big for us. We knew we didn't want to go home."
Added Shawn Marsh: "We keep telling our kids that there are Cinderella stories all the time, so why not us?. We're going to the final eight and there's a lot of good football teams in 5A in the state of Colorado. We're one of them."
The stark reality of the Eaglecrest-Grandview result is that only one of the two local programs could advance to the 5A's final eight.
Grandview coach John Schultz — whose team was plagued by penalties and turnovers at inopportune moments — had to adjust to not coaching into the quarterfinals for the first time in nearly a decade.
"We made some big plays late and they didn't quit, which is something I've been proud of with Grandview forever is they never quit and play hard every second of every game," Schultz said. "Sometimes you win, sometimes you lose."
The 5A playoffs now roll on with two Aurora programs, with fourth-seeded Regis Jesuit joining Eaglecrest in the quarterfinals. The Raiders (11-0) are one of three remaining undefeated teams in the 5A postseason after a 49-7 second round win.
Courtney Oakes is Sentinel Colorado Sports Editor. Reach him at 303-750-7555 or [email protected] Twitter: @aurorasports. IG: Sentinel Prep Sports