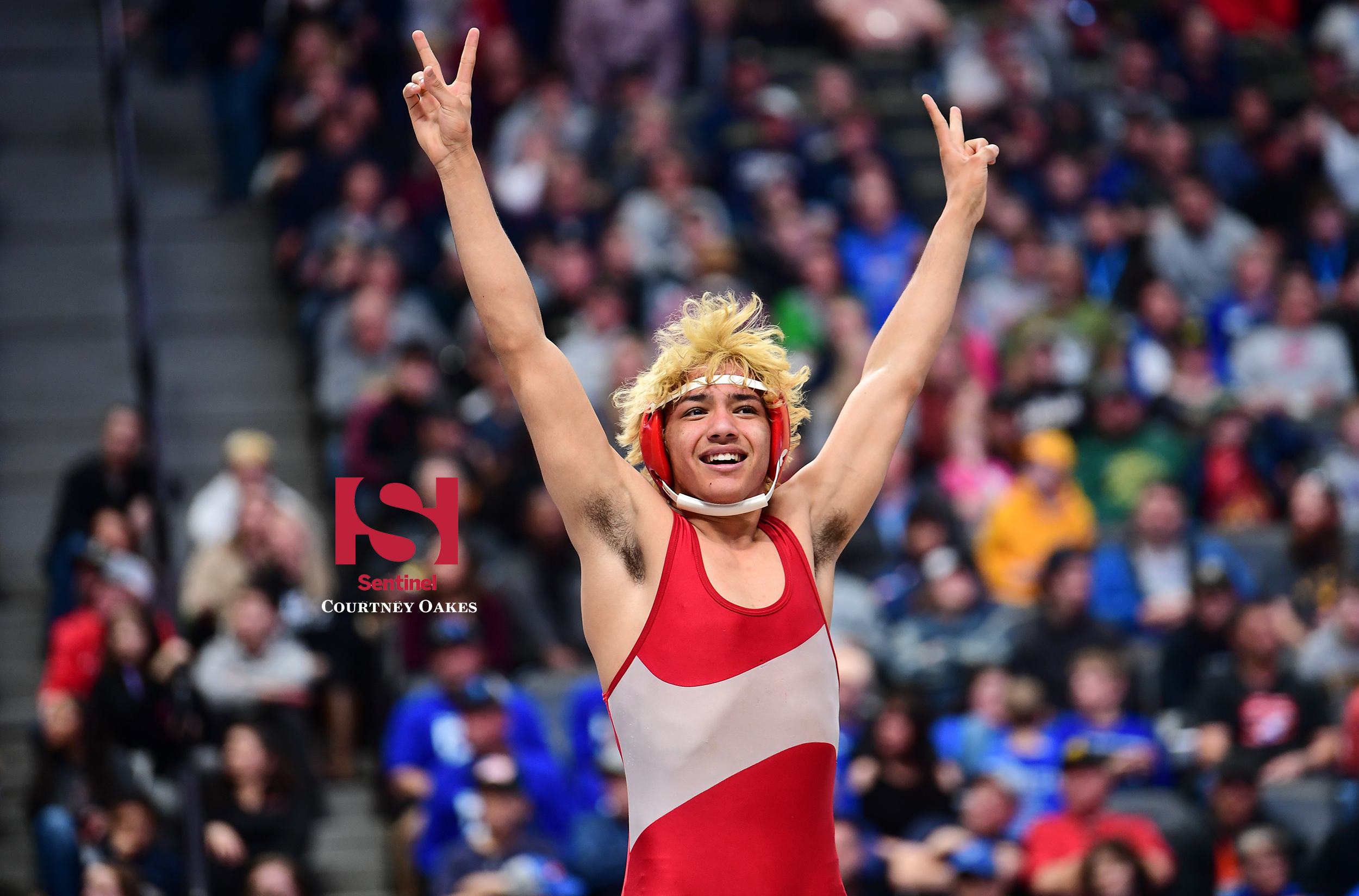 DENVER | A year later and with a lot less drama, Antonio Segura became a state wrestling champion again Saturday night.
The Regis Jesuit junior took it to the final few seconds to secure last season's Class 5A 145-pound state championship over Legacy's Joey Joiner and while the end result was the same (a victory), the rematch at the Pepsi Center was decidedly different.
Segura came out aggressive from the opening whistle and piled up five takedowns on his way to a 10-7 decision over Joiner as he became the Regis Jesuit program's fourth two-time state champion. He now has a chance to join John Crowley as a three-time winner.
"It was almost second nature this time; last year I was still coming down from the high of a major upset," said Segura, who finished 47-5. "This year, I had a different mindset since I'd already been to the finals. I wasn't cocky or disregarding my opponent, but I knew my opponent and what he does and he knows me, so I knew he would give me his best."
Regis Jesuit coach Brent Bieshaar had Segura wrestle at three different weights during the season (145, 152 and 160) to get the top competition and it paid off when he reached state with a strong run through a difficult 145-pound bracket.
Segura joins one of his coaches, Grant Neal — a professional Mixed Martial Arts fighter who has helped toughen him up in training — plus John Crowley and B.J. Sanchez as Regis Jesuit's two-time state champions and is set on joining Crowley as a three-time winner next season.
The championship match against Joiner went much differently than the previous one for Segura, who needed a takedown in the final 27 seconds for a 2-1 win.
This time, Segura came out the aggressor, got off to a comfortable lead and confidently finished off the victory.
"It was a different approach this year," Bieshaar said. "I wasn't nervous, I was more confident. We did a lot with him this year that people don't realize. Every chance we got, we put him against the toughest people we could. We knew we might take losses, but he's got big goals."
Segura is one of three state champions for Aurora to come out of the tournament, as Cherokee Trail broke through with two winners in sophomore 106-pounder Derek Glenn Jr. and junior Sam Hart at 220 pounds. The Cougars' Julian Williams lost in the 285-pound state final.
Courtney Oakes is Sentinel Colorado Sports Editor. Reach him at 303-750-7555 or [email protected]: @aurorasports. IG: Sentinel Prep Sports