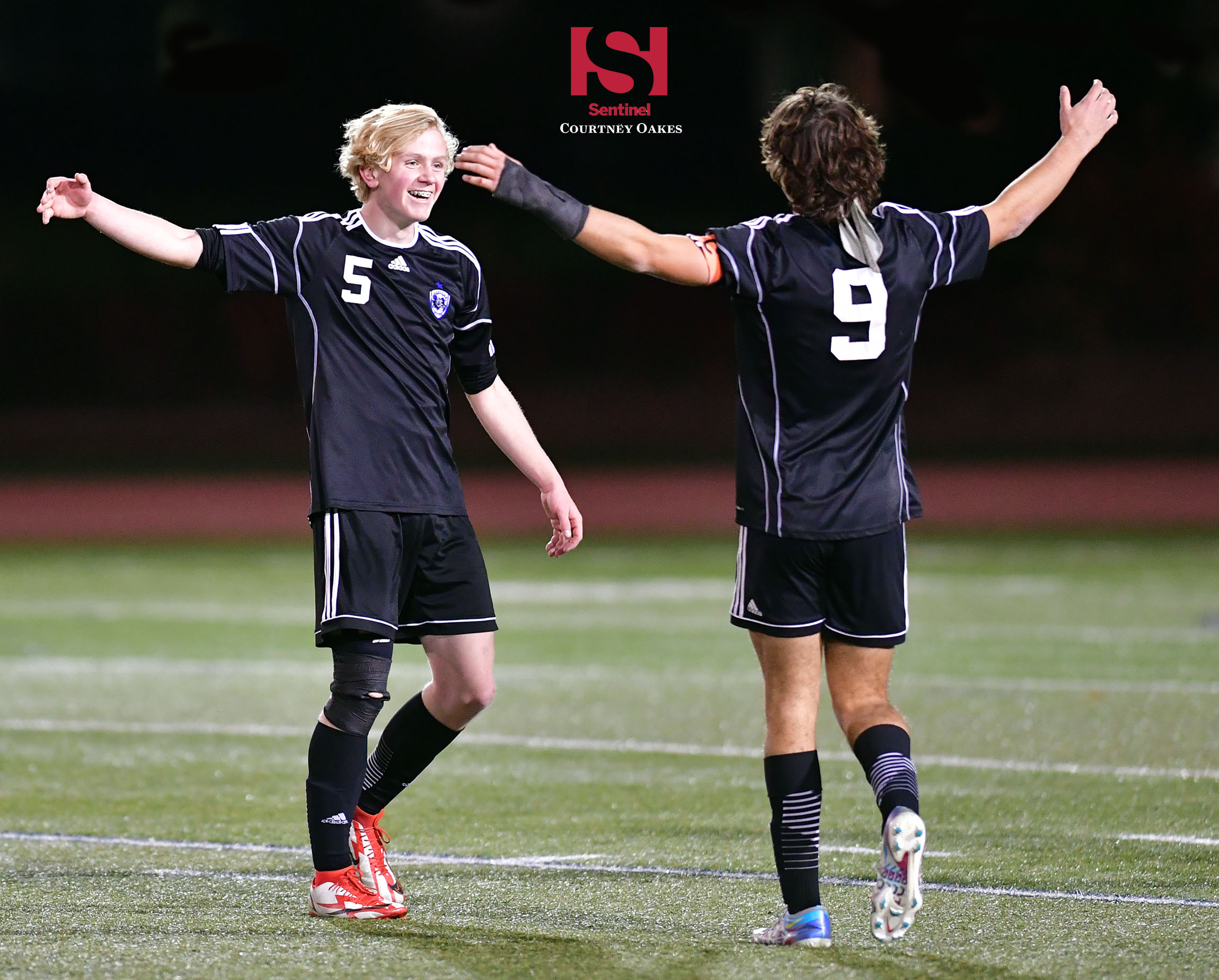 AURORA | The Grandview boys soccer team has the same opportunity it had six months ago, but it plans to take advantage of it this time.
The Wolves lost in the Class 5A semifinals to Cherry Creek in late April (story, here) — when the season was shifted due to the coronavirus pandemic — and have earned themselves a chance to play for a spot in the final again this season thanks to a 2-0 quarterfinal victory over Mountain Vista Saturday night at Legacy Stadium.
Coach Brian Wood's 11th-seeded Grandview team got the only goal it would need from sophomore JT Sus in the opening half on an assist from senior Blake Harwell, while senior Dylan Thompson added an insurance score midway through the second half to put the Wolves through into the Nov. 10 semifinals at the University of Denver.
"I think we're definitely ready after last year's loss to go back out there and prove we can go to the final," Thompson said. "I think we'll have some good practices Monday and Tuesday and be ready to go."
Grandview's preparation will be to play an unfamiliar opponent in Legacy, which Wood can't recall his program playing in quite some time. The seventh-seeded Lightning (15-2-1) advanced to the 5:30 p.m. semifinal with a 1-0 win over No. 15 Denver East.
In the quarterfinals, the Wolves (13-4-1) got a chance to gain some revenge against the 14th-seeded Golden Eagles, who dealt them a 1-0 loss during a rough 4-4 start to the season that had Grandview doing a lot of self evaluation.
A week off after the .500 opening stretch — capped by a loss to non-playoff qualifier Highlands Ranch — followed by a victory over then-undefeated and rival Cherokee Trail (story) to open Centennial League play and another week of practice were particularly key to Grandview getting back on track.
Since then, the Wolves have been unbeaten in eight straight games to win the league championship and advance to the Final Four despite a double-digit seed.
"We were 4-4 and licking our wounds and going 'Man, what can we do in league to sneak into the playoffs?," Wood said. "I just looked at the boys and said 'let's just go win the rest of them," and they've done it. It took a great effort from all of them. We've fixed a couple of things that we were doing wrong and been playing great since."
Grandview overcame a challenge from No. 22 Regis Jesuit in the opening round to win in overtime on a goal by senior Luke Williams, then knocked off previously undefeated and sixth-seeded Silver Creek in the second round on senior Charlie Lucero's goal (story) before rolling into the matchup with Mountain Vista, which had knocked off third-seeded Fort Collins (a team that dealt Grandview a loss earlier in the season) in the second round.
Sus put them on the scoreboard first in the opening half with his sixth goal of the season and the Wolves maintained that lead until the 58th minute, when Thompson struck.
Senior Ben Beckman drilled a free kick into the box that went off the hands of Golden Eagles keeper Chris Gritzmaker and redirected to an unmarked Thompson, who finished for his own sixth goal of the season.
"It gave us a little more cushion," Thompson said. "It feels amazing to score a goal and help us get to the semifinals."
A few minutes later, Grandview sophomore goalkeeper Nikhil Patel launched himself into the air to make one of his six saves a few minutes later and preserve the team's second shutout in three playoff games and ninth of the season overall.
Wood is excited for his team to get the chance to play at the University of Denver, a new venue after the semifinals were contested at Englewood High School in the spring.
"I've watched a ton of games there, so I'm excited to be down on the field coaching," Wood said. "They've had some turf problems there this year, but I don't care, it's going to be fun."
No. 5 Castle View and No. 17 Fossil Ridge play following Grandview and Legacy to fill the other spot in the 11:45 a.m. Nov. 13 5A final at Switchbacks Weidner Field in Colorado Springs.
Courtney Oakes is Sentinel Colorado Sports Editor. Reach him at [email protected] Twitter: @aurorasports. IG: Sentinel Prep Sports
(11) GRANDVIEW 2, (14) MOUNTAIN VISTA 0
Score by halves:
Mtn. Vista   0  0 — 0
Grandview  1  1 — 2
SCORING
First half
Grandview — JT Sus (Blake Harwell)
Second half
Grandview — Dylan Thompson, 58th minute
Grandview saves: Nikhil Patel 6