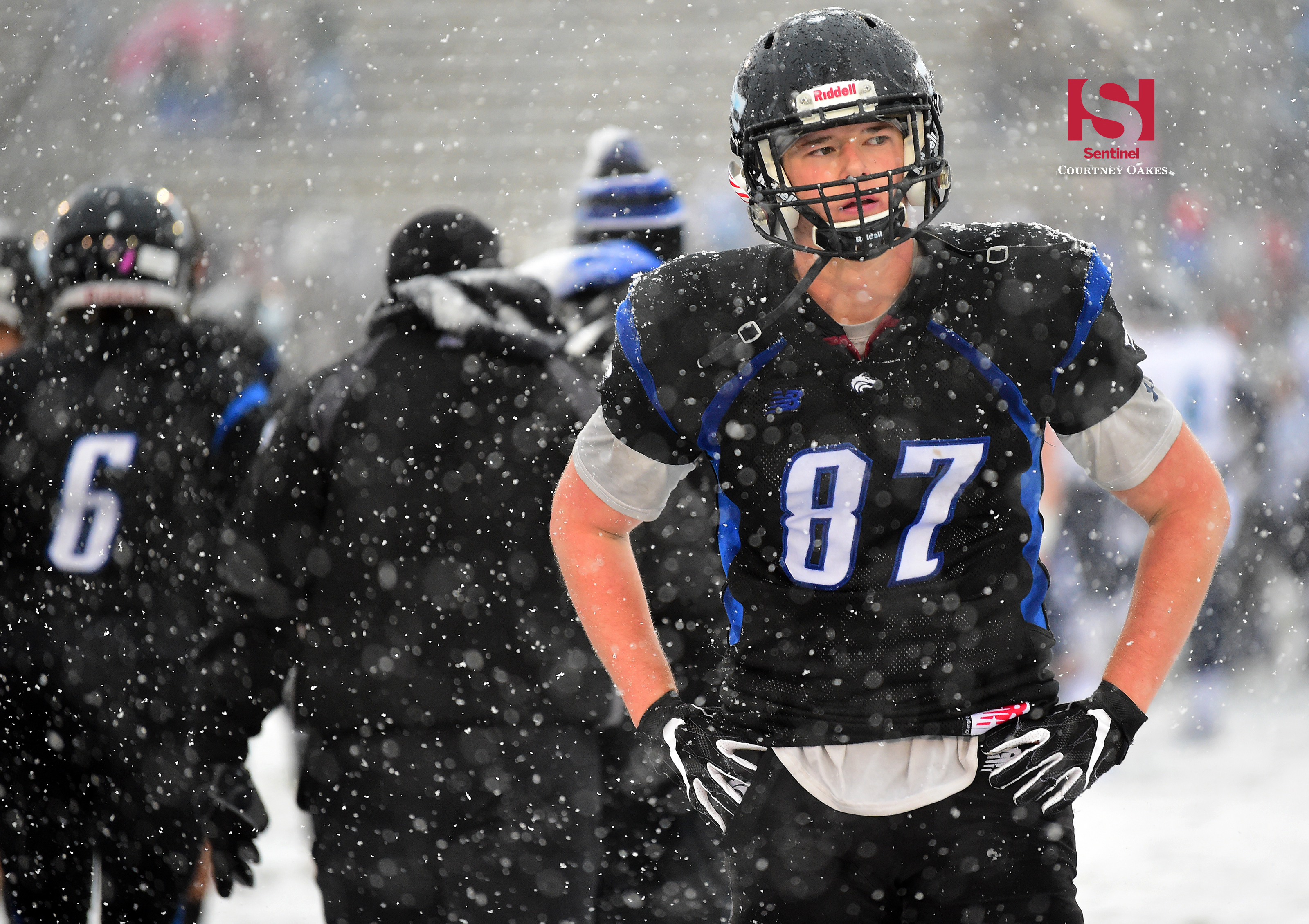 AURORA | In a game as wild as the weather conditions at Legacy Stadium, Grandview fell two points short of Valor Christian in a remarkable Class 5A state football semifinal Saturday.
The Wolves and Eagles opened the game in sunshine, but a blustery wind that helped produce a combined 37 points for the teams that had it at their backs eventually blew in a snowstorm that made for a dramatic ending.
Fifth-seeded Grandview got within two points with 32.2 seconds left when sophomore quarterback Jacob Burr found senior wide receiver Dayne Prim open in the end zone, but Valor Christian's Chase Lopez intercepted Burr's fluttering two-point conversion pass and the top-seeded Eagles recovered the ensuing onside kick to hold on for a 31-29 win.
"It was an incredible game, the kids on both sides gave everything they had," said Grandview head John Schultz, whose team finished the season 11-2 and came a step shy of moving into the 5A state championship game for the second time in program history.
"The kids played great, the atmosphere was awesome and I couldn't be prouder," he added.
Since the Wolves won their only championship in 2007, they've been stopped in the semifinals five times trying to make it back: in 2010, 2011, 2014, 2017 and now 2018.
Valor Christian (13-0) — which lost to Grandview in last season's quarterfinals — got two early touchdown passes from senior quarterback Luke McCaffrey, who also came through with a huge touchdown run in the third quarter. Coach Ed McCaffrey's Eagles take on No. 3 Cherry Creek (12-1) in the 5A state championship game, set for 2:30 p.m. Dec. 1 at Mile High Stadium.
The Wolves won the opening coin toss and deferred to the second half, choosing to kick off into the wind in order to have the wind at their backs in the second and fourth quarters.
The wind played a huge role as Valor Christian jumped out to a 21-0 lead with less than eight minutes gone in the opening quarter. McCaffrey — a University of Nebraska recruit — found Marcus Staples open for a 52-yard touchdown on the Eagles' opening series, then hit Zain Zinicola for a 22-yard score, which preceded Gavin Sawchuk's 39-yard touchdown run up the middle.
Aiding Valor Christian's surge was the struggles Grandview faced going into the wind, especially on punts. The wind batted down all of the kicks by Wolves' senior Kyle Trumble, with one kick going negative-2 yards and another netting just two.
The Eagles threatened to score another touchdown near the end of the first quarter, but when they switched ends in the second, two McCaffrey passes fluttered harmlessly to the ground in the stiff breeze and the Wolves took over at their own 8 yard-line.
With the wind as an advantage, Grandview began to surge.
A 92-yard march ended with sophomore Noah Schmidt's 15-yard touchdown run and the momentum continued to strengthen when the Wolves forced a three-and-out on Valor Christian's next possession and scored when senior Trevor Greenlee blocked Evan Garneau's punt and pounced on it before it could get out of the back of the end zone.
"When I was chasing it, I was like 'No, no, don't go out, don't go out,' so I just dove for it and landed on it," Greenlee said. "I thought that would change something and it did, because they had all the momentum. It did change things for us."
The wind played its part at the end of the half as well, as senior Ian Oltman — Grandview's regular kickoff man who had attempted just one field goal all season — took advantage of the gusty conditions and knocked through a school-record 54-yard attempt to make it just a 21-16 deficit at the break.
"The kids did it as soon as they got their first score; they understood that the wind was a big factor and now they had to deal with it," Schultz said. "They did a great job of getting us back into the game in the second quarter. It was an uphill battle the entire way and we just couldn't get back to even."
The Wolves got the ball first in the second half chewed up a good chunk of clock as they tried to get out of the quarter unscathed and to get the wind advantage back. They nearly did, as the defense had the Eagles stuck back near midfield on a 3rd-and-19 with the field coated with freshly-fallen snow.
McCaffrey made something happen, however, as he eluded some would-be-tacklers five yards down the field, then put on the breaks and saw a few others fly by as he weaved his way to the end zone for a big 45-yard touchdown.
"We had him back, but he made a big play and those really kill you," Greenlee said. "One play like that gave them the boost they needed. It was heartbreaking, but we kept our heads in it."
Grandview picked up steam again in the fourth quarter when senior Jordan Billingsley scored a 12-yard touchdown to make it a 28-23 ballgame, but Lopez returned the ensuing kickoff deep into the Wolves' end.
Junior Brian Brogan eventually made a 28-yard field goal into the wind with 4:22 to go for an eight-point Valor Christian edge, but Grandview didn't go away.
Burr connected with Prim on several occasions on the final drive and a pass interference call as the Eagles tried to stop him eventually put the Wolves in scoring position. Burr found Prim in the end zone for a touchdown with 32.2 seconds left.
Grandview needed the two-point conversion to tie, but Burr's throw off his back foot as he backpedaled, intended for senior Hayden Isenhart, got picked off by Lopez.
"When they got a field goal and not a touchdown and we were down eight, I felt confident we had enough time to score with the wind; we did, we just couldn't finish the two-point," Burr said. "We drew it up and knew I wasn't going to have too much time to throw. We figured he was going to be wide open, but that's now how it worked out. There's nothing you can do now."
Valor Christian recovered the ensuing onside kick and ran out the clock.
Greenlee is eager to see what the experience will for for next season.
"There's a lot of young talent on this team, so they'll have a bright future," he said. "It makes you hungrier the next year. We lost in the Final Four last year also and it definitely makes you hungrier to want to come back.
"All I have to say is I love this team. They are the best fighters out there."
Courtney Oakes is Sentinel Sports Editor. Reach him at 303-750-7555 or [email protected] Twitter: @aurorasports. FB: Sentinel Prep Sports
(1) VALOR CHRISTIAN 31, (5) GRANDVIEW 29
Score by quarters:
Valor Christian   21   0  7    3 — 31
Grandview          0  16  0  13 — 29
SCORING
First quarter
Valor Christian — Marcus Staples 52 yard pass from Luke McCaffrey (Brian Brogan kick), 10:52
Valor Christian — Zain Zinicola 22 yard pass from McCaffrey (Brogan kick), 6:26
Valor Christian — Gavin Sawchuk 39 yard run (Brogan kick), 4:05
Second quarter
Grandview — Noah Schmidt 15 yard run (Cobi Wood kick), 6:32
Grandview — Trevor Greenlee block punt recovery in end zone (run failed), 5:08
Grandview — Ian Oltman 54 yard field goal, 10.2
Third quarter
Valor Christian — McCaffrey 45 yard run (Brogan kick), 3:15
Fourth quarter
Grandview — Jordan Billingsley 12 yard run (Wood kick), 8:19
Valor Christian — Brogan 28 yard field goal, 4:22
Grandview — Dayne Prim 11 yard pass from Jacob Burr (pass failed), 32.2
RUSHING
Valor Christian: Luke McCaffrey 10-77, Gavin Sawchuck 9-64, Jack Howell 13-22
Grandview: Jordan Billingsley 35-147, Noah Schmidt 16-57, Jacob Burr 8-2, Cade Bruckman 1-0
PASSING
Valor Christian: McCaffrey 8-17, 99 yards, 2 touchdowns
Grandview: Burr 8-14, 103 yards, 1 touchdown
RECEIVING
Valor Christian: Marcus Staples 1-52, Zain Zinicola 4-27, Howell 1-8, Sawchuk 1-7, Chase Lopez 1-5
Grandview: Dayne Prim 4-63, Bruckman 2-24, Garrett Lippold 1-10, Schmidt 1-6