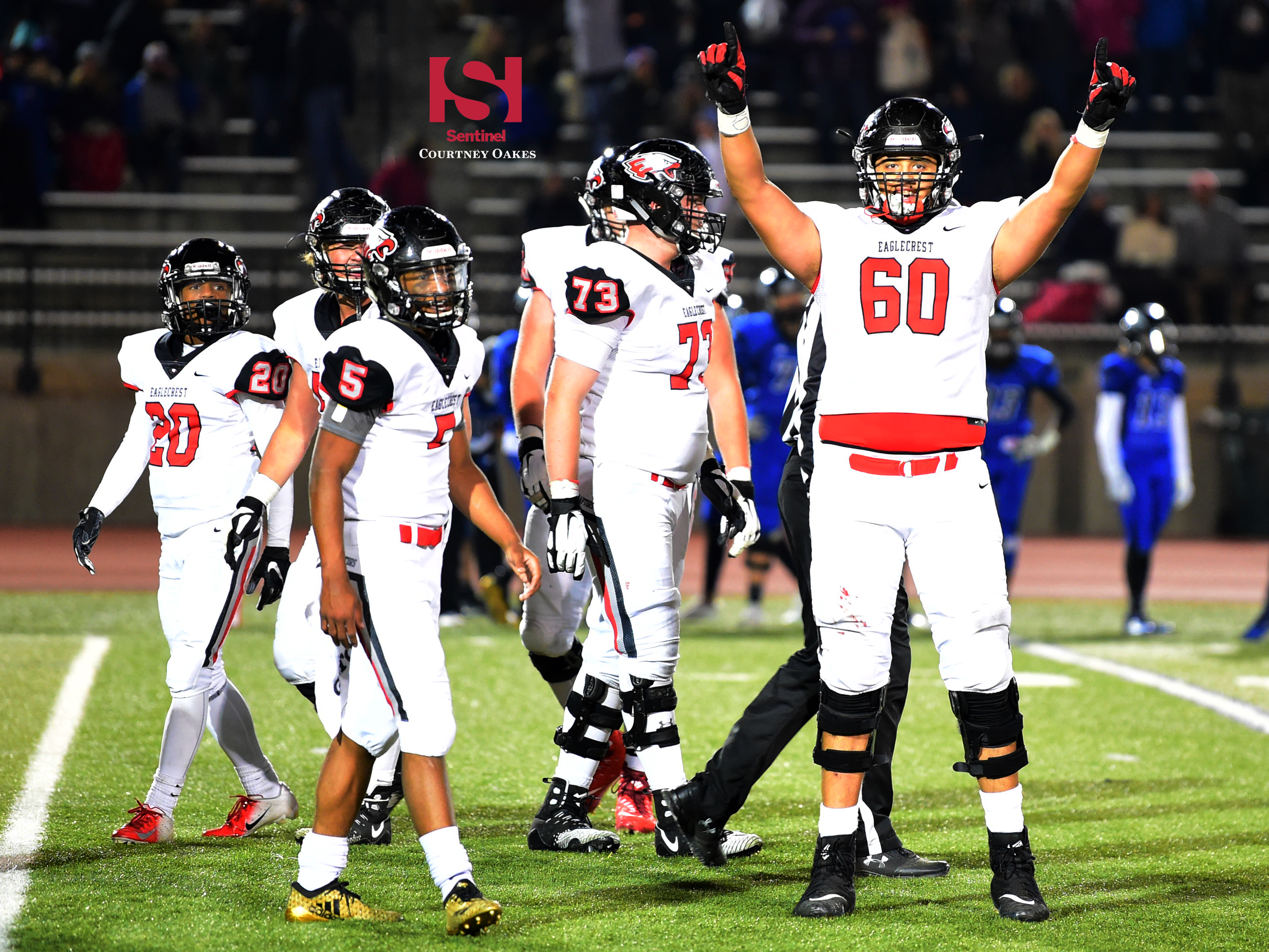 AURORA | The Eaglecrest football team has faced adversity head on since the first week of the 2018 season, so even a 21-point deficit against rival Grandview didn't shake the Raptors Friday night.
Down 35-14 with just over four minutes left in the third quarter in front of an absolutely packed house at Legacy Stadium, the Raptors erased that deficit and then some, as junior Isaiah Emecheta's two-point conversion run gave them the difference in a thrilling 36-35 victory over the Wolves.
Sophomore wide receiver Ty Robinson hauled in a spectacular one-handed 50-yard touchdown pass from senior quarterback Dylan James, whose successful heave on fourth-and-15 capped a big night for him that included three rushing touchdowns and nearly 300 yards on the ground.
"It was crazy, I just saw the ball come over my hand and I had to lay out for it," said Robinson, who reeled in the pass with his right arm just before he crossed the goal line.
"It was a nice catch, pretty clutch," he added. "I saw my quarterback roll out, he looked at me and I knew it was coming my way and I had to make a play."
Robinson's play was the most remarkable on a night full of them on both sides of the ball two teams that came into the game undefeated and coming off 50-point outings traded blows.
Not only did the rally produced Eaglecrest's third straight victory over Grandview, it moved the Raptors to 6-0 overall — 5-0 under interim head coach Garrett Looney, who took over prior to their Week 2 game — and kept alive a now 27-game regular season win streak for the program dating back to the end of the 2015 season.
"It was an emotional game and I'm so proud of our kids," Looney said. "This whole year, they've overcome adversity. They overcame adversity early, at halftime and with all the penalties and they just keep battling. It's a great group of kids.
"It was a packed house, two great teams, great coaches. It was a lot of fun."
Eaglecrest's rally overcame a strong opening three quarters from coach John Schultz's Wolves (5-1, 0-1), which got three rushing touchdowns from sophomore Noah Schmidt and two from senior Jordan Billingsley.
The game opened with both teams moving up and down the field for scores, as Billingsley's 46-yard touchdown run up the middle was countered by James' 67-yard score two minutes later.
Schmidt got into the end zone in the first quarter and again in the second as the Wolves tried to pull away, but James again broke free on a 76-yard touchdown jaunt. Grandview's lead climbed to 14 points at halftime on Billingsley's touchdown run, then grew to 21 when Schmidt burst around the left edge and across the goal line.
But that turned out to be all Grandview would get as Eaglecrest's defense buckled down and forced four straight three-and-outs — including back-to-back after a fumbled punt by J.J. Augustus on a big return gave the Wolves the ball back — to open the door for a comeback.
A long double pass from James to Robinson to Dawson Macomber led to a drive that ended with JP Luketu's 1-yard touchdown plunge in the late stages of the third quarter.
Augustus redeemed himself with a punt return all the way down to the Wolves' 21 yard-line and the Raptors scored again on fourth down when James shook free in the middle of the field and sped to the end zone.
Senior Tyler Dufour and Elijah Anderson-Taylor made big defensive plays on the subsequent series to makes sure Eaglecrest got a final chance. They needed a fourth-and-inches conversion from Luketu to keep the drive going, but the Grandview defense stood tall and set up the fourth-and-15 situation from midfield with just 32.3 seconds left.
On the next play, James got time, stepped up in the pocket, passed up a chance with open field in front of him and launched a pass high into the night that came down in Robinson's hands.
"I had to throw it, we needed that," James said. "It was an amazing throw. I had faith in Ty, the whole team had faith in Ty. We just said get it to Ty and he made a play in a big situation."
Instead of setting for an extra point to tie the game, Looney called time out and decided to put the game on the backs of his offensive line, which features University of Colorado commitment Jake Wiley, Stanford-bound Bear Miller and Division I prospect Reece Atteberry.
Emecheta burrowed his way behind his line and over the goal line for the go-ahead points.
"I called a time out and said 'We have three DI offensive linemen, you have to get us 2 1/2, 3 yards,'" Looney said. "I would do that 100 times out of 100 because I trust those guys up front. They just had to find a way to get it in and they did."
Grandview nearly got a chance to create a dramatic ending the other way, as a good kickoff return by Billingsley coupled with a late hit penalty on the Raptors put the ball at the Eaglecrest 36 with 17.8 seconds left.
But sophomore Seyi Oladipo picked off a pass from Wolves' sophomore quarterback Jacob Burr along the sideline as Grandview tried to put itself in position for a field goal attempt that would have won the game if successful.
"You dream about games like this," Anderson-Taylor said. "It's a rivalry game, their Homecoming, knowing that we ruined it. We just have to keep going next week."
Courtney Oakes is Sentinel Sports Editor. Reach him at 303-750-7555 or [email protected] Twitter: @aurorasports. FB: Sentinel Prep Sports
EAGLECREST 36, GRANDVIEW 35
Score by quarters:
Eaglecrest       7   7   7  15 — 36
Grandview    14  14   7    0 — 35
SCORING
First quarter
Grandview — Jordan Billingsley 46 yard run (Cobi Wood kick), 10:13
Eaglecrest — Dylan James 67 yard run (Taylor Gomez kick), 8:13
Grandview — Noah Schmidt 2 yard run (Wood kick), 3:46
Second quarter
Grandview — Schmidt 5 yard run (Wood kick), 9:59
Eaglecrest — James 76 yard run (Gomez kick), 9:14
Grandview — Billingsley 6 yard run (Wood kick), 1:16
Third quarter
Grandview — Schmidt 9 yard run (Gomez kick), 4:21
Eaglecrest — JP Luketu 1 yard run (Gomez kick), 1:37
Fourth quarter
Eaglecrest — James 22 yard run (Gomez kick), 5:21
Eaglecrest — Ty Robinson 50 yard pass from James (Isaiah Emecheta run), 24.4
RUSHING
Eaglecrest: Dylan James 22-291, Isaiah Emecheta 7-26, JP Luketu 7-21, Jalen Stewart 3-15, JJ Augustus 2-9, Neolani Abney 1-0, Ty Robinson 1-(minus 5)
Grandview: Jordan Billingsley 23-131, Noah Schmidt 7-55, Garrett Lippold 2-28, Jacob Burr 3-18
PASSING
Eaglecrest: James 2-9, 57 yards, 1 touchdown; Robinson 1-1, 43 yards
Grandview: Burr 6-14, 115 yards, 1 interception
RECEIVING
Eaglecrest: Robinson 2-57, Dawson Macomber 1-43, Augustus 1-10
Grandview: Hayden Isenhart 2-43, Jordan Smith 2-32, Joe Renner 1-22