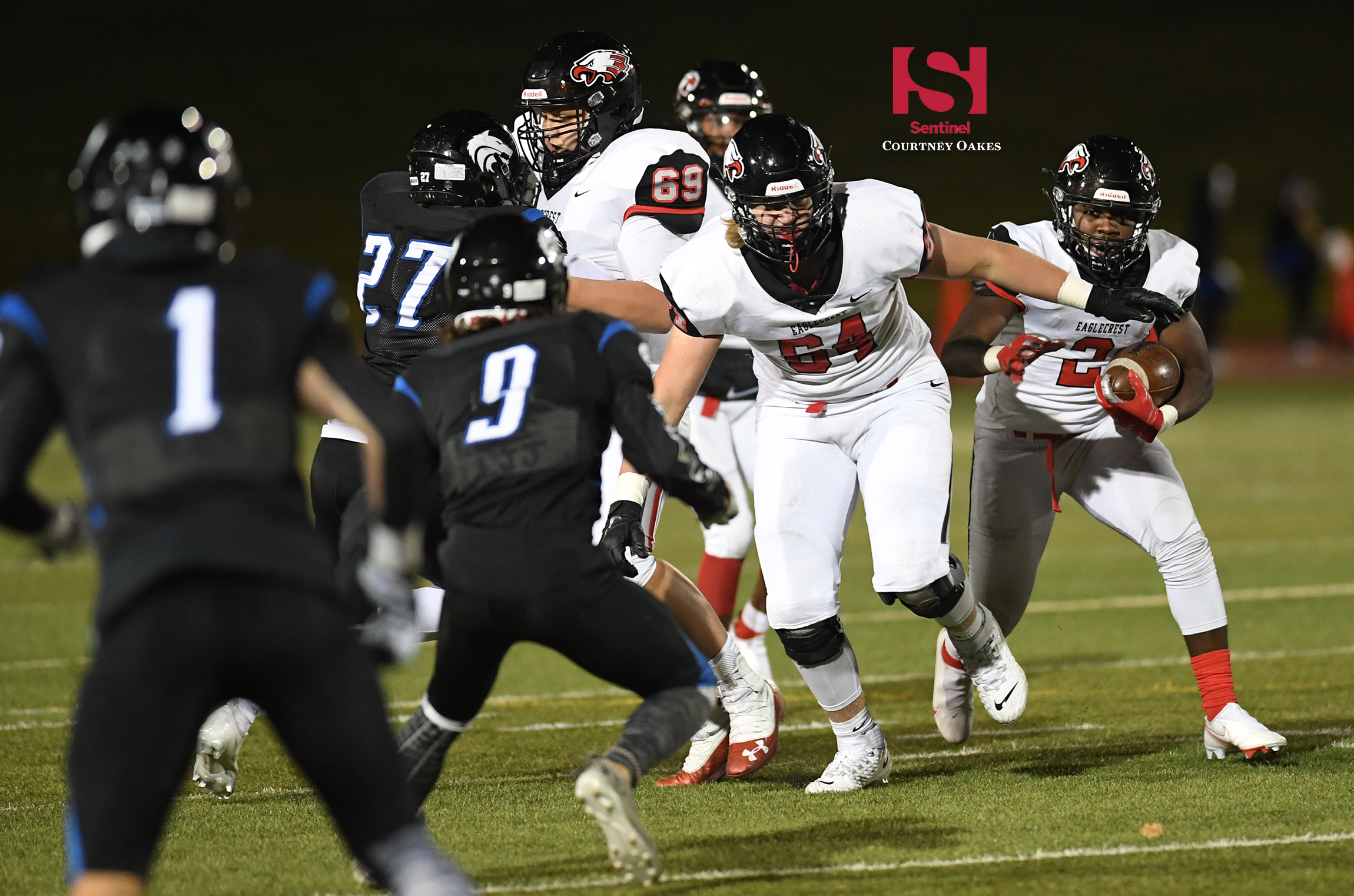 AURORA | On a night when way too many things went wrong for his Eaglecrest football team, Shawn Marsh knew he wasn't making a mistake trusting his offense to get a go-ahead 2-point try inside with just over 30 seconds left Thursday night against rival Grandview.
The Raptors justified their coach's belief and converted on a hard run up the middle by senior JP Luketu — who seconds earlier scored his third touchdown of the night — and survived a field goal attempt by the Wolves on the final play of the game to come away with a thrilling 43-42 win at Legacy Stadium.
Senior quarterback Khalil Howard threw for two touchdowns and rushed for a key 74-yard touchdown in the fourth quarter, seniors Seyi Oladipo and Ty Robinson had touchdown catches and Eaglecrest overcame two Grandview special teams scores and one on defense (plus several turnovers and ill-timed penalties) to improve to 2-0 on the season and 2-0 in Centennial League play.
"When you are able to drive the field like that and you've a guy that's hot like JP, you might as well go for it there," Marsh said. "I don't think there's any need to put it into an overtime situation, so to me it was an easy call at that point."
Marsh felt fortunate his team even had a chance to win the game given how opportunistic coach John Schultz's Wolves (1-1, 1-1) had been in the game.
Grandview — which fell behind 14-0 initially after Luketu's first rushing score and Howard's TD pass to Oladipo — managed to reach halftime with a 28-21 and only seven of those points came from its offense in the form of a 62-yard touchdown run by junior Moosah Alsaffar. The three other scores came on defense and special teams.
Junior Kahden Rullo made a huge impact when he intercepted a Howard pass and took it back 40 yards for a touchdown early in the second quarter and later in the period ripped a ball out of Oladipo's hands on a kickoff return and took it back 31 yards to the end zone. Rullo's second score came 14 seconds after junior Evan Johnson returned a kickoff 92 yards for a touchdown.
Howard found Robinson with a 21-yard touchdown pass to tie the game, but Grandview went ahead again when senior quarterback Jacob Burr swung a pass to fullback Spencer Schwartz, who dove inside the pylon for the go-ahead score.
It was the Eaglecrest defense's turn to step up this time as senior defensive back Chyon Kendrick picked off Burr in the red zone. Just two plays later, Howard broke off his long touchdown run up the left sideline to tie the game.
The Wolves took advantage of another turnover to break the tie yet again with just 3:16 remaining on Alsaffar's second touchdown run, this one from six yards out.
Undaunted, Eaglecrest put together a touchdown march of its own which went 70 yards in three minutes and included six straight runs by Luketu after the Raptors got across midfield. On third-and-goal from the 1 yard-line, Luketu eased into the end zone and after a time out, followed the blocking of Braden Miller and others across the goal line.
"I knew we were definitely going for it," Luketu said of the two-point try. "It was just force. The linemen did a great job blocking, I just had to finish. …We all have confidence in each other. We're a family and we're all counting on each other. We just had to finish the game, that's all it was."
Even with just 34 seconds left, the game was far from over.
A big gain on a pass from Burr to the speedy Johnson, coupled with a late hit personal foul, put Grandview in range for a go-ahead score in the final seconds.
The Wolves — who nearly won it when Burr's pass went just off the fingertips of an open Johnson — had to settle for junior Ben Beckman's 42-yard field goal attempt, which sailed wide left.
"This has been a great rivalry with Grandview for a long time and these teams play hard against each other," Marsh said. "That was evident tonight. Coach Schultz and their coaching staff is awesome, we were just lucky to hang in there tonight and get a chance at the end."
Up next for Grandview is defending 5A state champion Cherry Creek — which won its opener and plays Cherokee Trail on Friday — while Eaglecrest faces Overland, which fell to 0-2 with a loss to Arapahoe Thursday.
Courtney Oakes is Sentinel Colorado Sports Editor. Reach him at 303-750-7555 or [email protected] Twitter: @aurorasports. IG: Sentinel Prep Sports
EAGLECREST 43, GRANDVIEW 42
Score by quarters:
Eaglecrest    14    7   7  15 — 43
Grandview     7   21   7   7 — 42
SCORING
First quarter
Eaglecrest — JP Luketu 1 yard run (JJ Farbes kick), 4:40
Eaglecrest — Seyi Oladipo 46 yard pass from Khalil Howard (Farbes kick), 1:50
Grandview — Moosah Alsaffar 62 yard run (Ben Beckman kick), 0:41
Second quarter
Grandview — Kahden Rullo 40 yard interception return (Beckman kick), 11:48
Eaglecrest — Luketu 5 yard run (Farbes kick), 2:14
Grandview — Evan Johnson 92 yard kickoff return (Beckman kick), 1:57
Grandview — Rullo 31 yard fumble return (Beckman kick), 1:43
Third quarter
Eaglecrest — Ty Robinson 21 yard pass from Howard (Farbes kick), 7:38
Grandview — Spencer Schwartz 6 yard pass from Jacob Burr (Beckman kick), 2:51
Fourth quarter
Eaglecrest — Howard 74 yard run (Farbes kick), 10:03
Grandview — Alsaffar 6 yard touchdown, 3:15
Eaglecrest — Luketu 1 yard run (Luketu run), 0:34