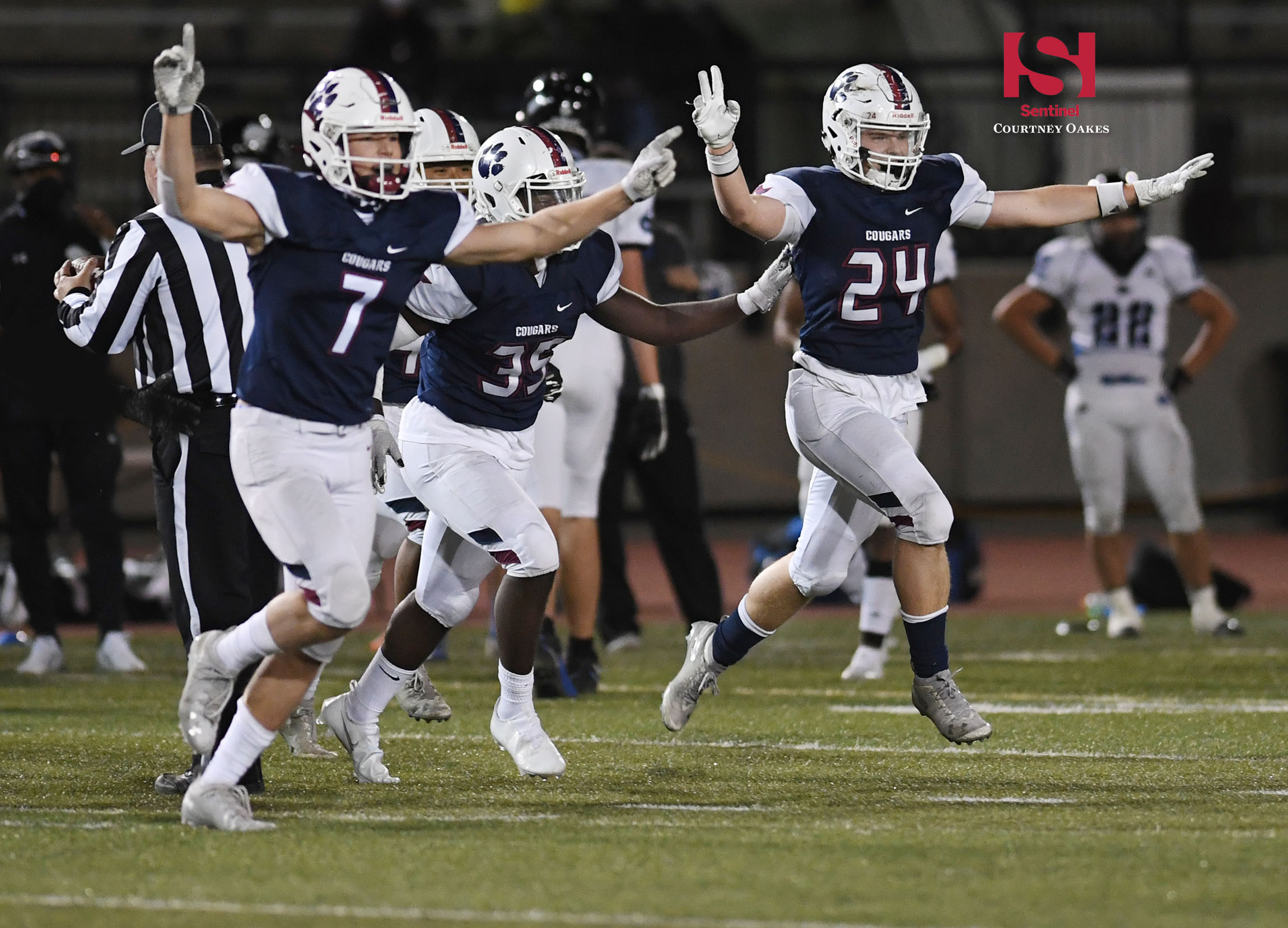 AURORA | Cherokee Trail's defense had trouble stopping much in the first two weeks of the season, but the Cougars have made the plays they needed of late.
Cherokee Trail's defense — who allowed 111 points in its first two games — forced two turnovers in the fourth quarter to prevent Grandview from tying the game and went on to a 28-23 victory over its rival Friday night at Legacy Stadium in a game that ended with the Cougars taking an intentional safety on the final play.
Senior safety Kyle Williams' sprawling interception with just over a minute left in regulation preserved a second straight victory over the Wolves for coach Joe Johnson and Cherokee Trail, which has won three in a row after an 0-2 start and kept itself alive in a big to make the eight-team Class 5A state playoff field.
"I think the first couple of weeks were a rough start, but honestly its been a snowball effect of how this defense has been clicking and improved throughout the season," said Williams, who picked up the Cougars' 10th forced turnover in the past three games.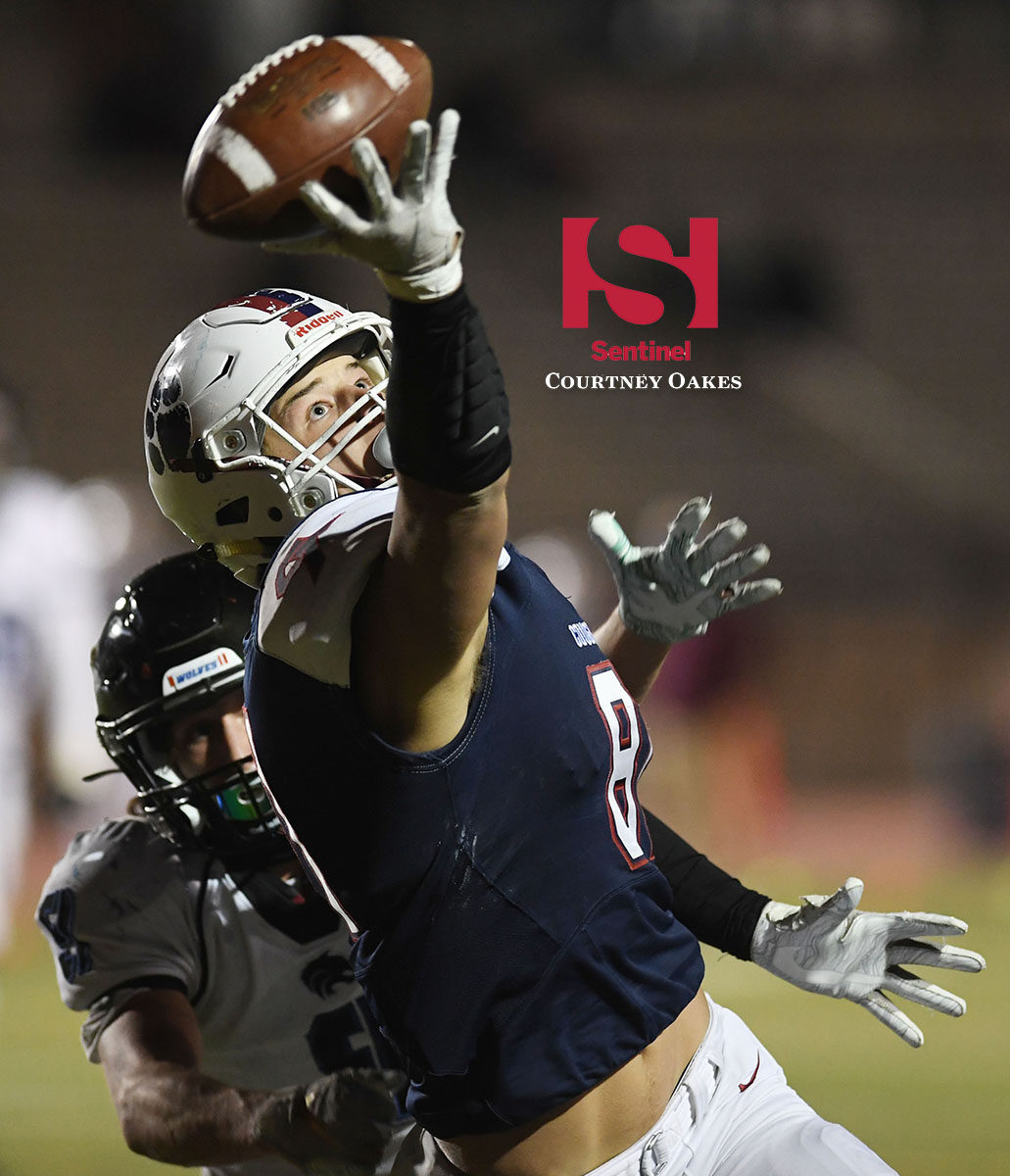 "From the start of practice on Monday, we didn't know what was going to happen, so we're playing every game like it's our last game," he added. "I'm feeling great after this."
Cherokee Trail (3-2 overall, 2-2 in Centennial League) built a lead as large as 14 points, but never could quite shake coach John Schultz's ninth-ranked Grandview team — now 2-3 — which badly needed a victory of its own to keep alive a streak of postseason appearances currently at 15.
The Wolves trailed 21-7 at halftime — as junior Nate Gaye Jr. rushed for two touchdowns and senior quarterback Jayden Lavigne threw a touchdown pass to junior Jack Pierce for the Cougars — but twice pulled within seven points in the third quarter.
A long touchdown run by junior Tristan Burrus and a keeper by junior quarterback KB Broadus on the last play of the period made it a one-score game going to the final quarter and an interception by junior Malique Singleton on a tipped ball put Grandview in prime position to tie the game.
The Wolves got to the red zone, but junior wide receiver Evan Johnson — who rushed for a 52-yard touchdown in the opening half — lost a fumble on a sweep on fourth down that was recovered by Cherokee Trail junior linebacker Jackson Gridley.
Grandview's next possession crossed midfield with just over a minute to play and ended when Williams lunged and reeled in a pass from Broadus intended for Johnson.
"I was in a flat zone, I just knew there was going to be some corner or comeback route and I just made a play on the ball," said Williams, who had the Cougars' fourth interception in the past two games.
The game wasn't over, however, as Cherokee Trail took a knee on three straight plays and had to snap it on fourth down after Grandview used its two remaining time outs.
Senior punter Noah Fischbach took the snap at his own 27 yard-line and outsprinted the dogged pursuit of Grandview's Kahden Rullo to get out of the back of the end zone for an intentional safety that ended the game without giving the Wolves a chance for a big play.
Lavigne threw two touchdown passes on his birthday, with a 14-yard scoring strike to senior Nate Burke — who used his 6-foot-3 frame to stretch the ball over the goal line as he was tackled — in the late stages of the third quarter standing up as the winning points.
"It's always going to be a tough game with them and we know that, so we're happy to come out on top," said Johnson, whose team won while missing two starters and with senior standout tight end Sam Hart playing limited snaps.
Grandview's running game didn't find as much success as it had the previous week when junior Moosah Alsaffar racked up 282 yards, as he was held to 49.
Johnson and Burrus both scored on big plays on the ground, as did Broadus, who got into the end zone for the third time in four games as he again rotated at quarterback with senior Jacob Burr.
The Wolves are scheduled to finish the regular season with a non-league home contest against Fossil Ridge at 7 p.m. Nov. 13, while the Cougars take on Overland (0-5) at the same time at Stutler Bowl.
Courtney Oakes is Sentinel Colorado Sports Editor. Reach him at 303-750-7555 or [email protected] Twitter: @aurorasports. IG: Sentinel Prep Sports
CHEROKEE TRAIL 28, (9) GRANDVIEW 23
Score by quarters:
Score by quarters:
Grandview  0  7  14  2 — 23
Cher. Trail  7  14  7  0 — 28
SCORING
First quarter
Cherokee Trail — Jack Pierce 4 yard pass from Jayden Lavigne (Noah Fischbach kick), 6:36
Second quarter
Grandview — Evan Johnson 52 yard run (Ben Beckman kick), 10:33
Cherokee Trail — Nate Gaye Jr. 6 yard run (Fischbach kick), 7:19
Cherokee Trail — Gaye Jr. 2 yard run (Fischbach kick), 2:42
Third quarter
Grandview — Tristan Burrus 40 yard run (Beckman kick), 4:23
Cherokee Trail — Nate Burke 14 yard pass from Lavigne (Fischbach kick), 1:40
Grandview — KB Broadus 16 yard run (Beckman kick), 0:00
Fourth quarter
Grandview — Safety, Cherokee Trail punter runs out of end zone
RUSHING
Grandview: Evan Johnson 4-65, Moosah Alsaffar 15-49, KB Broadus 11-48, Tristan Burrus 1-40, Jacob Burr 2-5
Cherokee Trail: Nate Gaye Jr. 21-64, Jack Pierce 4-2, Jack Love 1-1, Jayden Lavigne 6-(minus 18)
PASSING
Grandview: Broadus 3-7, 47 yards, 1 interception; Burr 3-4, 20 yards
Cherokee Trail: Lavigne 21-34, 302 yards, 2 touchdowns, 1 interception
RECEIVING
Grandview: Burr 1-29, Tommy Cole 2-18, Charlie Dick 1-10, Noah Salazar 1-6, Johnson 1-4
Cherokee Trail: Noah Greer 4-86, Sam Hart 2-72, Pierce 7-50, Nate Burke 6-47, Alex Stirbis 2-47