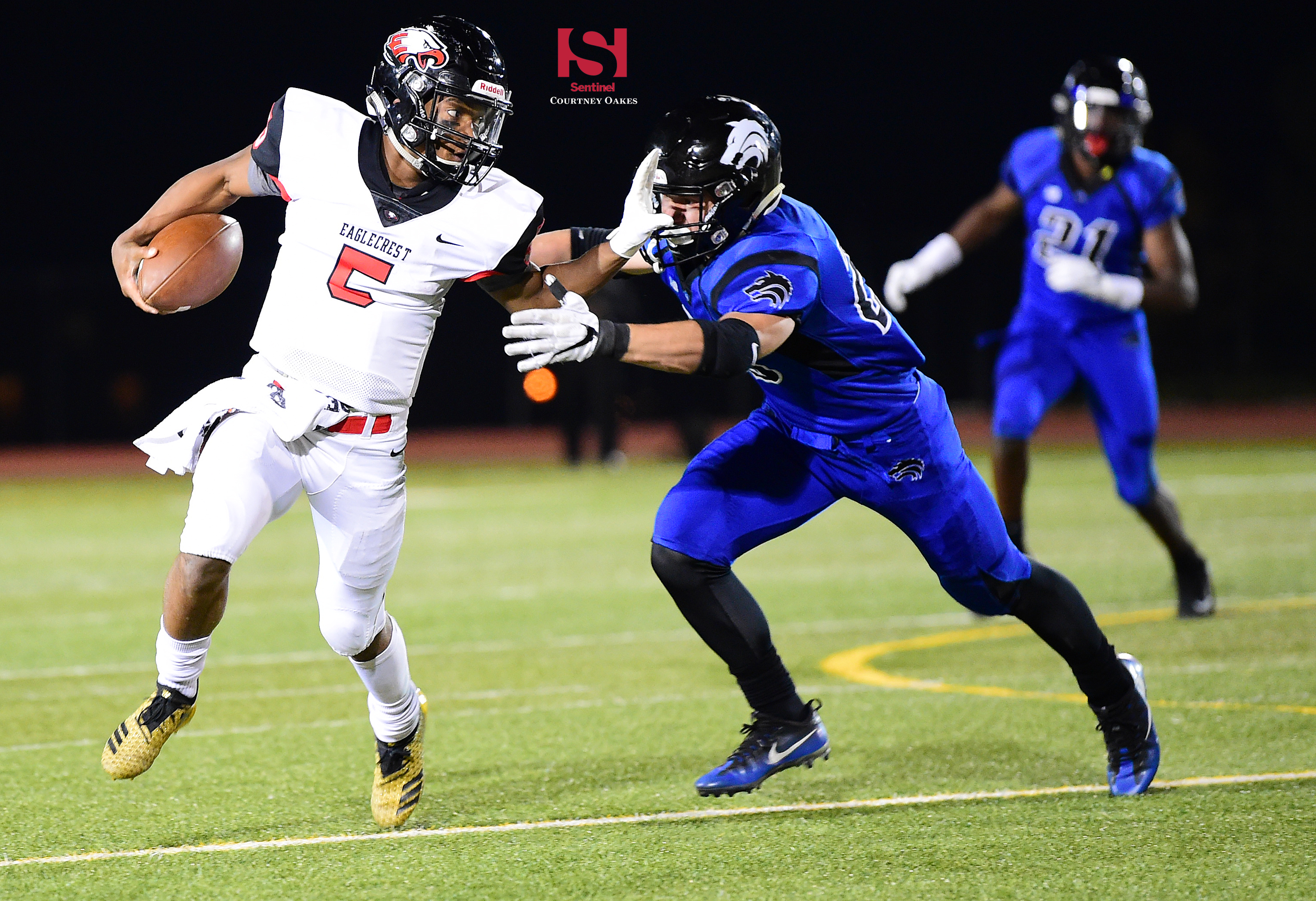 AURORA | A capsule look at the 2018 Class 5A state football quarterfinal playoff matchup between No. 5 Grandview and No. 4 Eaglecrest.
Courtney Oakes is Sentinel Sports Editor. Reach him at 303-750-7555 or [email protected]: @aurorasports. FB: Sentinel Prep Sports
NO. 5 GRANDVIEW (10-1) VS. NO. 4 EAGLECREST (10-1)
1 p.m., Nov. 17 at Legacy Stadium

Breakdown: Grandview and Eaglecrest will meet in the state playoffs for the first time, amazing considering the teams have appeared in the same postseason bracket 12 times since 2001. As members of the same league for most of the recent past (save 2016 and 2017 when they were in separate conferences), the Wolves and Raptors have played each other in the regular season for the past 15 seasons. Grandview holds a 10-5 advantage in the series, though Eaglecrest has won the last three meetings, including a thrilling 36-35 victory on Sept. 28.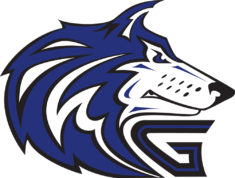 GRANDVIEW (10-1): Under coach John Schultz, the Wolves appear in the quarterfinal round of the 5A state playoffs for the 11th time in the past 12 seasons and have advanced to the semifinals six times in those previous 10 trips, including 2017, when they lost to eventual state champion Pomona…Grandview suffered its only defeat of the season to Eaglecrest in the Metro East League opener in a game in which it had a 35-14 lead late in the second half before surrendering the last 22 points. In that game, senior RB Jordan Billingsley rushed for 131 yards and two touchdowns and sophomore RB Noah Schmidt reached the end zone three times…Since that loss to the Raptors, Grandview has won five straight games, which includes a double-overtime victory over No. 3 Cherry Creek, plus a 45-21 win over 21st-seeded Legacy Nov. 10 after earning a first round bye. Sophomore QB Jacob Burr threw for 130 yards and three touchdowns (two to senior WR Dayne Prim and another to junior WR Jordan Smith) and also rushed for two scores, while Billingsley (153 yards) and Schmidt (138 yards) both helped contribute to Grandview's nearly 500-yard offensive attack. The Wolves forced three turnovers in all defensively…Among the eight remaining teams, Grandview's 435 points on the season (39.5 per contest) is the fourth-highest, but is just 14 shy of No. 2 Columbine, the leader, with Eaglecrest (444) and No. 6 Ralston Valley (439) in between. Defensively, the Wolves have surrendered 157 points in 11 contests, which is fifth-fewest among the remaining teams…Offensively, Burr has progressively gotten better in his first season as the starting quarterback and has now thrown for 1,064 yards and 17 touchdowns (against four interceptions), with the lion's share of his passing production (573 yards, 11 touchdowns) coming in his last four games. Helping that has been his ability to get the ball to Prim, a 6-foot-5 basketball star whose length and hands have helped him lead the team in receiving yards (443) and receiving touchdowns (12). Smith (239), junior FB Cade Bruckman (127) and senior TE Hayden Isenhart (124) each have passed the triple-digit mark receiving as well. The improved passing game has added great balance to a big-time running attack that thrives behind the blocking of a massive offensive led by senior OL Mason Schultz and senior OL Darius Miller. Billingsley has 1,688 yards rushing and 21 touchdowns and should be fairly fresh for the postseason with Schmidt able to handle 79 carries, which he has turned into 703 yards and eight scores…Defensively, Bruckman has been a major force as he ranks as the team's leading tackler and also has six sacks, second behind senior DL Brandy Okeke, who has seven and is also just one tackle behind Bruckman for the team lead. Senior S Trevor Greenlee also has a nose for the football as he is No. 3 on the Grandview defense in tackles and has three interceptions to pace a unit that has generated 19 turnovers. Isenhart (a Montana State commitment) and senior LB Jack Rogers have four sacks apiece and fill key spots in the Wolves' swarming defense…On special teams, Billingsley can be a weapon in the return game, while Grandview employs the duo of senior soccer players Ian Oltman and Cobi Wood — who helped the Wolves to the 5A state championship game last week — for an advantage in the kicking game. Oltman handles kickoffs and Wood takes most field goal tries (4-for-5 with long of 46 yards) and extra point tries (49 of 50).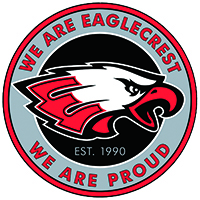 EAGLECREST (10-1): The Raptors have become regulars at this stage of the 5A state playoffs in recent years, as they qualified for the quarterfinals for the fourth time in the past six seasons, though last season became the first time in those three previous trips that they advanced to the semifinals…Garrett Looney (who started the season as offensive coordinator and took over as head coach after one game) and company rallied from a 35-14 deficit to beat Grandview when the teams met in the Metro East League opener as sophomore WR Ty Robinson pulled in a one-handed touchdown pass from senior QB Dylan James (who also rushed for 291 yards and three touchdowns) with less than 30 seconds remaining in regulation and junior RB Isaiah Emecheta burrowed across the goal line for a go-ahead two-point conversion. Sophomore DB Seyi Oladipo sealed the victory with an interception in the last 20 seconds… Eaglecrest suffered its only defeat of the season on Oct. 12 in a 14-13 conference loss to No. 3 Cherry Creek in a game in which it let a 13-0 lead get away and then fell on a missed field goal attempt inside the final minute. The Raptors rebounded to win their next three games, including a 48-15 victory over No. 20 Lakewood in a second round playoff game Nov. 9 that followed a first round bye. Eaglecrest cracked the 500-yard mark in total offense in the win over the Tigers, with 475 of them coming on the ground as Emecheta racked up 214 yards rushing and two touchdowns and James added 172 yards and two scores on the ground, while one of his three passing completions found Robinson for a 50-yard touchdown. Senior RB Sebastian Andujar and junior RB Jalen Stewart each rushed for a touchdown as well in the win over Lakewood. Defensively, Eaglecrest held the Tigers off the scoreboard until the game was 28-0 midway through the third quarter and gave up a second score inside the final two minutes when it was a 41-point ballgame…Offensively, the Raptors have scored 444 points in 11 games (40.4 per contest) and rank second among the eight teams remaining in the postseason as they trail leader Columbine by just five points. Eaglecrest's defense has found its stride of late, but the 197 points it has allowed is more than just one other team remaining in the postseason field…For the season, James — in his first season with the Raptors after transferring from Cherokee Trail — is just 85 yards shy of 2,000 yards rushing and has scored 26 touchdowns, while he has also thrown for 774 yards and six touchdowns against just one interception. As a team, Eaglecrest has rushed for more than 4,000 yards and five players (James, Stewart, Emecheta, Andujar and sophomore RB J.P. Luketu) have all rushed for at least 249 yards and at least five touchdowns. Emecheta is next most prolific in terms of rushing touchdowns with 11, followed by Stewart with seven. The presence of a massive offensive line that is anchored by University of Colorado recruit Jake Wiley, Stanford-bound Barrett "Bear" Miller and a high-end Division I prospect in junior Reece Atteberry has made the rushing success possible. When the Raptors go to the air, the ultra-athletic Robinson has been the prime weapon as he is the only player with double-digit receptions (22) and one of only two over the 100-yard mark in receiving yards with 401, in addition to four touchdowns…Defensively, senior LB Tyler Dufour makes a habit of getting to the quarterback and is a tackle-for-loss machine with 28 stops behind the linen of scrimmage (including a team-high 12 sacks) and senior LB Elijah Anderson-Taylor is a game-wrecker with 110 tackles to his credit, while Eaglecrest can match up in the trenches with the rotating use of its offensive linemen along with senior NT Matt Youngblood. Senior S J.J. Augustus  — a transfer from Vista PEAK who is a big weapon on special teams — can go get the ball in the defensive backfield as well and combined with Oladipo and Robinson have 41 pass breakups and seven interceptions between them, while the Raptors' defense is filled with players who are finding their stride at the end of a season in which they've gone toe-to-toe with a variety of qualify offenses.
WINNER GETS: The Grandview-Eaglecrest winner moves into a semifinal matchup against the winner of the quarterfinal between No. 8 ThunderRidge and No. 1 Valor Christian, which is scheduled to be played at 7 p.m. Nov. 16. If Eaglecrest wins, it will go on the road to play either winner of the other quarterfinal, while a win would give Grandview a home game against either opponent.