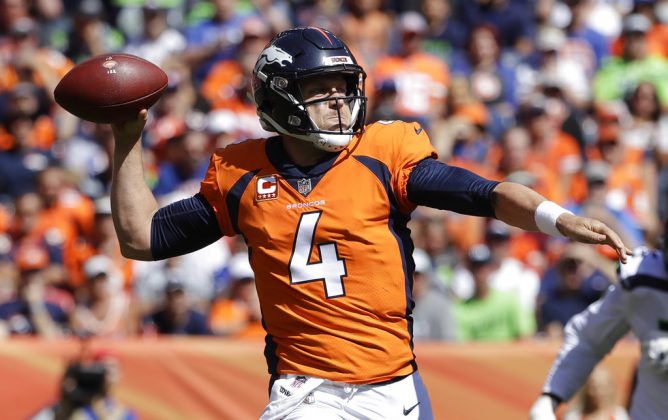 ENGLEWOOD |  Case Keenum's new beginning in Denver was blotted by an uncharacteristic three interceptions, almost half the number he threw in Minnesota last year, when only seven of his 481 passes were picked off.
Keenum said he awoke the morning after Denver's 27-24 win over Seattle and "I would say it didn't feel quite like I wanted it to feel after my first win as a Bronco. So, there's a lot of hunger. We're all very, very hungry to get out there and keep getting better this week."
The Broncos (1-0) host Oakland (0-1) on Sunday.
Despite the trio of interceptions, Broncos coaches didn't flinch in their faith of Keenum. The QB who teamed with Stefon Diggs to produce the Vikings' virtuoso shocker in the playoffs threw three touchdown passes, punctuating the Broncos' best offensive output since the 2015 finale with a frozen rope to a tiptoeing, tumbling Demaryius Thomas for the winning score.
Keenum also hit Emmanuel Sanders (10 catches for 135 yards) for his first touchdown since Week 2 last season, and rookie running back Phillip Lindsay for his first career TD, a 29-yard catch-and-run play.
Only one other time in Keenum's 43 NFL games has he thrown as many as three interceptions; in 2016 he was picked off four times by the Giants while with the Los Angeles Rams.
Keenum said he needs to relax and realize he doesn't have to press with such talent around him.
"I trust all those guys," Keenum said. "We've got some incredible playmakers that make plays downfield, and if anything, I just need to make sure when a shot's called, it's not necessarily a shot taken. Check the ball down and rely on those guys because I've got some really big-time playmakers, and let them do what they do.
"I don't have to do everything myself."
His interceptions led to two Seahawks touchdowns and thwarted a Denver drive.
"That's 17 points I'm responsible for," Keenum said.
Coach Vance Joseph liked the way Keenum bounced back from his errant throws.
"After the interceptions he had his best drives," Joseph said. "So, that speaks to his confidence. It speaks to him not folding."
Raiders coach Jon Gruden is also a fan of Keenum's and has been ever since interviewing him for his "QB Camp" show on ESPN in 2012, when Keenum came out of the University of Houston as the NCAA's career leader in completions, passing yards and touchdowns.
"I've been accused of liking everybody, but I really like Keenum," Gruden said. "What he did in college is unseen, the type of production that he had. I told our people a long time ago when I first got here I think THE free agent acquisition in pro football this year is going to be Case Keenum."
Not Kirk Cousins, whom the Vikings turned to after Keenum led them to the NFC championship.
"What he did in Minnesota, the toughness that he put on tape," Gruden said, his voice trailing off in admiration. "He made a throw last week against Seattle, there were two or three Seahawks beating down on him — it's a 14-yard gain.
"His pocket presence, I think his personality, his fight, his grit, he gets the most out of himself. He's given them consistent, quality play at a position that they haven't had since (Peyton) Manning left."
Denver's 470 yards of offense was the most by the Broncos since the 2015 finale when Manning returned from a foot injury to rally Denver past the Chargers and vault them toward their Super Bowl 50 triumph.
Keenum is just as big a fan of Gruden's.
"I'm pretty sure he watched every rep that I'd ever played in college, he found some obscure tape from I don't know where," Keenum said. "It was a lot of fun. I got a lot good feedback."
One of Gruden's most scrutinized moves since returning to the sideline was sending pass rusher Khalil Mack to the Chicago Bears in a move that sent shockwaves throughout the league and also makes life easier on the Raiders' AFC West rivals.
"He's talented," Keenum said, "but I'm pretty sure they're going to play 11 guys. They're not just going to put 10 out there without him."
In a conference call with reporters in Denver on Wednesday, Gruden said he's been asked about the blockbuster trade ad nauseam "and rightfully so."
"He's a great guy. He's a great player. It's unfortunate we don't have him," Gruden said. "But we feel we did the right thing for this football team, for the future of the Raiders and for this building process.
"I know we've got to prove it. But so does he."
___
More AP NFL: https://apnews.com/tag/NFL and https://twitter.com/AP_NFL
___
Follow Arnie Melendrez Stapleton on Twitter: https://twitter.com/arniestapleton