AURORA | Former Arapahoe County Clerk Matt Crane, who was ousted by voters in 2018 via the so-called "blue wave", has been hired to run the Colorado County Clerks Association. 
He replaces Pam Anderson, a former county clerk in Jefferson County.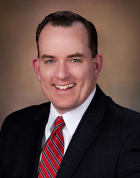 Crane was first elected to his former seat in Arapahoe County in 2013, but started working in the office in 2007. He lost his seat to Joan Lopez, who also worked in the office, in 2018. 
Lopez nabbed the seat by about two points. 
During that election season, Crane affirmed that levels of voter fraud in Arapahoe County and Colorado are "extremely low."
"When you have people running around calling, 'fraud fraud fraud,' it's frustrating because we're very proud of the system we've created — we don't have a big problem with voter fraud," he said.
Crane's campaign finance filing for the Arapahoe County Clerk seat is still active, but  told the Sentinel earlier this year it was only to keep his options open and has no plans to run for the seat again. 
— KARA MASON, Staff Writer