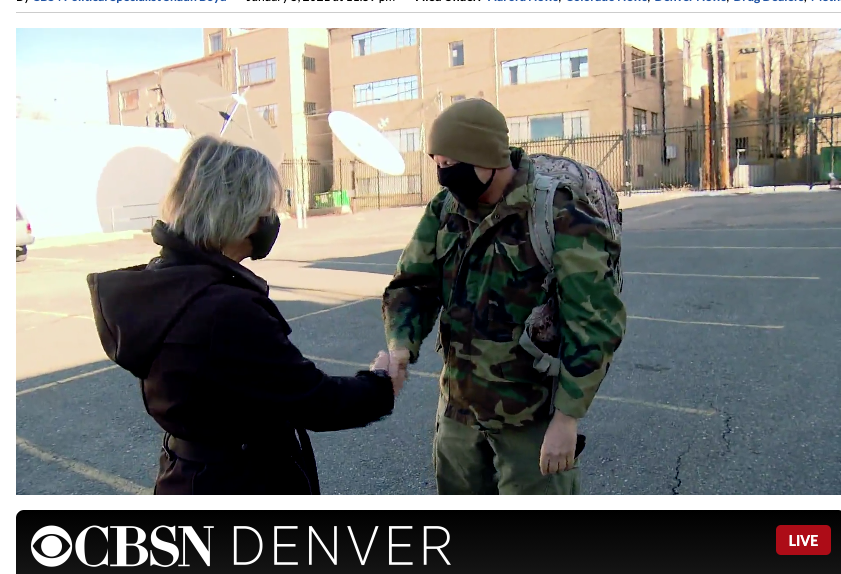 AURORA | Fallout continued Thursday after Mayor Mike Coffman posed as a homeless person on the streets for a week. Some Aurora city councilmembers joined officials from the Denver metro region in a virtual news conference to condemn the mayor and call for more robust strategies to tackle homelessness. 
"I think he should issue a formal apology for it. It's completely unacceptable," said Englewood City Councilmember John Stone, who said he was homeless between the ages of 16 and 21. "…I was homeless for five years. And Mayor Coffman believes that I am a hopeless case," he said. 
Stone and others took issue with Coffman's conclusions about homelessness after spending seven days in Aurora and Denver as "Homeless Mike" for an exclusive CBS4 news segment. In the heavily-criticized TV appearance, Coffman called homelessness a "choice."
"These encampments are not the product of an economy under COVID, they are not a product of rental rates, housing. They are a product of, of, a drug culture," Coffman said in the segment. 
Amid a wave of criticism, Coffman issued a "clarification" that he thought homeless people chose to sleep either in shelters or outdoors. The mayor has not responded to repeated requests for comment from The Sentinel. 
In a second CBS4 appearance Coffman said "well-meaning" people who bring food to homeless residents are only "prolonging" a lifestyle of drug abuse.
Stone and others, including former city homelessness program director Shelley McKittrick, condemned the mayor for the "stunt."
"You cannot just dip your toe in and out of homelessness," said Eva Henry, an Adams County commissioner who said she lived on the verge of homelessness as a single mom. 
McKittrick and other advocates for homeless people echoed extensive research that chronic homelessness is a complex issue with roots in poverty, trauma, drug abuse, mental health issues, including PTSD and more. 
The city's former homelessness chief noted one study, from researchers at Princeton University, that found Aurora ranked 33rd among all U.S. cities for the most evictions. 
During the meeting, officials from across the metro area said they are committed to a regional approach of tackling homelessness. 
Coffman has also announced seeking a partnership with Denver Mayor Michael Hancock. Homeless advocates have long criticized Hancock for defending the city's "camping ban" preventing outdoor residents from covering themselves for protection against the elements.  
In the past, Coffman has floated establishing a camping ban in Aurora as well. Visible homelessness and outdoor encampments have become more widespread in Aurora during the pandemic. 
McKittrick said that, before she resigned in September, city authorities would routinely move encampments because of neighbors' complaints. The city's current community development manager, Jessica Prosser, said during the news conference that police and other officials won't "sweep" a camp unless it's a public health or safety concern; research has linked breaking up camps to COVID-19 spread. 
Coffman's newfound policy ideas will have to be approved by the city council in Aurora's government system. The mayor does not direct policy or have administrative power and can only break tie votes on city laws. 
This winter, the city opened an emergency shelter for homeless people. With Mile High Behavioral Healthcare as its partner, the city also funds a network of shelters, health and mental health supports, housing programs, rent assistance and more for people living on the streets or at risk of losing their home.