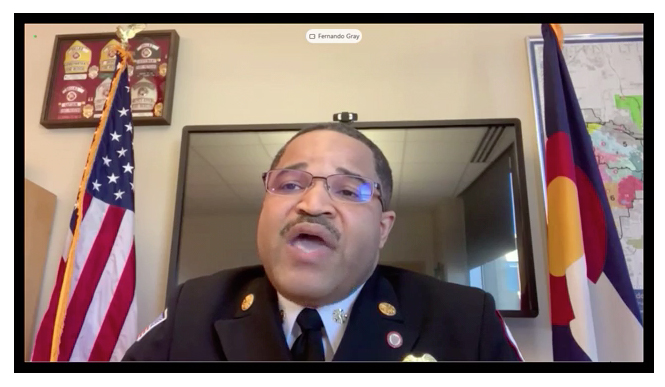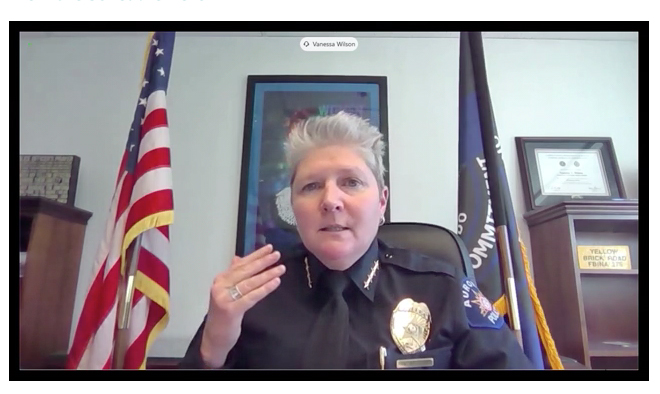 AURORA |Several Aurora city officials on Tuesday acknowledged the findings of a searing report into how local police and fire officials handled the death of Elijah McClain two years ago with several vows to bolster local protocols and repair shattered ties between first responders and city residents.
Aurora Police Chief Vanessa Wilson, Fire Chief Fernando Gray and City Manager Jim Twombly spent some 40 minutes addressing the 157-page report that posited Aurora police bungled their interaction with McClain from the moment a 911 caller reported him acting "sketchy" as he walked home from a local convenience store, to the ensuing internal investigations that determined officials acted according to departmental rules.
"I believe the investigative team has identified the issue that is at the root of the case: The failure of a system of accountability," Twombly told reporters.
To right those missteps, Twombly announced plans to create the office of an independent monitor in the city to keep tabs on police actions. A task force of more than a dozen community members have been exploring the possibility of creating such an office for more than a year. Twombly said their recommendations, expected to be presented to city council members sometime this spring, will be incorporated into how the monitor's office is eventually crafted.
The report released Monday widely lambasted the superficial internal investigations that followed McClain's death in August 2019, asserting that homicide detectives tasked with interviewing the cops involved in detaining McClain asked leading questions intended to elicit "magic language" intended to appease prosecutors. The district attorney who originally reviewed the incident of potential criminality, Dave Young, declined to pursue criminal charges against any Aurora personnel, stating that he did could not meet the legal threshold needed to achieve success at trial. At the meeting Wednesday, Wilson said she plans to meet with the newly sworn-in district attorneys in Aurora's two judicial districts to determine how to proceed with future incidents in which officers harm or kill residents.
The trio of investigators, composed of an attorney, a doctor and a former Arizona police chief, said the responding officers who initially responded with McClain had neither legal ground to contact the 23-year-old massage therapist nor reason to quickly escalate the encounter. Officers eventually placed McClain into a pair of now-banned control holds, causing him to faint. Police then provided cursory information to responding paramedics, who injected him with a miscalculated dose of the powerful sedative ketamine. McClain was pronounced brain dead and taken off life support less than a week later.
Police and fire officials have vowed to improve the apparent communication breakdowns between cops and fire medics when they interact.
The report came with a slew of additional recommendations for the Aurora police department, including enhanced training for the high-ranking homicide detectives often asked to review high-profile incidents like McClain's death, more implicit bias training and a retooling of the internal force review panel that investigators skated through their duties in the months after McClain died.
Wilson said many of the investigators' recommendations have already been implemented following a series of reforms announced amid widespread protests last summer.
However, she announced the creation of a new "force investigation unit" that will work alongside the still operating force review board to give investigators additional resources when examining how local police apply force to local residents. When that unit will be stood up remains unclear.
Wilson, who was named police chief after serving a prolonged stint as the department's interim leader last year, said she understands the report further tarnishes the local police department's reputation among residents.
"I know the trust is broken, and I know we have a long way to go," she said. "And with Mr. Twombly's desire to create an independent monitor's position, I have to agree with it because I feel that is the only way we are going to regain the trust of the community."
Wilson declined to comment on the repeated calls to terminate two of the officers who detained McClain who remain on the force, citing an ongoing state grand jury probe spearheaded by the state attorney general's office. A third officer who interacted with McClain the night of Aug. 24, Jason Rosenblatt, was fired last year after he was implicated in a photo scandal mocking McClain's death.
Marc Sears, president of the department's primary bargaining union, said his group remains supportive of how police handled the encounter with McClain.
"The Fraternal Order of Police stands by the cops that were involved in this, and we stand by the decision that was made by the 17th Judicial District in Adams County that cleared them of all wrongdoing criminally," he said.
A smattering of other investigations led by the Department of Justice and the state health department, remain ongoing.
Gray with Aurora Fire Rescue said local paramedics do not plan to continue to adhere to a moratorium on the drug's use the city council passed last year. The ban will be reconsidered next month.
In the meantime, fire personnel are employing new protocols to better estimate patients' weights, which was another blunder pointed out in the recent report.
Paramedics overestimated McClain's weight by as much as 80 pounds, according to investigators. Though Dr. Rachel Costello, the independent medical professional who reviewed the case, said the inaccurate calculation and subsequent dosing, appeared to have little overall impact on McClain's condition as his body was already failing by the time paramedics arrived.