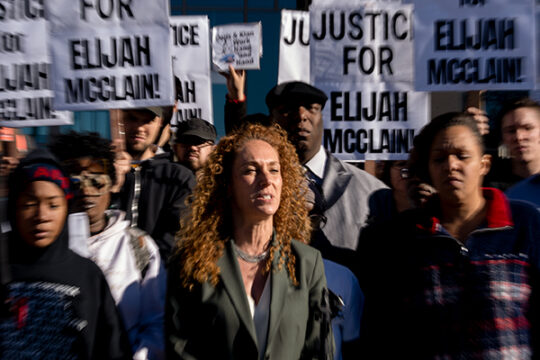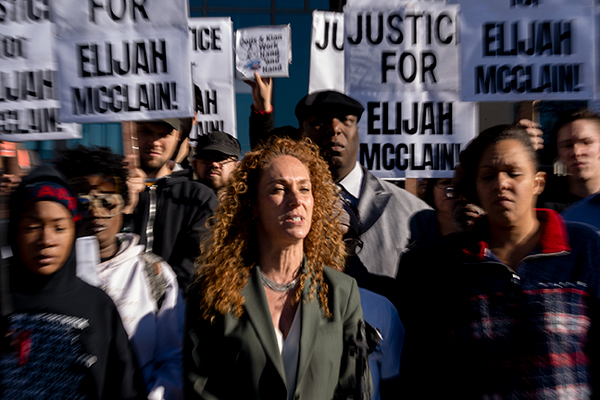 AURORA | An outside investigation into the death of Elijah McClain released Monday morning is highly critical of how police and medics confronted, detained and subdued the young Black man prior to his death two years ago.
The 157-page report tediously recounts how McClain, unarmed and not accused or suspected of a crime, was encountered, arrested and eventually tranquilized with a miscalculated dose of a powerful sedative. He suffered cardiac arrest after his interaction with Aurora police officers and firefighters and never regained consciousness.
The assessment concludes that police and firefighters did not have the authority nor justification to stop, hold, arrest, subdue, choke or medicate McClain.
"Upon review of the evidence available to the panel, Officer (Nathan) Woodyard's decision to turn what may have been a consensual encounter with Mr. McClain into an investigatory stop — in fewer than 10 seconds — did not appear to be supported by any officer's reasonable suspicion that Mr. McClain was engaged in criminal activity," investigators wrote. "This decision had ramifications for the rest of the encounter."
The report is critical of nearly every action first responders carried out as they first contacted McClain while he was walking home from a north Aurora convenience store in the 1900 block of Billings Street.
"The events that led to the death of Elijah McClain unfolded rapidly on the streets of Aurora, Colorado on August 24, 2019," the trio of outside investigators wrote in their conclusion. "Within seconds of exiting their cars, officers used force on Mr. McClain which they sustained over an extended time period, including two attempted carotid holds.
"EMS waited almost seven minutes after arriving to interact with Mr. McClain, and their first contact was to administer the sedative ketamine. The post-event investigation was flawed and failed to meaningfully develop a fulsome record. These facts trouble the panel. However, it was not our charge to assess whether misconduct occurred; rather, our task was simply to report what we could learn from the record and make policy recommendations."
The panel of investigators, composed of an attorney, a doctor and a former Arizona chief of police, further chastised Aurora police for rushing through internal investigations looking into whether local personnel followed protocols after McClain's death. Both Aurora police and fire officials determined officers and paramedics acted in line with departmental rules when interacting with McClain, and the former district attorney in Adams County eventually declined to pursue criminal charges against any of the officials involved.
"The Aurora Police Department's Major Crime/Homicide Unit investigation of the death of Mr. McClain raised serious concerns for the panel and revealed significant weaknesses in the department's accountability systems," the investigators wrote.
They pointed to detectives' apparent legal chicanery when interviewing witnesses, possible conflicts of interest related to the chief of police's ability to initiate internal probes, and perfunctory reports that eventually exonerated the involved officers.
"The review by the Aurora Police Department's Force Review Board was cursory and summary at best," according to the report. "Without a detailed examination of the justification for the use of force throughout the incident, important opportunities to identify problems and reform practices were lost.
In a statement issued by her attorneys, McClain's mother, Sheneen, lauded the report's overall indictment of how Aurora officials handled her son's death.
"The report exposes that Aurora engaged in a sham investigation in order to exonerate its
employees and hide their wrongdoing," attorneys wrote in a statement issued by Denver law firm Rathod Mohamedbhai. "As the report notes, Aurora investigators 'failed to ask basic, critical questions about the justification for the use of force,' and 'failed to present a neutral, objective version of the facts and seemingly ignored critical evidence.' At every step, Aurora has stood by its employees, even in the face of overwhelming evidence that they were responsible for Elijah's tragic death.
"Sheneen McClain is grateful that this independent investigation has laid bare the wrongdoing of Aurora employees who are responsible for the death of her son. She continues to call for Aurora to hold its employees accountable. The Aurora officials who contributed to Elijah's death must be immediately terminated. Ms. McClain continues to call for the criminal prosecution of those responsible for Elijah's death. Elijah committed no crime on the day of his death, but those who are responsible for Elijah's death certainly did."
One of the three officers who primarily interacted with McClain, Jason Rosenblatt, was fired from the force last summer after he responded "ha ha" upon being texted a picture mocking the carotid hold applied to McClain's neck. The other officers involved in detaining McClain, Woodyard and Randy Roedema, remain on the force despite a steady cacophony of calls for their terminations.
Mari Newman, a local civil rights attorney who filed a federal lawsuit on behalf of McClain's parents and estate last summer, also commended the investigators' findings.
"The investigation report is replete with the details of individual and organizational failures of the Aurora Police Department that ultimately caused Mr. McClain's wholly unnecessary and brutal death," Newman said in a statement.
McClain's father, LaWayne Mosley, said in a statement the report underscores what he and others have been voicing at demonstrations since summer 2019.
"This report confirms what we have been saying from the start," Mosley said in a statement via Newman, his attorney. "The Aurora police and medics who murdered my son must be held accountable."
Aurora City Council members received a briefing on the report Monday evening, though members were not granted time to ask questions of the investigators. Follow up questions may be asked at a future meeting, Mayor Mike Coffman decided as the 90-minute meeting expired. An additional news conference is expected Tuesday morning.
At the meeting, the investigators highlighted some of the most salient details of their probe, including concerns over communication protocols between police and fire officials, discrepancies within Aurora police's internal investigation processes and how and when involved officials were interviewed following McClain's death.
"This report is damning and is yet another confirmation that our police department is failing in its mission to, 'make Aurora safer everyday,'" Aurora City Council member Allison Hiltz told the Sentinel. "If we, as a council, do not take these findings and demand change and accountability, then we will have failed in our duties as elected officials."
Hiltz served as the chair of the city's public safety issue committee when it granted initial approval to the investigation last year. Later, the entire council voted unanimously to support the investigation.
Other city lawmakers said that despite the profound findings, the report could be the bellwether for a better local police department.
"While only a first step, the completion of this investigation is an important milestone in getting answers for Elijah McClain's family and in reviewing public safety in Aurora," said Councilman Curtis Gardner. "The findings demonstrate we have work to do and I'll make sure this investigation serves as a guide to drive our work going forward. Public safety is a core function of government and part of that means all of our residents feel safe and have trust in City departments."
The investigators themselves also suggested their findings should precipitate change.
"It is our humble hope that this report will become a part of the broader discussion in Aurora regarding the role and conduct of police in the community, and how to achieve public safety through a partnership between all of the city's institutions and those who live in the city," they wrote.
Investigators proposed a gaggle of policy changes in their findings, including the implementation of more implicit-bias training, bolstering communications between Aurora police and fire personnel when jointly interacting with residents, retool training and protocols related to post-incident reviews, and "undertake a thorough review of (the department's) use of force policy," according to their review.
Many of the recommendations the panel put forward were touched on, at least in part, by department brass and an omnibus criminal justice reform package that passed out of the state legislature last summer. The investigators said the upshot of the recent changes remains ambiguous.
"The extent to which those reforms can heal community trust still remains to be seen," they wrote.
The president of the department's prior labor union said he has yet to review the recommendations suggested in the recently released report, and is waiting to comment until he has been able to do so.
The three-person panel cited numerous instances of Aurora police using excessive or lethal force on residents of color over the past 20 years, a pattern the panelists said sowed distrust in the department. Aurora police paid more than $6.5 million between 2010 and 2018 to settle civil lawsuits brought against their officers, according to city documents.
"The death of Elijah McClain occurred against the backdrop of long-standing concerns in communities of color in Aurora regarding the conduct of the Aurora Police Department," investigators wrote.
HIGHLIGHTS OF INVESTIGATORS' FINDINGS:
• Aurora Police Officer Nathan Woodyard's actions to encounter, arrest and subdue McClain were inappropriate and set up events that led to his death.
• Aurora Police should not have searched and frisked McClain: "Based on the record available to the panel, we were not able to identify sufficient evidence that Mr. McClain was armed and dangerous in order to justify a pat-down search. The panel also notes that one officer's explanation that Aurora officers are trained to 'take action' before it escalates does not meet the constitutional requirement of reasonable suspicion to conduct either a (investigatory) stop or a frisk."
• Aurora police were unjustified in restraining and forcing McClain into submission. After first subduing McClain and causing him to faint, police were also unjustified in placing him in now-banned control holds that involved cutting off the blood flow of the carotid artery on the side of his neck.
• Aurore firefighters accepted a police assessment of "excited delirium" in the case without making a proper assessment, and injected McClain with an excessive dose of ketamine. "EMS administered a ketamine dosage based on a grossly inaccurate and inflated estimate of Mr. McClain's size. Higher doses can carry a higher risk of sedation complications, for which this team was not clearly prepared."
A report long awaited
What it does: 
Investigators also looked at the internal police and fire department reviews of the encounter and made policy change recommendations for city lawmakers to consider. Those include considering the use of ketamine, which is temporarily banned in Aurora, and examining "implicit bias" in the police and fire departments. The independent investigators emphasized that their recommendations "are intended to lessen the chance of another tragedy like this one from happening again." The report "does not attempt to assign legal responsibility for McClain's death or determine his cause of death. Other investigations and litigation are underway for those purposes," they stated. Other probes are ongoing, carrying activists' hopes of criminal charges against police and fire department personnel. 
Who investigators are: 
Amid the surging protest movement for McClain in July 2020, the city hired a team of independent investigators to scrutinize McClain's encounter with police and fire department personnel. The three-person team was led by Jonathan Smith, executive director of the Washington D.C.-based Washington Lawyers' Committee for Civil Rights and Urban Affairs. The other two investigators are emergency medicine expert Dr. Melissa Costello and Roberto Villaseñor, the former chief of the Tucson, Arizona Police Department.
How this worked: 
The investigators relied on body-worn camera footage, videotaped statements by officers, their follow-up reports and handwritten notes from the scene, the 911 call that led officers to McClain, dispatch records and internal reports after the incident, and an Adams County coroner autopsy report. They also interviewed some Aurora Police and Aurora Fire and Rescue personnel.  However, the investigators said that their "requests to interview the officers and fire personnel involved in the incident were declined." 
McClain's death:
McClain died in Aug. 2019 after an encounter with Aurora police officers and Aurora Fire Rescue first responders, who subdued him with now-banned restraints, including a ketamine injection and a carotid chokehold.
Police were dispatched to the sidewalk on which McClain was walking after a 911 caller described McClain, who was wearing a ski mask, as "sketchy" when he saw him waving his arms in the air.
Aurora Fire Rescue personnel administered McClain an dose of 500 milligrams of ketamine. The drug is temporarily outlawed for law enforcement use in Aurora until 30 days after Smith's review was released. His team's findings could shape a permanent ban.
The review could also come with recommendations of police and fire department policy overhauls. The city's Police Community Task Force is expected to release its own reform ideas in the coming weeks.
The city council would have to approve any of the reforms proposed by these two groups.
Smith's inquiry is the first in a slew of investigations related to ketamine use, McClain's death and Aurora police practices to conclude.
The Adams County District Attorney who originally examined the case, Dave Young, has repeatedly said he didn't have the evidence to convince jurors that first responders had acted inappropriately beyond a reasonable doubt in the encounter with McClain. Young, who left office after reaching term limits in November, has since taken a position with the El Paso County District Attorney's Office. Young's successor, Democrat Brian Mason, said Monday morning he had yet to read the report, and had yet to determine whether he would offer comment on the document.
The other investigations into McClain's death include looks from the state Attorney General's office and the Department of Justice. Read the full list of ongoing investigations here.
Members of the local branch of the Party for Socialism and Liberation, who have been repeatedly critical of Aurora police's handling of McClain's death, again on Monday called on Weiser to file criminal charges against the officers and paramedics involved.
"We continue to demand murder charges fro state Attorney General Phil Weiser's investigation," the group wrote in an Instagram post. "There is no doubt that the grounds exist to bring these cops to trial and we will accept nothing less."
Prosecutors last fall levied a litany of felony charges against local PSL party leaders for their role in several demonstrations calling for further criminal inquiries into McClain's death.