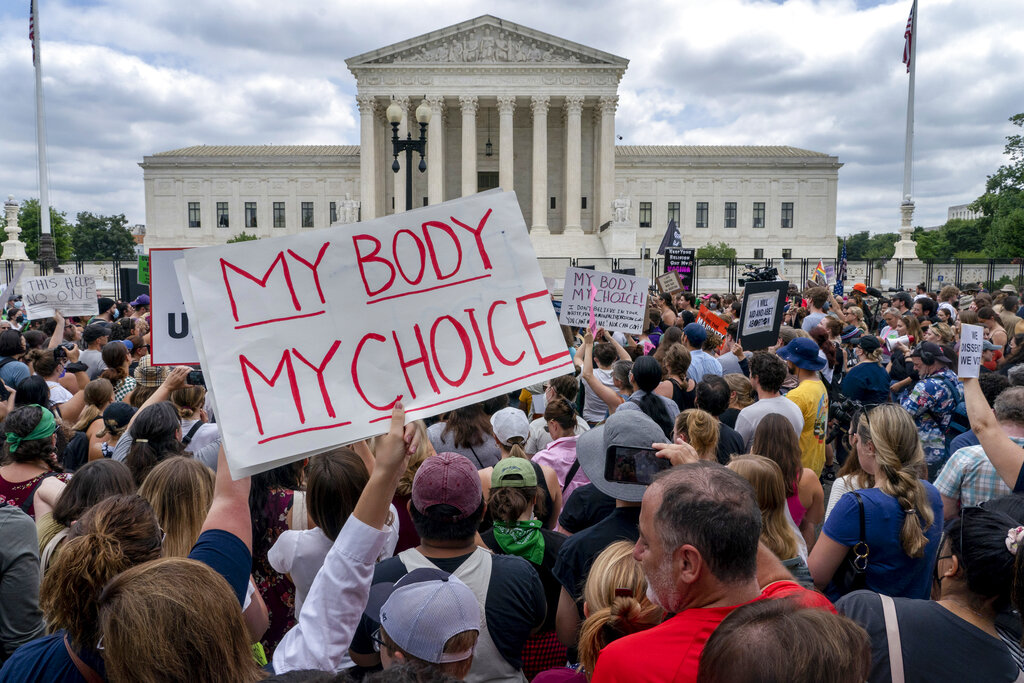 The most surprising thing about the national shock and outrage over the Supreme Court ending a week of eradicating American rights and stability is how surprised so many millions of outraged Americans are.
Really?
For years, we've watched states, run by the political equivalent of the American Taliban, not just chip away at women's right to privacy and equality, but also dig deep into voting rights, gay rights and even the rights to live in safe communities.
Even before Donald Trump was elected, the nation became bored with preventing far-right extremists from taking control of the Republican Party and bully the nation repeatedly to impose the absurd and unpopular demands of a minority of Americans on the entire nation.
Motivated by polite and ineffectual opposition, these Republican extremists were emboldened by their chicanery and managed to boost Donald Trump into the White House, against the wishes of a wide majority of Americans.
Under the Trump administration, the nation was endlessly assaulted by multi-pronged attacks on the American system of government. Trump and Republican leaders easily pumped far-right activist judges onto federal court benches. Through ultimate acts of deceit and hypocrisy, they stacked the Supreme Court with neanderthal justices, who got to the bench by publicly lauding their desire to push the United States back to a time when Christian puritanism took care of problems with pushy women, worrisome minorities and downtrodden people demanding a bunch of rights.
After all this, the Supreme Court flashed signal after signal for the past few years that it was hungry to issue rulings like it did this week, culminating in their Dobbs vs Jackson coup de grace against the half-century foundation of Roe vs Wade.
And people are surprised by all this? Any of this?
We're behaving as if our elected leaders are abusive parents or spouses we must remain with because we simply have no alternative but to suck it up and suffer what these elected leaders inflict on us.
Vote them out.
Vote them out on their far-right extremist party planks, folks.
Colorado is a state essentially built by small-government Republicans who have long pushed against the intervention of government into our personal lives.
U.S. abortion rights were practically invented in Colorado by Republicans in the 1960s and 1970s.
Even into the last decade, Colorado was dominated by small-government Republicans who had no more in common with slick and unprincipled extremists like congresspersons Ken Buck, Lauren Boebert and the now-gone Cory Gardner than they have with Ted Cruz.
In too many states, inattentive and disengaged voters have surrendered their interests, and now their Constitutional rights, to corrupt and dangerous shysters like Donald Trump, Kevin McCarthy, Mitch McConnell and Ron Desantis.
Today's catastrophic loss of rights and freedom didn't come suddenly, it came systematically with great fanfare and certainty.
And it won't end until people here in Colorado refuse to vote for extremists, and pressure people in other states to do the same thing.
Coloradans essentially won a reprieve from the absolute loss of rights that victims of this regime will immediately suffer in other states because they haven't been able to amass control here — yet.
But even if Colorado prevails against extremists, our rights can't be sustained. We're just one part of a nation where the federal government is superior. The will of a minority of extremists in Washington is allowed to game the system and drag us all down to mutual victimhood and misery.
In a nation where women's lives are now in danger, a nation drowning in gun violence and on the verge of planetary disaster, vote like your life depends on it. It does.
 Follow @EditorDavePerry on Twitter and Facebook or reach him at 303-750-7555 or [email protected]