It's difficult enough listening to the gut-wrenching testimony from victims of the Aurora theater shooting.
But it's over-the-top torture simultaneously watching my Twitter feed roll with sick and creepy touts from gun-goons at places like the Independence Institute and Rocky Mountain Gun Owners.
All this week they've waxed toxic hoping to ensure that everybody who wants access to big-ammo magazines and military-grade weapons better be able to get them. If they can't, they're plotting ways to make sure more AR-15-grabbing, liberal Democrats will fall.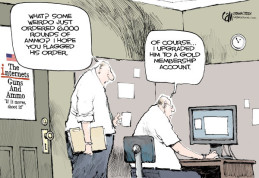 Both of these locally based groups have long battled against anyone who so much as squints at the Second Amendment. The notion that as a society we can have guns without letting every Tom, Dick and James Holmes  get their hands on an insane arsenal delivered by UPS to their door or in the express line at Wal-Mart, is too difficult for these groups to comprehend.
They scoff at places like Germany, Great Brittain and Japan, which tightly regulate guns, enjoy all the freedoms we do and have huge hunting and sport industries.
Right now, these two far-far-far-right groups are fighting each other. The Golden-based Independence Institute, run by Jon Caldara, who hates gun control almost as much as he hates RTD, is sniping at the face of Rocky Mountain Gun Owners Dudley Brown in a battle to wrestle giant magazine clips back into legality. After the Aurora theater shooting and the Newtown, Conn. slaughter, Democrats forced through two tame gun-control measures, both much more show than substance. One measure requires all gun sales in the state to be subject to background checks, and the other limits the size of ammo clips to 15 rounds. If you ask why anyone would need to rapid-fire off 15 rounds, let alone 30 or more, you're a gun-grabbing commie, according to these groups.
Gun-rights groups like Brown's went ballistic after Gov. John Hickenlooper signed the restrictions into law. The measures resulted in the bizarre recalls of two Democratic lawmakers and the extorted resignation of another.
These groups have since obsessed over ways to undo those measures of gun control, making everyone at the state Capitol nervous.
It's sick. Watch the Aurora theater shooting trial testimony and tell me that letting crazies like James Holmes have easy access to mail-order arsenals and endless ammo is a good idea. Tell me again how Holmes could have unleashed this kind of terror with a switch blade or a chain saw.
Nobody I know of has ever asked for the government to collect everything with a trigger. All level-headed people have been asking for is common sense. We can have guns and regulations just like we can have cars, toxins and marijuana, all with regulations. People who are asking for common sense are people like Congresswoman Gabby Giffords, whose life was nearly destroyed by a crazy man who had easy access to guns. People like Tom Mauser ask only for common sense. His son was murdered by mentally disturbed teens at Columbine High School who, illegally and easily, bought guns outside the retail system. And you know what I see as I'm listening to an Aurora cop break down in tears, describing the carnage Holmes unleashed with a phenomenal arsenal that any nut-case can easily get?
"Proving once again that inanimate objects don't cause crime!"claimed the retweet by RMGO. It was referring to their Facebook post about a guy who said his semi-automatic weapon was left unattended all weekend and didn't kill anyone. Caldera posted relentlessly all day Tuesday that the Independence Institute and supporters "Has Your Back" for those legislators who will try to undo the state ban on limitless ammo clips by pressing a ruse.
"Who's Keeping Coloradans From Their 30-Round Mags?" he kept asking. According to Caldara, it's Brown, who will take no prisoners in his war on any gun limitations at all. Caldara's plan is to sneak in a little something now and then undo Colorado gun control later.
If you want, you can scroll over to the RMGO Facebook page and watch Brown fire off rounds of a remake of an antique German machine gun. Good times. Then flip on over to live streaming broadcast of the Aurora theater shooting trial and listen to 911 calls of people being slaughtered inside the theater by a madman with a rapid-fire rifle that unexpectedly jammed. Look closely at what these groups are doing and asking for, then decide for yourself, who really has your back.
Follow @EditorDavePerry on Twitter, Facebook. Reach him at 303-750-7555 or [email protected]