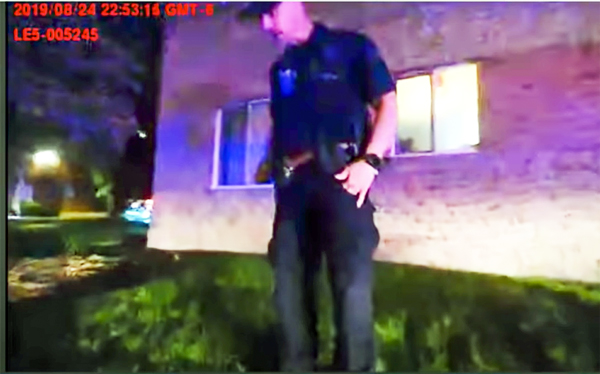 The state-required intervention into Aurora's deeply troubled police department desperately needs an intervention.
In just the past few days, an Aurora officer was charged with punching a disabled woman in the face while he was off-duty in his apartment complex. A notorious Aurora cop who was protected from being fired after passing out drunk in his police car was promoted. And just days ago, the Sentinel learned that the equally notorious cop who quit the force after police body cam revealed his threats to Elijah McClain to have his police canine "dog bite" him, has been re-hired by APD.
That's just the past few days.

Just over a year ago, after months of investigation, the Colorado Attorney General issued a scathing report, detailing how for years Aurora police have abused people of color they encounter, including each other. The attorney general determined there were systemic "patterns and practices" that not only permitted racist and abusive schemes and episodes, the department hid and covered them up, by design.
In the past year, the city has bungled an opportunity to reform the department and rebuild trust for a devastated community that — justifiably — fears for their lives when they encounter an Aurora police officer.
The city fired former police chief Vanessa Wilson, who pressed hard to enact reforms and rebuild the department.
The city then hired former chief Dan Oates, who made absurd and grossly perilous decisions in his brief tenure as interim chief to dismantle what little oversight exists in the department. He refused to discipline a high-level police commander, who with another police officer, were both tripped up in a criminal investigation after violating a restraining order — twice.
Oates fired and rehired a new officer who violated his promotion after being arrested for a drunken brawl in another state.
And the Sentinel reported last week it was Oates who approved the re-hiring of the cop who threatened McClain during sick and racist abuse of his position.
The accusation has been that APD is a club that protects its own — for those cops in favor of superiors — regardless of what's right or wrong. Oates' behavior only proved it to be true.
State Sen. Rhonda Fields expresses what most Aurora residents feel, and especially those people of color.
"The lack of judgment is just overwhelming, and it's fatiguing," she said of APD. "It's more than a lack of judgment, it's a culture that seems to be plaguing the APD and they're rewarding by getting promoted or rehired. …We have to do something."
Aurora Police now has its third chief in less than a year. Interim Chief Art Acevedo took the reins of the department in December, and has spent most of his time explaining how the department is filled with professional, compassionate and talented officers, and trying to explain how the department continues to make witless mistakes.
He's so far blamed a system that is under mandate to change.
Acevedo told television reporters at FOX31 that the officer who told McClain his canine would "dog bite" him if he didn't quit resisting the dog-pile of officers already on top of him that it was at one time approved police procedure to threaten subjects with dog bites.
You only have to watch how the officer handled the situation to see this was anything but standard police procedure, in places outside of Aurora.
Aurora needs to cease justifying horrific police behavior and decisions, and stop making these dangerous gaffes.
Acevedo deserves a chance to make good on promises to clean up this mess and at the same time ensure honest, competent officers are lauded for their good work — protected from the grisly behavior of what the public can only hope is a few.
"While actions of officers who violate their oath must be acknowledged and appropriately dealt with, it's important to acknowledge the remaining majority who serve each and every day with honor," Acevedo said in a tweet, responding to criticism by local lawmakers. "The decisions made by their leaders and rules set by others shouldn't reflect on them."
At the same time, the public shouldn't have to depend on favorable odds every time they encounter an Aurora police officer. Successful police reform is not a crap shoot.
Acevedo and the city should immediately, transparently review every decision and change made by Oates and report what they find to the community.
Successful police reform, protecting the public and restoring trust won't come from justifications. Acevedo must aggressively and transparently rectify the recent problems and controversies and set out a plan change, not rationalization.