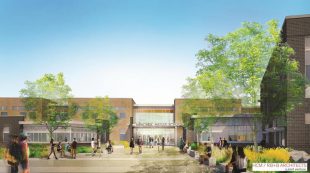 AURORA | East Aurora will gain a sleek new school Thursday to replace an old one when the new Mrachek Middle School opens after a year-and-a-half of construction.
The new Mrachek is 130,000-square feet and can provide space for up to 1,000 sixth, seventh and eighth graders.
Construction was paid for by a 2016 bond issue and a $16 million grant from the Colorado Department of Education, according to Aurora Public Schools.
The old Mrachek school still stands across the street. According to the school district, the old building was a new design concept built in the mid-1970s without windows or walls separating classrooms. The layout "has been a challenge for the school community," the district said in a press release.
The odd and forlorn old building will be demolished next spring to make room for athletic fields.
District officials including Superintendent Rico Munn will hold a ribbon-cutting event Thursday at 5:30 p.m. with free barbecue and tours.