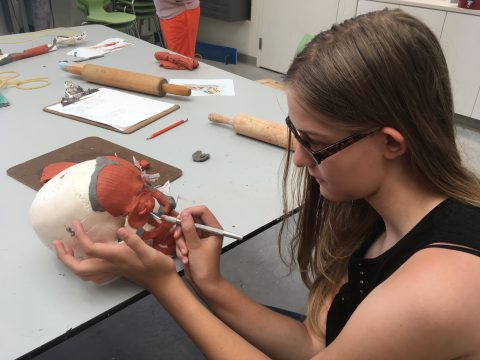 YOUR NEWS
| The
Evidence
exhibit features artwork created by DAVA (Downtown Aurora Visual Arts) youth during special summer classes.
Evidence
opens to the public from 4 pm to 7 pm, Sept. 20 with film screenings, a giant dinosaur sculpture, and a "crime" scene investigation. The exhibit will run through Nov. 21. DAVA is located at 1405 Florence St., one block south of East Colfax Avenue.
Inspired by paleontology, forensics and human life, DAVA students explored traces of life, from fossils to finger prints. Middle and high school Job Training students followed forensic evidence to reconstruct a body in sculpture and solve a "crime" by creating their own forensics lab. Younger students in the Open Studio recreated a Jurassic period diorama with a twelve-foot-long Diplodocus sculpture. This exhibit is part of our theme for 2018: Crosscurrents in the Arts and Sciences.
Computer Art Lab students used moving image to reveal social concerns during a collaboration between DAVA and the
Colorado Film School
. The resulting short films are included in this exhibit. They tell powerful stories using different formats: digital animation, stop motion, live action film and documentary. Film screenings will take place during the opening reception and throughout the duration of the show. All of DAVA's exhibits are free and open to the public from 10 am to 5 pm, Monday to Friday, or by appointment. For more information about the exhibits, please email
[email protected]
.
Downtown Aurora Visual Arts is a nonprofit arts organization whose mission is to strengthen the community through the arts with a primary focus on youth engagement. For more information about our programs, visit
www.davarts.org
or call 303-367-5886.