This velvety pumpkin soup is surprisingly easy and fast thanks to canned pumpkin. The trick is getting rich, balanced pumpkin flavor out of a can.
We started by creating a deeply flavorful base for our soup by softening onion and then adding cumin, coriander, and nutmeg, which gave us a warm-spiced flavor that paired well with pumpkin. Maple syrup was the ideal sweetener, adding depth and enhancing the nuttiness of the soup without overwhelming it with sweetness.
A combination of vegetable broth and water gave the soup a subtle savory backbone, and just a half cup of half-and-half gave us an ideal creamy texture. Briefly simmering the pumpkin in the flavorful liquid allowed the flavors to meld and cooked off the tinny flavor of the canned pumpkin; we then pureed the soup to a silky consistency.
Be sure to buy pure canned pumpkin, not pumpkin pie filling, which has sugar and spices added. Crumbled blue cheese and toasted, chopped walnuts make nice garnishes to this soup.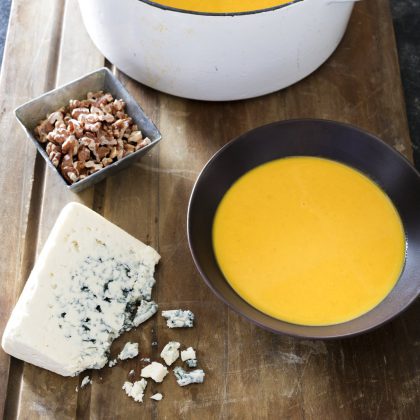 11TH-HOUR HARVEST PUMPKIN SOUP
Servings: 4-6
Start to finish: 45 minutes
2 tablespoons unsalted butter
1 onion, minced
2 garlic cloves, minced
1/2 teaspoon ground cumin
1/2 teaspoon ground coriander
1/4 teaspoon ground nutmeg
3 cups vegetable broth, plus extra as needed
2 cups water
1 (15-ounce) can unsweetened pumpkin puree
1/4 cup maple syrup
1/2 cup half-and-half
Salt and pepper
Melt butter in Dutch oven over medium heat. Add onion and cook until softened, about 5 minutes. Stir in garlic, cumin, coriander, and nutmeg and cook until fragrant, about 30 seconds.
Stir in broth, water, pumpkin, and maple syrup, scraping up any browned bits, and bring to boil. Reduce to simmer and cook until flavors have melded, about 15 minutes.
Working in batches, process soup in blender until smooth, 1 to 2 minutes. Return pureed soup to clean pot and stir in half-and-half; adjust consistency with additional broth as needed. Heat soup gently over low heat until hot (do not boil). Season with salt and pepper to taste, and serve.
Nutrition information per serving: 198 calories; 86 calories from fat; 10 g fat (6 g saturated; 0 g trans fats); 26 mg cholesterol; 417 mg sodium; 27 g carbohydrate; 4 g fiber; 18 g sugar; 3 g protein.
For more recipes, cooking tips and ingredient and product reviews, visit https://www.americastestkitchen.com. Find more recipes like 11th-Hour Harvest Pumpkin Soup in "All-Time Best Soups ."
America's Test Kitchen provided this article to The Associated Press.