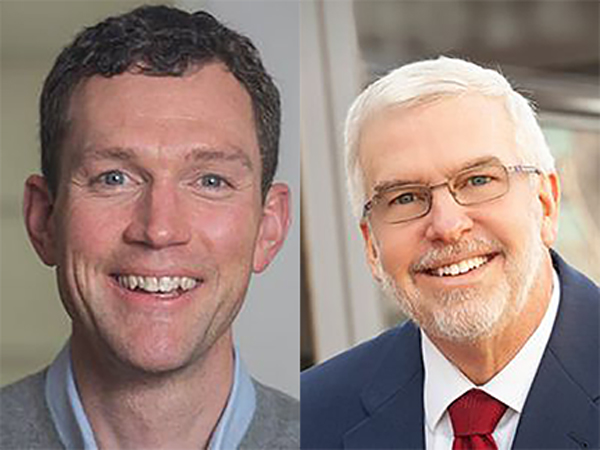 Democrat Sen. Chris Hansen has only been representing eastern Denver and a sliver of Arapahoe County for a year, but he's ready to commit to another four. Challenger Doug Townsend, however, would like to see the historically blue district host a Republican.
Hansen was appointed to Senate District 31 in January after the former seat holder, Lois Court, stepped down citing her recent diagnosis of Guillain-Barré syndrome. A vacancy committee appointed Hansen to the seat in January — 95 of the 120 votes cast in that committee were for Hansen.
The district runs parallel Interstate 225 and reaches down Parker Road between Aurora and Denver. While the district mostly covers Denver, there are four precincts in Arapahoe County. 
The district has voted overwhelmingly Democratic in recent elections. In 2012, former Sen. Pat Steadman earned nearly 70% of the vote. In 2016, Court was elected by about the same margin. Despite those outcomes, Townsend said he's knocked thousands of doors in the district, talked to hoards of voters, and believes they're ready to see a change. 
"The legislature is disrespecting the will of the voters," Townsend, a transplant from Indiana who spent some time in local politics there, said of Colorado's state government. 
Last year, state lawmakers approved a sweeping oil and gas reform bill that allowed local governments to set standards and regulations for drilling in their communities. Townsend says that was the wrong move, given voters had previously said overturned a proposal asking for a 2,000-foot setback. 
While Townsend told the Sentinel he generally agrees in local control, he doesn't believe that was the main purpose of that particular oil and gas reform. 
Hansen has sponsored a number of so-called green bills during his time in the legislature, including in 2019, while still a member of the House, including a bill to enhance access to electric cars and a proposal to set clean energy targets for the state's largest investor-owned utility companies. 
This year, Hansen re-introduced the measure for better consumer access to electric cars and it was signed into law. This year he also introduced a measure to adopt a renewable natural gas standard, a bill forcing the state to establish a global warming potential for each material used in public projects, and a bill that modifies community solar garden property tax exemptions. None of those bills passed. 
Because of Hansen's policy focus on the environment, Townsend says the incumbent is a "one-issue" legislator. 
"It's an important issue, and one we have to address," Townsend said, but argued there needs to be more focus on other topics, like education, which would be his top priority. 
Instead of running for a seat on the local school board, Townsend said he sees the impact for more change in education standards in a state seat. 
"I believe we must commit to the importance of educating the children of Colorado and empowering parents to determine what educational model and environment will be most effective for their children. Parents should have full educational choice that is financially supported by the State of Colorado regardless of their choice. We do not ask the citizens of Colorado for over $9 billion just to support our public schools. We ask our citizens for their hard-earned tax dollars to support the education of our children. That should be the focus," he says on his website. 
"To more effectively utilize those dollars, I believe we should allow school districts and individual schools to be run at the local level. Parents can communicate far more effectively with their local elected school boards to work together to provide the educational programming desired of the local community.  We should abolish the elected State Board of Education and change the mission of the Colorado Department of Education from being a regulatory oversight body of our K-12 educational system to being a shared support service for all of our K-12 school districts and schools."  
On education, Hansen, who has two kids in local schools, said funding is perhaps the most important issue facing schools. 
"I believe that we must reinvest in public education, rethink the way we evaluate our students, and once again honor the incredibly important work of being a teacher," he says on his website. "That's why I support amending TABOR to reverse the massive budget cuts in our education system."
For more information on where the candidates stand on issues, read surveys completed by the candidates and look for more coverage at www.sentinelcolorado.com before Election Day.