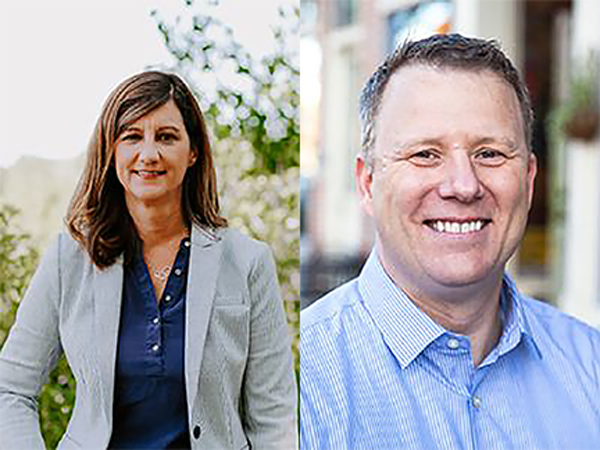 State Senate District 27 — which covers areas of Centennial, Littleton, Foxfield and southern Aurora — may go down as 2020's most controversial state race, as Sen. Jack Tate, a Republican, has decided against another term in the legislature. 
Republican candidate Suzanne Staiert, a lawyer who worked as a deputy at the Secretary of State's office under Scott Gessler and Wayne Williams, is facing off against Democrat Chris Kolker, a financial planner who previously had a failed bid at a state house seat. 
The state race has found the spotlight, not for the plethora of voter issues, but from outside money focused on the candidates. 
More than $508,000 in outside spending is targeting Senate District 27, most of it opposing Staiert. It's one of the Democratic Party's top legislative contests in the November election, and a Colorado Sun analysis shows the district is seeing the most outside money of any statehouse race so far.
The campaign centers on a complaint involving Unite for Colorado, the conservative nonprofit organization whose affiliated campaign arm is working to elect Staiert.
Unite for Colorado — its work ranging from pushing ballot initiatives to subtly opposing Hickenlooper in the U.S. Senate race — is the subject of a complaint filed with the Secretary of State's Office by Scott Wasserman, the president of Bell Policy Center and Bell Action Network.
In late August, as first reported in The Sun's Unaffiliated political newsletter, Wasserman alleged that Unite for Colorado provided inappropriate financial help to two ballot campaigns — propositions 116 and 117 — on taxes and fees, arguing that Unite for Colorado should have filed as an issue committee and disclosed its donors under state law.
Staiert is Unite for Colorado's lawyer. But that nonprofit also funded Unite for Colorado Action, which paid for ads supporting Staiert's campaign.
"It's really brazen," Wasserman said in an interview. "It's really shocking that she doesn't even see the appearance of impropriety."
But Staiert has pointed to  the Democratic super PAC sending numerous mailings and airing ads against her at a cost of more than $310,000. She said Leading Colorado Forward is trying to "dehumanize" her and filed a criminal complaint against the group saying a recent mailer made a false statement.
"It's been really just stressful and unpleasant," she told the Sun. "They're just trying to buy a seat in the Senate and they don't care how they get it."
After leaving the Secretary of State office shortly after Williams lost in 2018, Staiert became executive director of the Public Trust Institute, where she helped pursue ethics complaints against former Gov. John Hickenlooper, who is now challenging Republican U.S. Sen. Cory Gardner.
In early June, the Colorado Independent Ethics Commission found Hickenlooper violated state ethics law in two instances, when he took a flight in a corporate jet owned by a former campaign donor and accepted a limousine ride at a conference in Italy.
Those violations have since featured prominently in TV ads from Gardner and several outside groups, including Unite for Colorado. The Unite ads featuring Hickenlooper criticize the state for spending $150,000 from a federal relief fund to pay his legal bills in the case.
Gessler, Staiert's former boss, also faced ethics complaints in 2013 for using state money to go to a political event. Gessler's unsuccessful appeal of his ethics violation cost the state of Colorado more than $500,000 in legal fees. Staiert didn't represent Gessler or even testify in that case. But Leading Colorado Forward sent a mailer criticizing her for the cost of the defense.
Other recent mailers cite 2013 tweets from Staiert's since-deleted account that criticized the ethics commission as a "kangaroo court." That mailer called her a "Trump-like Twitter troll."
Asked what's changed about the ethics commission since 2013, when she slammed it on Twitter, Staiert said the makeup of the group is entirely different.
The race has also managed to wade into a criminal investigation.
Staiert filed a criminal complaint with the Arapahoe County Sheriff's Office against the Democratic group Leading Colorado Forward. The mailer from the group said she "tried to silence the truth" when a freelance reporter claimed in 2018 that Williams had purged hundreds of thousands of voters from Colorado rolls. Staiert said that isn't true. Colorado law prohibits false statements in campaign ads.
Staiert said she asked the reporter to correct a report about the co-called "purge" because of calls from concerned county clerks. A 9News story concluded that the reporter's blog post was misleading, and even Griswold, who defeated Williams in 2018, agreed.
Amid all the campaign finance spending, attack ads and complaints, Kolker told the Sentinel he believes voters should really sit down and decide which issues are most important to them, research the candidates and decide who to vote for from there. 
"Politics is brutal, but that's why I'm running," he said, explaining that he was tired of the "juvenile-ness" of the 2016 election. "It's not about mud slinging. It's what can I do to help people and can I lead by example and change the narrative of what politics have become?" 
For Kolker, a father of two young children and a former high school teacher, his top issue is public education and adequately compensating teachers. He says on his website the "first step in improving our K-12 funding is to develop a plan using existing funds without raising taxes."
Staiert, who has three daughters, also lists education near the top of her priorities. She wants better mental health care in schools to combat suicide, agrees with keeping police SROs in schools and the ability for parents to choose the best course of learning for their students during the pandemic. 
"(I) will work with Cherry Creek School District on implementation of any mandatory mill levy increase to meet the needs of the district and its residents," she says on her website.
State lawmakers will likely take on a tight budget amid the COVID-19 pandemic in the coming sessions, and so measures without a fiscal note will be the most likely to pass.
Senate District 27 is considered to lean Democratic and is one of the possible pick-up opportunities for Democrats to cushion or maintain their current 19-16 majority.
The Colorado Sun contributed to this report. For more information on where the candidates stand on issues, read surveys completed by the candidates and look for more coverage at www.sentinelcolorado.com before Election Day.
Meet Republican Suzanne Staiert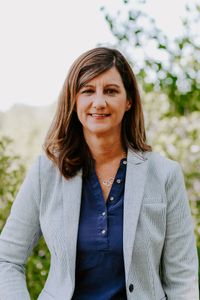 Republican Suzanne Staiert
Lawyer Suzanne Staiert was mostly recently a Deputy Secretary of State under Scott Gessler and then Wayne Williams. The Republican came to Colorado from Wyoming for law school. She was a city prosecutor in Aurora and then in 2008 became the Littleton City Attorney. Staiert became an advocate for sexual harassment victims after losing her job when she filed a sexual harassment complaint against a municipal judge. Staiert is a single mom to three daughters and has coached a mock trial team in Littleton for about a decade.
Suzanne Staiert policy questions
PUBLIC HEALTH CARE OPTION 
I don't believe creating a new government program will improve health care in Colorado.  We already have a state-run health exchange where Coloradans without group plans or Medicaid can buy insurance. In 2020, there were 167,000 people enrolled in the exchange in a population of 5.4 million. I am among the Coloradans that purchase a health plan from the exchange. Like many on the exchange I purchase the lowest per month policy. For me, that's $450 a month with an $8,000 deductible. As a result, I haven't seen a doctor or filled a prescription in two years. Turning the exchange into a public option won't change this reality for me or anyone else. Ultimately, I think that more government regulation like this will lead less choice in health care. 
HOME SCHOOL STIPENDS? 
The state should pay stipends if the schools are only offering on-line learning and the student needs a different learning model.
LET VOTERS DECIDE TABOR? 
I would not put TABOR up for a referendum. TABOR was passed as a voter-initiated amendment and any repeal should follow the same process.
MANDATORY INDEPENDENT OVERSIGHT FOR POLICE? 
I don't think each agency should have to create an independent oversight, but I do think the state's Police Officer Standard and Training (POST) board should have a mechanism to review use of force cases and use its licensing power to revoke an officer's POST certification in case of excessive use of force.
MANDATORY CHILDHOOD VACCINES? 
I wouldn't support additional regulation in this area. Further regulation will not likely encourage parents to vaccinate their children, but it will discourage parents from enrolling their children in public school.
NO JAIL TIME FOR DRUG CHARGES?
Prison and jail should be eliminated for some use and possession charges, but it should be dependent on the drug and not just the amount. When the legislature passed HB 19-1263 in 2019 it lowered to a misdemeanor the possession of 4 grams or less of certain controlled substances. This included fentanyl which is one of the most fatal drugs. Possession of fentanyl is much different than other drugs and should be treated differently. 
END PARTISAN STATE
OFFICES? 
Yes, I think the state should eliminate these partisan elections. But I'm not sure it should eliminate the election. It could be conducted in odd years with other non-partisan coordinated offices. Or, if there is an appointment it should be with a 2/3 Senate confirmation.
FEES FOR BIKES TO USE ROADS AND TRAILS?
No, I don't think bicycles should pay additional fees. I do think Colorado needs a dedicated revenue stream, but I don't think additional fees from bicycles is the answer.
24/7 LIQUOR AT BARS? 
I do agree wine should be sold in grocery stores. I don't object to bars staying open additional hours.
The lighter side of Suzanne Staiert
If you could have one superpower, what would it be? 
To disappear
What movie will you watch again no matter how many times you've seen it? 
Jaws
What did you want to be when you grew up? 
I just wanted to own a car I didn't have to push start.
What talent do you have that most people don't know about? 
I've won a lot of hula hoop contests.
If you wrote a memoir, what would you call it? 
"Did that really just happen?"
What was the last book you read? 
"Why we can't sleep"
Have you found any unexpected upsides to wearing a face mask during the pandemic? 
I don't have to wait an hour to go out after eating a snow cone.
If you had a boat, what would you name it? 
Lucille
If you could only listen to one song forever, what would it be? 
I Will Survive
Which reality television show do you think you'd be best at? 
The Amazing Race
What do you think needs to be invented more than anything? 
A COVID cure
Meet Democrat Chris Kolker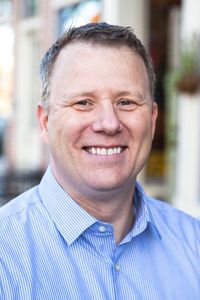 Democrat Chris Kolker 
Financial planner, small business owner and former high school teacher Chris Kolker has lived in Arapahoe County for more than two decades. He's originally from Iowa, where he was raised by his parents, a John Deere factory worker and school secretary. Kolker, a Democrat, ran for state House District 38 in 2018 and lost by 374 votes. He has a wife and two children that live in SD27, which encompasses most of Centennial, parts of Englewood, Littleton, Greenwood Village and a slice of Aurora's southern edge.
Chris Kolker policy questions
PUBLIC HEALTH CARE OPTION? 
 I  prefer health care coverage for all that is implemented at the federal level so that people of all states can receive quality healthcare. However, since we lack the leadership in D.C., we should address it at the state level.  Medicare for all is my preference based on my work as a financial planner with retirees who receive it at age 65.  It is a powerful plan providing basic, cost efficient coverage, with an opportunity for an individual to supplement it within their budget. It leverages the power of all people enrolled to create negotiated cost savings through all levels of healthcare.   We should continue to study solutions for public healthcare, especially now when so many are in need from job loss.  It will be difficult to immediately implement during this economic downturn, but that does not mean we should ignore searching for a solution.   
HOME SCHOOL STIPENDS?
No. So much is supported by the per pupil allowance; building maintenance, textbooks, computers, supplementary learning resources, electricity, water, heating, air conditioning, wifi, internet access, wages, healthcare, food, transportation, playgrounds, and grounds maintenance. Our schools are severely underfunded, and reducing it in this manner creates a voucher that undercuts the public school. Every cent is needed to maintain our schools.  
LET VOTERS DECIDE TABOR?
Yes.  
MANDATORY INDEPENDENT OVERSIGHT FOR POLICE? 
I believe there should be an independent review of police-related deaths and injuries, but I would like to see it be created by one agency for the whole state to create a uniform guideline of investigation and reduce inherent biases.  I am open to discussion on any independent review implementation.  
MANDATORY CHILDHOOD VACCINES?
Yes, we should continue to follow established medical and scientific research to prevent highly transmittable and life-threatening diseases from spreading, especially among our children.  
NO JAIL TIME FOR DRUG CHARGES?
Use and possession should be separated from intent to distribute.  I do not believe prison or jail are appropriate for use and possession.   
END PARTISAN STATE
OFFICES?
I do not have an opinion on these offices and am open to discussion. I would like to see at least county coroners be a non-elected position left to each county commission to hire.  
FEES FOR BIKES TO USE ROADS AND TRAILS?"
No, I do not see that as a tenable and enforceable option.  
24/7 LIQUOR AT BARS? 
I do not see the need or benefit to sell wine and hard alcohol inside  grocery stores or the need for bars to stay open 24/7.  
The lighter side of Chris Kolker
If you could have one superpower,  what would it be?  
To fly
What movie will you watch again no matter how many times you've seen it?  
Field of Dreams
What did you want to be when  you grew up?  
A teacher, a pilot, and a professional baseball player.  Achieved 2 out of 3.  
What talent do you have that most people don't know about?  
I am a licensed pilot.  
If you wrote a memoir, what would you call it?  
Be kind, Help People.  
What's your favorite curbside guilty pleasure? 
Fountain Diet Coke
What was the last book you read? 
Band of Brothers   
Have you found any unexpected upsides to wearing a  face mask during the pandemic? 
Yes, it helps with my pollution induced asthma.  
What's your favorite family tradition?  
Playing bid euchre at family get togethers. 
If you had a boat, what would you name it? 
Edie (short for Edith)
If you could only listen to one song forever, what would it be? 
Bound to Ramble, by the John Butler Trio
Which reality television show do you think you'd be best at?   
None.  
What do you think needs to  be invented more than anything?  
Fusion power.