Not every playbill begins with a glossary of Victorian terms.
Then again, utterances such as "fantods" (state of extreme nervousness or unease), "Michaelmas" (the feast of St. Michael on Sept. 29), and "spiv" (a black market hawker typically sporting lavish duds) aren't your stock sentence enhancers. Color me learned.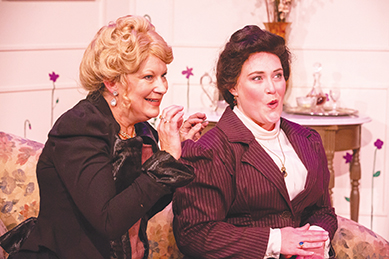 "Boston Marriage" isn't your run-of-the-mill production in the 21st century, to be sure, but Executive Director Craig Bond and the Vintage Theatre aren't exactly in the business of running canonical standards. And that's a welcome change.
On the contrary, Bond and Co. have made a name for themselves resurrecting dusty scripts and long-forgotten leads. With Director Lorraine Scott helming David Mamet's specifically sapphic touchstone, The Vintage triumphs in staging a feminine firestorm that scorches the stage with unbridled linguistic brawn.
Reportedly penned in 1999 as a response to Mamet critics who claimed the Pulitzer Prize winner could only craft characters drenched in testosterone, "Boston Marriage" is a two-act tongue-lashing packed with enough Victorian repartee to make Oscar Wilde's oeuvre read like the Sunday funnies. 
The show centers on Anna (Michelle Moore) and Claire (Kelly Uhlenhopp), two motormouthed misses engaged in a "Boston Marriage," an outmoded moniker popular in Victorian New England used to describe a pair of women living together without the support of a male benefactor. Historically, the arrangements could be sexual in nature, but were often simply platonic.
In Mamet's script, the debutantes are fueled by a mighty cocktail of lust, greed and an affinity for the melodramatic.
If nothing else, the show serves as a lyrical gymnasium in which a titanic playwright is able to flex his dialogic muscles, dispatching delightfully cantankerous clauses and deliciously arcane insults.
By the end, the two protagonists have spewed out a venerable handbook of distinctly original slights: "You visigoth;" "You unlettered spiv;" "You look like a plate of cold stew."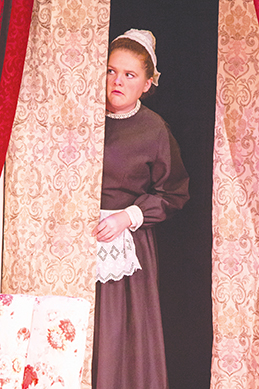 And the Vintage has its leads to thank for landing those barbs with such rollicking precision. Moore and Uhlenhopp are stupendous actresses inhabiting prodigious personalities, both of them pulling off the caper with silver-tongued composure.
The pair of sherry-swigging swingers masterfully zip through thickets of verbal bangarang, punctuating their lines with chortle-inducing facial contortions and well-measured four-letter words.
Jean Schuman, too, is a skillful presence on the chintz-covered set as Catherine, the bumbling Scottish maid who repeatedly tries to stand up to — only to be chopped down by — the conniving duo of Moore and Uhlenhopp. Even though her character serves as little more than a comedic punching bag, she scores some of the heartiest cackles of the production.
Members of The Vintage stage team also deserve praise for a slew of ornate pieces scattered throughout the production, principally Costume Designer Susan Rahmsdorff-Terry for her development of palatial gowns that wow.
The Vintage has all but perfected "the drawing room play" in recent years, manipulating their limited studio to masterfully stage yarns that blast the emotional needle off the dial. (Proof of their past triumphs are on proud display in the Vintage lobby in the form of ceramic Henry Awards earned for 2015's "'Night, Mother" and 2016's "Rabbit Hole.")
"Boston Marriage" is certainly a contender to make it a crowd, albeit much lighter fare than the previous two.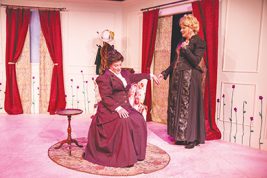 Despite a head-scratching veer toward a ruse involving mystical soothsayers, the show is exquisitely paced — so long as you're willing to don your Shakespearean cap and dive into some jungly prose. The sheer volume of meticulously crafted vernacular cannot be overstated: this is a show for women and men of letters, and not to be ingested while craving a nap. On the contrary, it demands attention and a neck more agile than that of the spectators at the U.S. Open.
It's tantalizing to try and analyze a single word or phrase, attempting to undress the layers of double or triple entendre and translate Victorian slang into intelligible language.
But by the time that chore is complete, you've already missed the ensuing four sentences of zingers.
So snag your thesaurus and head to the Vintage to take in this impressive exhibit of oral chess. On top of passing the Bechdel Test with refreshing ease, the production dishes a sadistically bookish kick in the farce — not to mention a welcome reintroduction to the likes of "kickshaw" (an ornate but inconsequential tchotchke), "reticule" (a small handbag) and "congé" (a blunt rebuke). En garde, Mr. Webster.
"Boston Marriage" 
Four out of five stars
Through Nov. 11 at the Vintage Theatre, 1468 Dayton St. Performances at 7:30 p.m. Fridays, Saturdays and Thursday Nov. 8. Matinees start at 2:30 p.m. on Sundays, with a special afternoon performance Saturday, Nov. 10. Tickets start at $16 and may be purchased by calling 303-856-7830 or visiting vintagetheatre.org.