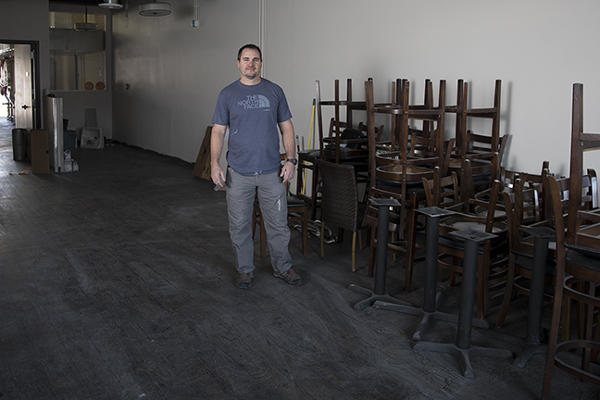 AURORA | The chile ale at Peak Tap and Brew is so popular these days, owner and brewer Gordon McKennon can barely keep it on tap.
Anytime McKennon rolls out a new keg of the spicy suds, his customers guzzle it in a matter of two weeks or so.
Thing is, that chile ale takes about three weeks to brew.
"Do the math," he said with a grin. "I have an issue."
The popularity of his product is what business people in the know might call one of those good problems. And it's one McKennon has a solution to.
Later this spring the brewery and tap house near East Iliff Avenue and South Buckley Road is expanding to a second location on East Colfax Avenue near Dayton Street.
The location was home to Mu Brewery until it closed its doors last year.
McKennon said if the city gives him a liquor license at a May 8 hearing, the new Peak to Peak tap room at 9735 E. Colfax Ave. will open shortly after, serving beer made at the south location at first. Much of the beer-making equipment should arrive later that month and McKennon said he will start brewing at the new spot once the gear is in place.
McKennon said city officials approached him shortly after Mu closed in early 2017 about expanding to the Colfax storefront.
At first, he didn't bite, unsure if expanding was the right fit for the three-year-old company.
But then the demand at Peak to Peak started to grow. And kept growing.
That break-neck growth at the main location left little doubt that the time was right to expand — and thus boost Peak to Peak's brewing capacity.
"As soon as that really came to fruition, I knew that was the next step in the business model to really grow organically," he said.
And the storefront on Colfax was a perfect fit, he said.
There is already some beer-making equipment on site, including some tanks, but McKennon said that wasn't what really sold him on the site, in part because he is buying some new equipment to replace or add to what is already there.
Instead, it was the infrastructure already in place, things like a walk-in cooler, tap room and trench drain, big ticket items that any brewery will need and this site already has.
"That mattered to me more than this equipment," he said, standing where the new brewhouse will be in a couple months.
City officials have tried for years to turn the gritty stretch of Colfax near the brewery into a hub of arts and culture. But while theaters and art galleries have largely thrived, luring new night spots like breweries or restaurants to this corner of town has been a challenge.
Mu lasted more than a year before closing its doors and several other restaurants have started negotiating deals with the city to move into empty Colfax storefronts, but those projects have largely fallen flat.
City officials have said for years though that even if a business like Mu closes more quickly than city officials may have hoped, opening the business means laying the groundwork that another company can take advantage of.
That's exactly what happened with this storefront, with Peak to Peak able to quickly move in because much of the work was already done.
Andrea Amonick, the city's development services/Aurora Urban Renewal Authority Manager, said that as soon as Mu closed shop, city officials set about finding a replacement.
The building's xowner also wanted a brewery to fill the space, she said, so Peak to Peak was an ideal fit. Hopefully, Amonick said, once the brewery is up and running it can help lure other similar businesses to the arts district like distilleries or wineries.
While the new location offers plenty for Peak to Peak, McKennon is still changing some things up. The new location will look a lot like the other Peak to Peak, with beetle kill wood and a white oak bar top.
"It has to have our own style," he said.
McKennon said the new location will triple his brewing output, something that means he can expand distribution beyond the handful of spots he is slinging beers at now.
That means he is less concerned about how robust the business may or may not be in the new tap room. The focus isn't so much on selling pints up front, he said, but on brewing kegs in the back.
"This is a manufacturing brewery," he said.