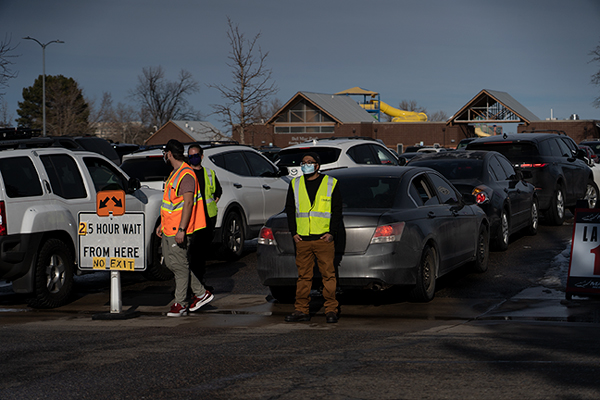 On Jan. 3, the wait at the Del Mar Park testing site in central Aurora was 2.5 hours long as cars spilled over into the nextdoor neighborhood, each inching along toward a 15-second nasal swab. 
The scene, not uncommon since before New Year's Day, is the latest of a troubling picture as Colorado and the nation enter year three of the pandemic, but this time with a vicious variant, making surging positivity rates hard to handle through the evolution of the virus.
School districts are already bracing for impact. Between the virus and staff shortages, Aurora Public Schools and the Cherry Creek School District are warning that school lunches, busing and even in-person learning could see changes.
Positivity rates in the Aurora region, like much of the state and nation, are considerably high. Tri-County Health Department data as of Wednesday shows the seven-day positivity rate for Adams County at 29.6%, 28.5% in Arapahoe County and 25.4% in Douglas County.
On Dec. 23 those positivity rates hovered around 10%.  The state and Tri-County have for more than year insisted that a positivity rate over 5% is cause for alarm.
The stated public health goal, since the pandemic started in 2020, has been to protect the healthcare systems, in particularly hospitals, from becoming overwhelmed. That goal has been part of the discussion about mask mandates, vaccine requirements, closing schools, social distancing and more.
One way Colorado has sidestepped restarting widespread mask mandates and public closures, as explained by Gov. Jared Polis and state health experts, is by focusing on ways to keep people from becoming so sick. It's included a massive and relentless push to vaccinate everyone from age 2 and up. And Polis has pressed for those sickened with COVID-19, and at risk for hospitalization, to seek out a proven regimen, even offered at mobile sites: monoclonal antibody treatment, similar to how former President Donald Trump was treated for the disease in 2020.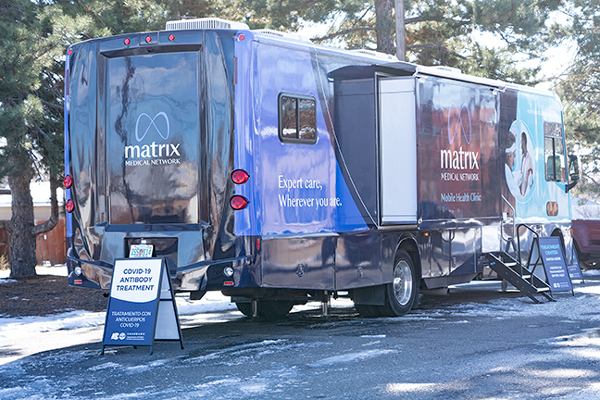 Serving the sick
For those that have contracted the COVID-19 omicron variant the symptoms can still be life-threatening, especially for the unvaccinated. Butting up against hospital capacities has been the biggest threat throughout the pandemic, but with surging cases another challenge threatens the health care system: The two standard drugs they've used to fight infections are unlikely to work against the new strain.
For more than a year monoclonal antibody drugs from Regeneron and Eli Lilly have been the go-to treatments for early COVID-19, thanks to their ability to head off severe disease and keep patients out of the hospital.
State and federal officials have touted the drugs' efficacy, reducing the chance of hospitalization by around 70% or more, according to group studies of people who have used them.
That's changed. Both drug makers recently warned that laboratory testing suggests their therapies will be much less potent against omicron, which contains dozens of mutations that make it harder for antibodies to attack the virus. And while the companies say they can quickly develop new omicron-targeting antibodies, those aren't expected to launch for at least several months.
States across the nation are already running out of available treatments. Texas ran out of the drug late last month and wouldn't receive the drugs from the federal government for at least a week, according to an Associated Press report. In Maryland, providers were directed to conserve the treatment for immunocompromised people and people over 65.
In Colorado, the state health department's data at the end of December showed 1,458 total doses have been given of the antibodies and had about 3,600 treatments in reserve. Those, however, were the two types now deemed ineffective against the omicron variant.
Dr. Adit Ginde, professor of emergency medicine at CU Anschutz, who has been researching monoclonal antibodies, said that the treatment is 70%-80% effective at preventing hospitalization and death from COVID-19 when given early in illness — if the medication can target the variant.
Only one of the three brands of the drug — the least common brand — is proving to be that effective against the omicron variant, federal experts report. Because there are so many specific mutations on the new variant, Ginde explained, two of the drugs (made by Regeneron and Eli Lilly) no longer bind to the spike protein in the virus that enables infection. That may change with future variants of the drug, but for now it makes the infused antibodies ineffective.
"Because an individual is unlikely to know which variant they are infected with at the time they receive treatment, if sotrovimab is not available (the drug that has proven effective against omicron) it would be reasonable for a patient to receive another monoclonal antibody at this time," a Colorado Department of Public Health and Environment spokesperson said last week. "As the situation changes, CDPHE will update health care providers with new recommendations as needed."
That seems to have changed.
"…These treatments will not be allocated in areas with greater than 80% omicron prevalence," CDPHE spokespersons said in a statement to the Sentinel. "As a result, the state's allocation is anticipated to be far lower than in previous months."
It's unclear how the state would determine county-by-county variant levels. Statewide, 95% of positive tests indicate exposure to the omicron variant, according to state data.
Because only one brand of the drug works well, and case rates are skyrocketing due to the omicron variant, some monoclonal antibodies may become increasingly short in supply. Only people who are severely immunocompromised or who are unvaccinated and have multiple conditions that put them at risk for the virus should expect to be able to receive the treatment, Ginde said.
"Those people that chose not to be vaccinated and rely on effective therapeutics like monoclonal antibodies will not be able to rely on their availability for the foreseeable future unless you're in the highest risk categories," he said. "We've always provided the message for best individual and public health, the vaccine-first strategy was really important."
State officials said Colorado received these monoclonal antibody treatments this week:
• 774 doses of sotrovimab
• 740 doses of Bamlanivimab/etesevimab
• 888 doses of REGEN-COV
Late last year, the Polis administration made a significant push to get people to use monoclonal antibodies for treatment as a way to reduce hospital capacity, which was continuing to be strained. Ginde said that at the time, that was a good use of resources.
"At that time in mid-December expanding capacity was critically important and prevented many hospitalizations and saved many lives," he said.
School of hopeful thoughts
With the surge in omicron cases, schools across the country and in Aurora are in a position they hoped they wouldn't have to return to — considering potential returns to online learning.
This time, returns aren't so much due to concerns about the life-threatening nature of the vaccine — all but the very youngest students are eligible to be vaccinated — but worries about what outbreaks will do to staffing capacity that has already been stretched to the breaking point for months.
Before the start of spring semester, both Aurora Public Schools and the Cherry Creek School District sent out messages notifying families that while they are committed to keeping students in the classroom as much as possible, there may be temporary returns to remote learning due to staffing shortages or outbreaks.
"Families should be prepared for possible disruptions to school during the coming weeks, including temporary classroom or whole school closures resulting from staffing and substitute shortages and potential outbreaks of cases in a classroom, grade or school," Cherry Creek Schools Superintendent Chris Smith said in a Sunday message.
Smith cautions that bus transportation and meal services may be disrupted due to staff shortages in both areas. Bus routes may be cancelled or significantly delayed, and students might be served bagged lunches if not enough nutrition staff can prepare hot meals.
The Tri-County Health Department formally extended its mask mandate through January, so all students and staff are still required to wear masks inside school buildings. The message also said that the district will now be following the new CDC quarantine guidelines, which say that people can return to school or work while wearing a mask five days after a positive COVID-19 test if they are asymptomatic or have significantly improved symptoms.
A letter to families from Aurora Public Schools Superintendent Rico Munn asked families to keep kids home if they are sick. Much like Cherry Creek, Munn said APS will have to be flexible as cases rise.
APS is currently sticking with its past guidance regarding quarantines as it waits for more clarity over the next few days regarding if it should use the new CDC guidelines.
"Due to increased community transmission, we need to be prepared to adjust quickly and face potential staffing shortages," Munn said. "With the likelihood of more staff members testing positive for COVID-19 and needing to isolate at home, we may need to transition certain classrooms or schools to remote learning. In addition, we ask for your patience if bus routes are delayed or cancelled. Please know that we are committed to providing as much in-person learning as possible."
The letter asks that students bring their laptops or other technology devices home from school with them every day in case schools need to suddenly transition to remote learning.
Along with schools across the nation, both districts have been struggling this school year with staffing shortages, particularly of bus drivers and substitute teachers, that will make it more difficult for them to operate if a significant number of employees are out with COVID-19.
The concern about employee shortages appeared to bear out on the first day of school for APS on Tuesday, when almost 400 staff members were absent.
At a special board meeting Tuesday evening, district superintendent Rico Munn said that 398 employees were absent, many because they have COVID-19 or are in quarantine. APS has over 5,000 employees in total.
The district was able to maintain in-person learning for all students, but there are several classrooms that will have to be remote on Wednesday, Munn said.
The district meets every afternoon to plan for the next school day. On Monday night there were 180 absences, and by the morning that number had more than doubled, Munn said.
"That's going to be our reality I would say for at least a week and depending on what happens with this variant, it may stretch into longer," he said. "The system is already fully stressed, this is another layer of stress upon that."
Dr. John Douglas, director of the Tri-County Health Department, said that the department has not told schools that they should prepare to shut down or that they should shut down, but he thinks that given the situation the messaging districts are sending out is appropriate.
 The districts have been in contact with schools to advise them on the new CDC guidelines surrounding quarantine.
The guidelines state that after testing positive or developing symptoms of COVID-19, individuals can leave quarantine and return to work after five days if they are asymptomatic or if their symptoms have significantly improved, and should wear a mask around other people for the next five days.
Douglas said he believes it is appropriate for the school districts to follow the new guidelines.
"Every tool we can bring to the plate is important," Douglas said.
That includes vaccination, vaccine boosters, social distancing and adhering to the mask mandate, he said.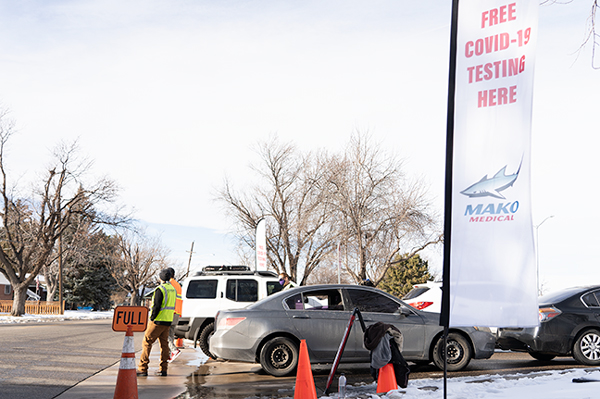 'Terribly contagious'
Currently, one in four people in the region getting tested for COVID-19 are returning with positive tests, which is a record.
Omicron "might be as contagious as measles," Douglas said, "which has sort of been our gold standard for a terribly contagious virus."
Douglas said it's too early to say exactly how severe the omicron variant is, but that it is likely that it is at least slightly less severe than earlier variants. The overwhelming majority of people who are hospitalized with COVID-19 — about 80% — continue to be unvaccinated.
Since July, no unvaccinated people in Colorado under the age of 40 have died of COVID-19.
"We're dealing with a dramatically infectious virus that's spreading like wildfire through the community that may not be making folks as sick as we experienced with the delta variant, particularly if they've been vaccinated," he said. 
The department is seeing a record number of breakthrough cases. At this point in the pandemic, being vaccinated is more likely to protect people from getting seriously ill than from getting infected in the first place, Douglas said.
He said that it is difficult to speculate on how many people could end up getting COVID-19 in 2022, but that with such a highly contagious virus spreading rapidly in the community it is likely that many people will be infected, particularly the unvaccinated.
"Whether or not that means literally everybody's going to get it before it goes away, I think that's hard to say," he said.
One group that is particularly vulnerable due to the new variant is people who live in congregate settings. Making sure that people in nursing homes and other long-term care facilities are fully vaccinated and have boosters is crucially important at this time, Douglas said. Statewide, only about 70% of residents and 30% of staff in residential facilities have received booster shots.
"We've been desperately reaching out to long-term care facilities asking whatever we can do to try to get their rates up, because we all know that's the group that's really been most vulnerable to having bad outcomes," Douglas said.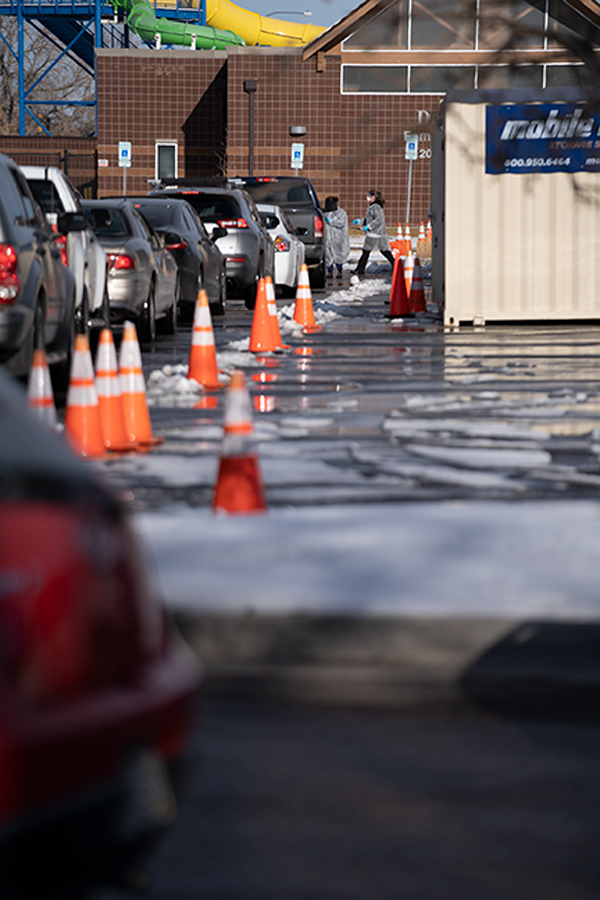 Heavy wait problems
Testing lines have been at levels not seen since the early stages of the pandemic, with hour-long lines of cars at sites across the region, which is leading to slower turnaround times for results.
Douglas said the long lines are mostly due to the increase in people who want to get tested, but that staffing shortages could also play a part. Last week Polis authorized 200 members of the National Guard to assist at testing sites across the state to help boost capacity.
The turnaround time for testing is crucial, as Douglas said that if results are not received within 24 to 48 hours they lose value, particularly for contact tracing purposes.
Ultimately, Tri-County's ability to slow the spread of the virus is "somewhat limited," Douglas said. As has been the case for over a year, getting vaccinated continues to be the most effective way to slow the spread of the pandemic on both an individual and population level.
Currently, 75% of residents 12 and older in the Tri-County region have a complete initial vaccine dose. Roughly another 50% has received a booster.
"Our tools are not a whole lot different than they have been," Douglas said. "They're vaccine vaccine vaccine, masks, avoiding crowded settings, seeking well-ventilated settings: those are the things our messaging would lead to."
The health department voted last fall to impose a universal mask mandate in schools, and in the winter reimposed a general indoor mask mandate along with almost all Denver metro counties. If hospital capacity becomes overwhelmed Douglas said he could see the state health department imposing more public health measures (since turning over almost all public health measures to local control last year hospital capacity is the main metric the state is measuring to determine if that needs to change) but he does not envision Tri-County passing more measures beyond the current mask mandates.
"The weariness and tolerance of the public for public health measures is, after almost two years of this, so thin that even if further measures were put into place we would all have to ask how effective they would be," he said. "I get plenty of questions about 'how effective is your stupid mask mandate anyway?'"
— Managing Editor Kara Mason and the Associated Press contributed to this report
---
*This report has been updated from its Jan. 6 print publishing to reflect new information on monoclonal antibody treatment provided by the state.