ENGLEWOOD | Nobody has more sacks in the last seven seasons than Denver Broncos star Von Miller, who has dumped the quarterback 83 1-2 times since his Rookie of the Year debut in 2011.
Miller's sole sack of Seattle's Russell Wilson, whom he'll face for just the second time Sunday, came in 2014, eight months after the Seahawks throttled the Broncos in the Super Bowl with Miller sidelined by a knee injury.
Neither player seems particularly enthusiastic about facing the other in the season opener at Mile High Stadium.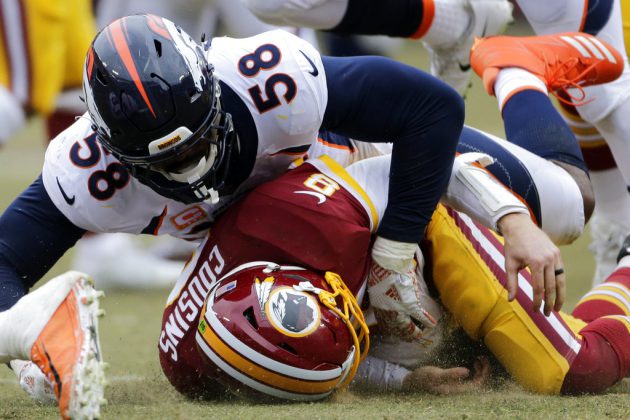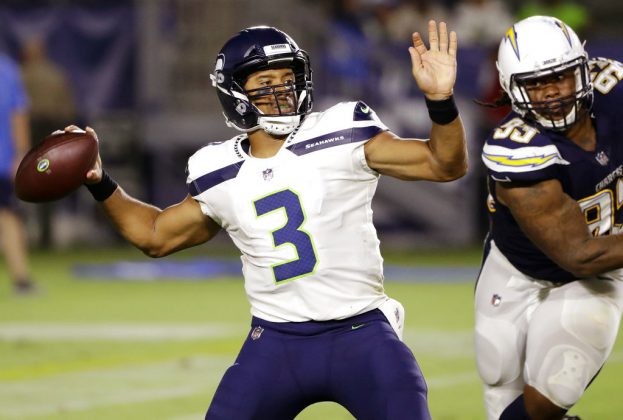 "Russell's elite," Miller said Thursday. "Nobody likes playing Russell Wilson . He's just elite, best of the best. As a pass rusher, you want a guy that when you get to him and you touch him, he'll lay down for you. Russell's the complete opposite.
"He's probably THE most elusive quarterback out there. So, nobody likes that, especially if you're a sack guy."
Miller's been a big fan of Wilson ever since seeing him outshine Matt Flynn in an exhibition game at Denver in Wilson's rookie season.
"I feel like he's been great since his first couple of starts in the preseason, when was that, 2012, when he just went off in the preseason? I think he's been great. He really hasn't looked back since then," Miller said. "He's a great quarterback. He's done everything the right way, one of those guys who you want your kids looking up to. So, Russell Wilson is a great quarterback and I'm looking forward to playing against him.
"Not really."
Wilson is just as effusive in praise of Miller.
"He's one of those guys that's a game changer," Wilson said. "He can make some plays. I think the best thing for us is knowing where he is and playing smart football. When you're playing LeBron James, or you're playing guys like Kobe Bryant or Steph Curry, they're going to make their plays.
"He's one of those guys for sure."
Miller always fancied himself more of a Dirk Nowitzki.
"Yeah, I thought I was Dirk," Miller cracked. "It's great, especially coming from a guy like Russell. I already told you what type of player he is and what he means to the National Football League. So, for him to have those words for me are amazing.
"I still don't look forward to playing against him," Miller stressed. "But it's going to be a great game on Sunday."
Teams have long schemed to keep Miller from destroying their offensive game plans like he did in Super Bowl 50 with a pair of strip sacks of Cam Newton.
They tilt protection his way, chip him with tight ends and otherwise force him to beat double teams most of the time.
The addition of first-round draft pick Bradley Chubb should ease some of that attention .
The fifth overall selection in the NFL draft, Chubb earned a starting spot opposite Miller but the Broncos have the best depth at that position in the league and can also unleash former first-rounder Shane Ray and Shaq Barrett on quarterbacks.
"Von's still going to get chipped, and early on they're going to obviously test Bradley (to see) if he can win one-on-ones away from Von. If he does that, then we'll get more fair protections," Broncos coach Vance Joseph said. "But most teams are still going to turn to Von and chip Von. If they don't, he's going to take over the game.
"But it helps having Chubb opposite and having Ray opposite and even with our NASCAR package having our four pass rushers on the field. That's always a good deal, too. It creates more one-on-ones."
Chubb knows all about Wilson, who started three dozen games at NC State before transferring to Wisconsin.
"I actually got a chance to meet him when I was there at a game, so it was pretty cool," Chubb said. "I didn't watch him in college but now as a professional I see he makes plays with his feet and with his arms. He's a great player."
His interaction with Wilson basically consisted of asking for a selfie.
"It was more of a quick-type conversation. I came downstairs and he was right there and I said, 'Hey, can I get a picture really quick?' Took the picture, then he had to be on his way," Chubb recalled.
He'd love to run into Wilson again Sunday in Seattle's backfield along with Miller.
More AP NFL: https://apnews.com/tag/NFL and https://twitter.com/AP_NFL
Follow Arnie Melendrez Stapleton on Twitter: https://twitter.com/arniestapleton