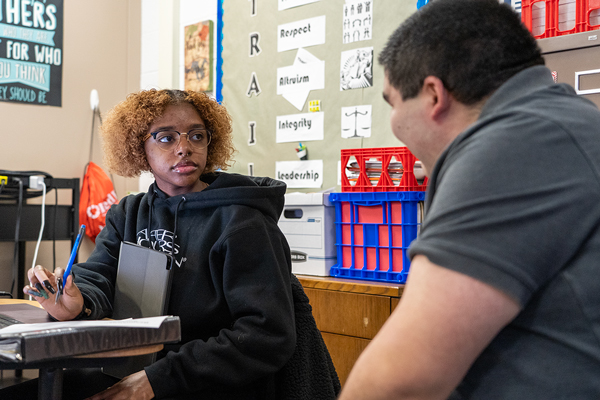 In late January, the 30 students in Overland High School teacher Nathan Umetsu's first-period class arranged themselves in a circle to hold a debate about Reconstruction, the period of U.S. history just after the Civil War.
Despite that it was early in the morning, and the students were all in their second semester of senior year, they eagerly engaged in the teacher's prompt for the debate — had Reconstruction succeeded or failed in its goal of enfranchising newly freed African Americans?
"We're not debating slavery, we're not debating injustice, we're debating whether Reconstruction was a success or a failure," said Umetsu, who asked the students to change seats in the classroom based on whether their views changed throughout the debate and gently prompted a return to the initial question when answers veered further afield.
In many ways, it was a typical day in a high school history class. But it was also part of a nationwide experiment in teaching Black history. The students were in Overland's AP African American Studies class, which is currently in its first year of implementation.
"It's one of my favorite classes to go to," said Gloria Ansah. "It's a great way to start my day, learning about Black history."
Overland is one of 60 schools in the nation — and the only one in Colorado — participating in the pilot program for AP African American Studies. Designed by College Board, the organization responsible for the implementation of all AP curricula and tests, the class has been in development for a decade.
Based on feedback from the pilot program, College Board is making adjustments to the curriculum and plans to roll the course out to more students in the coming school year. But in a political climate where the teaching of ideas about race and injustice has become a culture war flashpoint, the course has come under fire by some on the political right.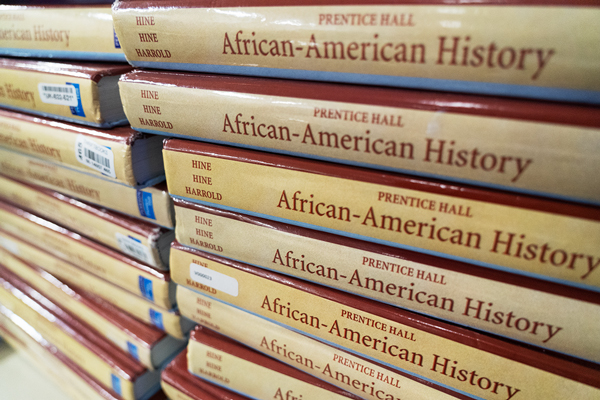 In the Overland community, however, the course has been met with excitement. Students the Sentinel spoke to over the course of several school days in January and February said that the class has taught them things about Black history that they hadn't learned in their other history courses and that they hope it will eventually become available to students across the country.
"I hope that every school can have AP African American Studies, because it's a great opportunity for students to learn about Black history," student Razan Mohamed said.
Senior Isaac Montoya heard about the class last year in his AP U.S. history class, when the school was encouraging interested students to sign up for the new class. Montoya said he's always enjoyed history, and the idea of participating in a brand new course appealed to him.
"I've always been a history buff, but I learn something new in this class every day," he said.
A number of students said they were particularly encouraged to take the class by Umetsu, who is a popular teacher on campus and taught many of the seniors in previous years.
"He makes teaching fun," Montoya said.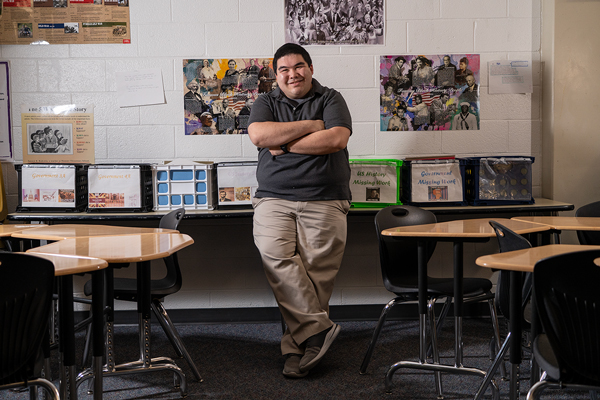 Umetsu has been with the district for 10 years, and this is his third year at Overland, where he teaches U.S. history and government. Umetsu has a master's degree in American history, and said that he jumped when he was offered the opportunity to teach the new African American Studies course. 
"There's not a day that goes by that I regret saying yes to this opportunity," he said.
Umetsu said that students know about the major figures in Black history — Rosa Parks, Martin Luther King Jr., etc. — but many are less familiar with other people he talks about in the class, such as journalist and anti-lynching activist Ida B. Wells-Barnett. He said that students are excited for the opportunity to go deeper into Black history in the course, which has four main units: early African empires, the transatlantic slave trade, Civil War and Reconstruction and post-Reconstruction to the Civil Rights Movement.
The course is described by College Board as interdisciplinary, and along with history also discusses Black people's contributions to the U.S. through the lens of arts, literature and political science.
In the debate about Reconstruction, a number of students drew parallels between the discrimination Black people faced after the Civil War and current events, including the police killing of Tyre Nichols which had happened earlier that month. Umetsu said he tries to make the course relatable to students' lives while still focusing on the source material and not becoming biased towards any one particular interpretation.
"Having your own personal connection is great, but how can you draw from the history?" he said. "It's a balance."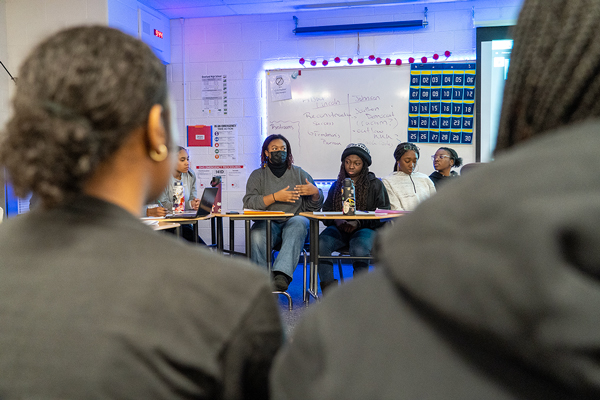 College Board has asked that all students take the AP test in the spring and to complete a five-page paper on a topic related to the class as a final project, Umetsu said. Because it's a pilot, students will be able to take the test for free but will not be able to count a passing grade toward college credit. However, they can use the weighted course to count towards their GPA.
Every three months, Umetsu said College Board solicits feedback from him and all the other teachers in the pilot on how the course is going and ways it could be changed or improved. The pilot will continue next school year with the course being offered in more than 500 schools, according to College Board, and is scheduled to become widely available in the fall of 2024.
Overland was asked to participate in the program because of the demographics of its student body, which is majority Black and Hispanic. According to data provided by the school district, of the 30 students enrolled in the class, 22 are Black and four are Hispanic.
Natassja Campbell was in Umetsu's American history class last year, where he noticed she had a clear affinity for learning about Black history.
"Every time I'd do assignments it was always about Black identity or anything that had to do with my ethnicity," she said. He encouraged her to sign up for AP African American Studies, and she said she appreciates that the class teaches her more about Black history.
"Considering that I am African American, there are certain things I didn't know about my history" before taking the class, she said, noting that at the beginning of the year she hadn't been familiar with noted scholar and activist W.E.B. Du Bois.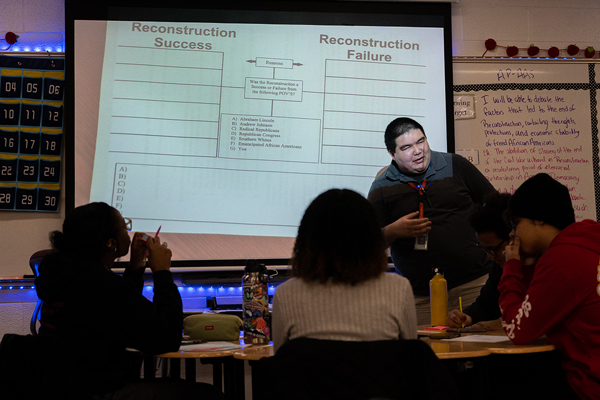 In early February, the students read a section of Du Bois' book "The Souls of Black Folk" in class, where they analyzed it and compared it to other readings from Booker T. Washington, a contemporary of Du Bois' who frequently clashed with him on the best ways for Black people to improve their standing in the nation.
In class, Umetsu talked about how the differences in the two men's backgrounds (Washington was born enslaved, Du Bois was not) may have influenced their outlooks on life. He also guided students through a reading of Paul Lawrence Dunbar's famous poem "We Wear the Mask" and how it related to the concept of double consciousness — an idea first coined by Du Bois about the psychological effects of racism on Black people post-slavery.
Even more so than other history classes, AP African American Studies is focused on primary sources from the time periods it covers because it doesn't have a textbook that students use. Umetsu said he appreciates the focus on primary sources — which were specifically selected by College Board with the help of historians and experts — because it exposes students to numerous points of view and encourages them to think critically.
"This gives multiple points of view, students can come in every day with an open mindset," he said of the primary sources. "It's not just here's what one person is saying, we can look at multiple viewpoints and challenge those."
After analyzing the readings, Umetsu had the students pivot to a more interactive activity, where they each had to research one of the nation's historically Black colleges and universities (HBCUs) and design their own pennant for the school they selected.
Several students in the class said they plan to go to an HBCU after graduation or to pursue a minor in African American studies in college. Taliyah Claiborne said that the class inspired her to apply to Clark Atlanta University, where she hopes to study business. She's also encouraging her younger sister, currently a junior, to take the class.
Claiborne said she felt like the class was important because Black history is "such a big part" of U.S. history. Her U.S. history class went over the basics of Black history "but in this class you're taking a deeper dive into it, you're learning more about what happened behind the scenes rather than just what's on the top layer."
The opportunity to go deeper into facets of Black and African history that don't otherwise get covered is something that students said they valued.
"In my other history classes we talk about (Black history) but we touch on it briefly, and in this class it's every day," Ansah said. "We go more specific in this class, which I appreciate. It's not like we're feeling rushed to get past a unit."
Next year, Umelsu said Overland plans to offer the class again to seniors. In the district community, he said there's been a lot of support for the class.
"We had eighth grade parent night at Overland the other night and there was a round of applause from the parents who were like 'hey, when can we sign our students up?'" he said.
In other places, the reception hasn't been as positive. Last month, Florida governor Ron DeSantis said that the course violated state law and pushes a political agenda on students, and that it "lacks educational value." As governor, DeSantis has worked to restrict the topics that can be taught in the state's public schools, particularly around race and LGBTQ identity.
Officials in Virginia, North Dakota, Arkansas and Mississippi are also currently reviewing the curriculum, according to reporting from the Washington Post.
College Board announced revisions to the course's curriculum shortly after DeSantis' announcement, the timing of which drew suspicion that the changes were politically motivated. In an FAQ College Board sent to school districts shared with the Sentinel, the organization disputes this.
"The updates took nearly a year and were based on two factors: what we gathered from the comments of over 300 professors and returning to principles of AP that have served us well in other courses," the FAQ said. "This course offers an unflinching encounter with the facts and evidence of African American history and culture. No states or districts saw the official framework before its release on February 1, much less provided feedback on it."
In a document shared with the Sentinel, College Board said that the required reading list will now be exclusively focused on primary sources and will no longer include some contemporary scholarship, which had included works by scholars including Henry Louis Gates Jr. and Kimberlé Crenshaw. The document said this was due in part to the cost of copyright permissions and the difficulty of choosing which contemporary scholars to highlight.
"…we began receiving questions from contemporary scholars about why their peers' articles were included but not their own – highlighting for us the chilling effect that a mandated list of contemporary articles would have on the tremendous scope and vitality of scholarship in the discipline today," the document said. "While the inclusion of secondary sources remains a course requirement, teachers are now required to select their own secondary sources, as they do in all other AP courses."
Some new topics are also being added to address gaps in the pilot version, including "more connections to the African Diaspora, such as a comparison to slavery and emancipation in Brazil," "collaborations between African and white Americans during the long civil rights movement" and "the landmark contributions of queer Black Americans like Bayard Rustin and Pauli Murray to the civil rights movement," the document said.
Claiborne said that some of the backlash to the course reminds her of some of the things that they study.
"It just makes me think how some people would rather go back to how it was in the 1960s where we're more segregated than integrated," she said.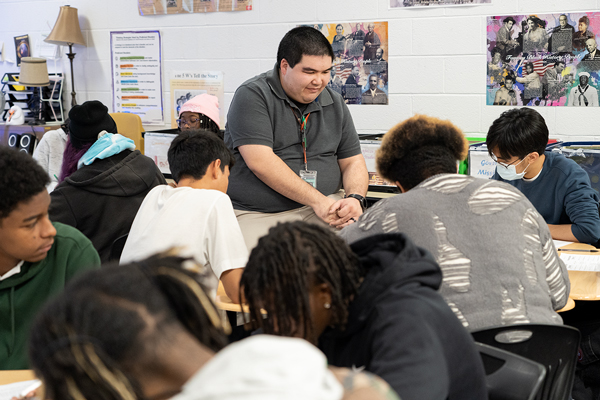 Umetsu emphasized the course's focus on viewpoint diversity and historical sources. He believes that buzzwords like "critical race theory" and "queer studies" that some critics have used to describe the course are designed more to provoke people than to accurately describe what's being taught.
"We don't teach theory at all in the classroom," he said. "We use primary sources, we engage multiple points of view, there is no CRT in here. We're not leaning towards a certain point of view, students have to come in with that open mind ready to go."
In a statement provided to the Sentinel by district spokesperson Lauren Snell, Cherry Creek Schools said that it values its partnership with College Board to provide students with a wide array of AP courses.
"We are proud to be among the first 60 high schools across the country piloting an AP African American course during the 2022-23 school year as it aligns with our core values," the statement said.
Despite the controversy, Umetsu said he hopes that ultimately the course will be widely available to students.
"This is a course that everyone should have the chance and opportunity to take," he said. As an elective it isn't a requirement for students, "but I know a lot of them would jump at the chance to take this course."
At Cherry Creek's February board of education meeting, board member Angela Garland echoed the views of many of Umetsu's students when she spoke about the importance of recognizing Black History Month.
"Remember, Black history is American history," she said.