NEW YORK | For Earth Day, Julian Lennon hopes to lay the foundation for a whole new crop of environmentalists. He just has to wait a decade or two before they bloom.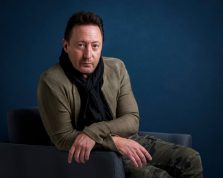 The firstborn son of the late John Lennon is the co-author of "Heal the Earth," the second in his picture book series teaching kids as young as 3 ways to help the planet.
The latest book follows a group of children as they fly across the globe, learning to protect coral reefs and planting gardens in cities and trees in the rainforest.
Lennon says he just wants to start a conversation about the environment.