AURORA | Denver journalist Grant Stringer has joined the Sentinel editorial team as a staff reporter.
Growing up, Grant split his time between Portland, Oregon, and The Hague, The Netherlands, where his father worked in international courts. In the third grade, he wrote a 300-page fiction series about warrior rabbits entitled "The Chronicles of Bunnyna" (which remains unpublished).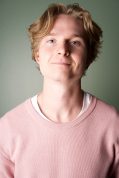 Grant got his start in journalism at the student-run CU Independent in Boulder and later interned at the Boulder Weekly, while writing his thesis in political science on Colorado oil and gas politics.
He then joined the Denver Westword as an editorial fellow and contributor, where he wrote about everything from charter schools, to drilling, to a mailman who was afraid of dogs. Grant also covered Aurora's car-cruising culture, homelessness and housing challenges,
and the longstanding effort to build a world-class racetrack near Watkins.
Grant credits journalism for opening his eyes to the diversity of experiences in this country. He's looking forward to learning more about the ever-evolving city of Aurora.
When not at work with the dedicated Sentinel staff, Grant reads fiction, plays music, hikes 14ers, and enjoys a good local lager.