AURORA | The Aurora City Council dais will no longer be in flux following this week's regular meeting. New at-large council member Johnny Watson is to be sworn in at the beginning of the meeting, and council members will consider an employment contract for city manager pick Jim Twombly.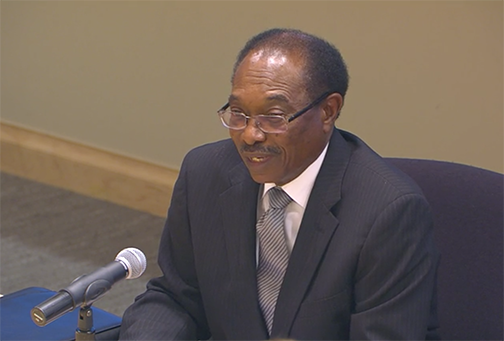 Watson, a former planning and zoning commissioner, was the unlikely pick of the council at the last meeting. He earned more votes than Tom Tobiassen, whose campaign lost a city at-large seat by less than 50 votes last year.
The new council member also served on his metro board in southeast Aurora. He's a Army veteran and held a career in corporate sales for Kodak. 
Twombly was chosen from four candidates for the city manager position, which has been held by Jason Batchelor since Skip Noe retired in October. 
He is a former city manager for Tulsa, which is a little larger than Aurora with just more than 400,000 residents. He served as the manager from 2009 up until January 2017. 
The employment contract, if approved, dictates that Twombly will receive: 
An annual base salary of $235,000 and full benefits.
A monthly vehicle allowance of $435.

 

A monthly cell phone allowance of $110.

 

A monthly internet allowance of $27.

 

Up to $10,000 for moving costs.

 

A four-day house hunting trip with an allowance of $3,000.

 
Council members will also consider putting a question on the November ballot asking voters to allow medical marijuana dispensaries in the city. 
Voters prohibited medical marijuana in 2010, but since city staff say existing marijuana cultivators in the city have requested to allow medical marijuana shops. 
If approved, the city would impose a 4 percent sales tax on the sale of medical marijuana.
— KARA MASON, Staff Writer