SCOTTSDALE, Ariz. | Carlos Gonzalez smiled at the thought of being back with the Colorado Rockies.
Gonzalez spent nine seasons with the Rockies, becoming a three-time All-Star. He left as a free agent after the World Series, then returned to the Rockies in mid-March with a $5 million, one-year contract — a huge cut from his previous deal for $80 million over seven years.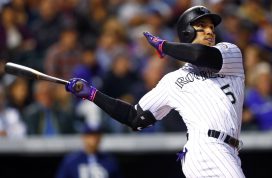 "It was very different than in years past, my first time in free agency," the 32-year-old Venezuelan outfielder said Friday, speaking in Spanish. "There were a lot good players sweating it out, and everyone knows how it all went down, but the most important thing is to be able to get back to playing baseball."
Gonzalez learned some things about the business side of baseball during a free-agent market that was the slowest since the end of the 1994-95 strike.
"Really glad to back here again," Gonzalez said. "Not many players have the opportunity to be with the same team for a decade."
Gonzalez hit .221 with just six home runs and 22 RBIs in the first half of last season but batted .314 with eight home runs and 35 RBIs after the break. He was 2 for 5 with an RBI in the Rockies' NL wild-card game loss to Arizona.
Gonzalez is projected to play right field and hit in the middle of a batting order that includes NL batting champion Charlie Blackmon, former NL batting champion DJ LeMahieu and Nolan Arenado.
"Some of the guys called me during the offseason and told me they missed me," Gonzalez said. "I just try to put up good numbers and try to be a good teammate, and really my main goal is to help those guys become superstars, like Nolan, DJ, Blackmon, (Trevor) Story. These are all guys I have watched grow from the first year they were here."
Gonzalez is beloved in Denver, popular and respected in the Rockies clubhouse. Teammates were outspoken about the void created by his absence at the outset of spring training.
"At the end of the day, the most important thing is that my teammates showed me they care. It definitely makes me feel good," Gonzalez said. "I've spent many years in a place that welcomed me with open arms from the start."
Gonzalez is more than happy to mentor the younger Rockies.
"He's a really good player and veteran, and a good person, too," outfielder Raimel Tapia said in Spanish. "He helps me with defense and batting because he's done it well his whole career. He's always really happy and full of energy, and he tells me I'm going to be good if I work hard."
The mentoring part comes from inspiration from accomplished big leaguers such as Carlos Beltran, from whom Gonzalez sought advice during the free agency period.
"Like they say, 'Pass the baton,'" Gonzalez said.
Rockies manager Bud Black says Gonzalez brings both a competitive and calming influence.
"His presence here makes us a better team, first and foremost, on the field, if he plays like he's very capable of playing," Black said. "He's a guy that connects with all the members of the team, so there's a leadership there that goes beyond what he does on the field."
More AP baseball coverage: https://apnews.com/tag/MLBbaseball