AURORA | Aurora Police Monday identified the man arrested last week for attempting to kidnap an 11-year-old girl in Aurora as 32-year-old Tyler Christensen, a registered sex offender in Arapahoe County.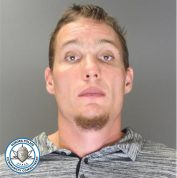 Christensen, who was arrested Friday afternoon, has been charged with two felonies: one for attempted unlawful sexual contact and another for attempted kidnapping. 
The case is now in the hands of the 18th Judicial District Attorney's Office, according to Aurora Police. 
Christensen has an extensive criminal rap sheet, according to records retrieved from the Colorado Bureau of Investigation. Christensen has been charged with about 30 crimes across the state, mostly around Denver and Grand Junction, since 2005, including burglary, misdemeanor assault and felony sexual assault, according to CBI records. 
Christensen was convicted of felony sexual assault and sentenced to five years in prison in 2008. In the ensuing years, he was charged with a litany of parole violations in Mesa and Fremont County.
Christensen's registered address is a home on South Oakland Street near Expo Park, according to the CBI's sex offender registry. That's less than a block from where he tried to kidnap a young girl near her school bus stop near the corner of East Exposition Avenue and Nome Street Thursday evening.
Police said Christensen approached the victim on foot at about 5:15 p.m. Thursday and proceeded to put his hand over her mouth. The girl then screamed and fought back, biting the suspect's right ring finger, according to police. Christensen then let go of the girl and fled the area on foot, running westbound on East Exposition Avenue. The girl proceeded to run to her nearby home and called 911.
Shortly after the crime occurred, a nearby resident provided police with home video surveillance footage of Christensen fleeing the scene on foot.
At the press conference Friday, Aurora Police Chief Nick Metz called the victim "extraordinary" and said she acted appropriately in a traumatic situation.
"If you face a situation like this the best that you can do is fight and fight hard, and scream and scream loud," Metz said. "Those are the kinds of things that definitely … saved this little girl from serious injury or worse."
Police said Christensen did not know the victim prior to the attack.