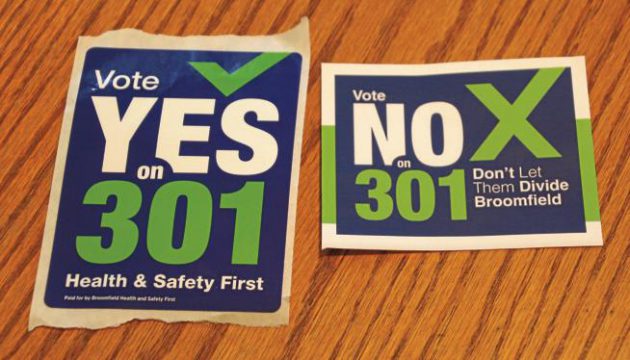 AURORA | Anti-fracking activists claim that a conservative group is posing online as a copycat to sow confusion in a statewide fracking controversy to be decided by voters in November.
Colorado Rising, the group behind anti-fracking initiative Proposition 112, is demanding that an opposing conservative advocacy group  — Colorado Rising Action — change their name. Colorado Rising is in the process of drafting trademark language in an effort to stop what they say is en effort to deceive the public.
A local political consultant said the tactic isn't new, and it's not unlikely.
Colorado Rising's general accusations are "probably true," said Floyd Ciruli, political consultant at Ciruli Associates, and the industry is "probably contributing some confusion."
"This is a well established technique" in Colorado politics, Ciruli said.
Colorado Rising Action is funded by conservative America Rising Squared and established a Denver office in July — months after Colorado Rising was created — to hold "liberal groups and their special interest networks accountable."
That includes Prop. 112, although Colorado Rising Action spokesperson Lindsey Singer said the issue is "a very small part" of their overall mission. Singer said that her group's name stems from the America Rising PAC and has not created any confusion online because their messaging is leagues away from the anti-fracking movement.
"Like I said, the names are an unfortunate coincidence and has nothing to do with the other group," Singer said.
Pro-setback, anti-fracking activists registered their full name, Colorado Rising for Health and Safety, with the Colorado Secretary of State office in January. Since then, the group has garnered about 2,700 likes on Facebook, compared to about 4,700 for Colorado Rising Action, which also has more than four times as many Twitter followers.
Russell Mendell, a spokesperson for Colorado Rising, said he didn't know how many people had accidentally "liked" or followed Colorado Rising Action instead of his group, but Miranda Glasbergen accounts for one mistake. She volunteers for Colorado Rising and shared the opposition's Facebook page, believing it was an affiliate of her group.
"I searched for 'Colorado Rising' in the Facebook search bar, and that's when Colorado Rising Action came up," said Glasbergen.
This isn't the first time Colorado political groups have imitated opposition,  Mendell said.
In January 2013, anti-frackers launched a Facebook group called Protect Our Colorado. In 2014, Colorado oil and gas operators created Protect Colorado to advocate for the industry.
Noble Energy and Anadarko Petroleum, two leading oil and gas operators in the state, created Coloradans for Responsible Energy Development (CRED) the same year. Activists then created Coloradans Resisting Extreme Energy Development, or CREED, in a 2016 attempt to land a 2500-foot setback initiative on the ballot.
CRED did not respond to a request for comment.
Karen Crummy, a spokesperson for pro-industry Protect Colorado, called Colorado Rising's accusations of copycatting "absurd."
"I find that ironic considering they formed CREED after CRED was formed," Crummy said.
Heidi Henkel, a Broomfield activist with Colorado Rising, said there were also similarities in the 2017 campaign for Question 301, the initiative that gave Broomfield more control over oil and gas development in its city limits.
Lawn signs for "No" and "Yes" positions both bore a blue, green and white theme and an almost identical font.
Mendell also cited the Energy Accountability Project, an anonymous website that claimed to verify media and political statements about oil and gas. The Colorado Oil and Gas Association claimed the website after a 9NEWS segment drew attention to the anonymous source of information.
Mendell called these "tactics of confusion."
The oil and gas industry has said, "You can win ugly or lose pretty, and (we) have obviously chosen to win ugly," Mendell said of the oil and gas industry.
Scott Prestige, a spokesperson for COGA, said in a statement that "the Energy Accountability Project is a fact-check site, and it has nothing to do with Colorado Rising's claims of 'dirty politics.' COGA is working hard to inform its members, and to serve as a resource to the general public, about Proposition 112 and the harm it would have on Colorado working families."