Aurora Public Schools is asking Aurorans in the district to approve a tax increase for mental health services and other safety measures in schools, while raising teachers' salaries.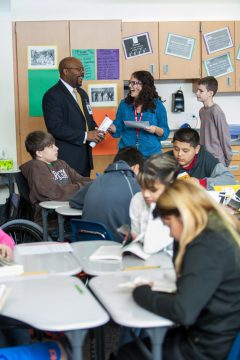 The measure, called 5A, would increase property taxes by about $8 a month for each $100,000 of assessed home value. The homeowner of a $300,000 home would pay an approximate $25 in new property taxes each month.
Most of Aurora is included in the Aurora Public Schools district. About 37,000 students are in APS P-12 schools.
5A would create a fund of $35 million to place mental health professionals like social workers, psychologists and counselors in elementary through high schools. Teachers and staff would also be trained to recognize behavior from students who may be experiencing trauma outside of schools.
Funds would also be spent on adding seat belts on new school buses, which typically do not have seat belts for school children given the size of the buses.
Additionally, teachers would receive a raise of about three percent.
Rico Munn, APS superintendent, said Aurora has to compete with other school districts to attract and keep good teachers, especially as the cost of living increases in the Denver metro.
"Salary structure thinking about what incentivizes people to work here rather than one of our colleague districts," Munn said. "It kind of gets us to that point, and it helps us to stay competitive."
There is no organized opposition to the mill levy increase.
Munn said that students' mental health and wellbeing can be contributing factors to student achievement. He said, for example, that a student with trouble at home or a student seeing increased police presence in their neighborhood will struggle in the classroom.
"A student who can't focus is a student who can't learn," he said. "We think it will certainly impact student achievement."
Munn also said that, currently, teachers often have to devote time to helping students with counseling. 5A would allow teachers to teach by placing trained professionals in schools, he said.
According to Munn, there are currently no counselors in APS elementary schools.
He said 5A is a preventative measure but was inspired in part by the Marjory Stoneman Douglas mass shooting in Florida this year, when 17 were killed.
"National tragedies, Parkland, and other things happened that made people talking about this and aware of this," Munn said, "so our conversation connected to what people were already talking about."