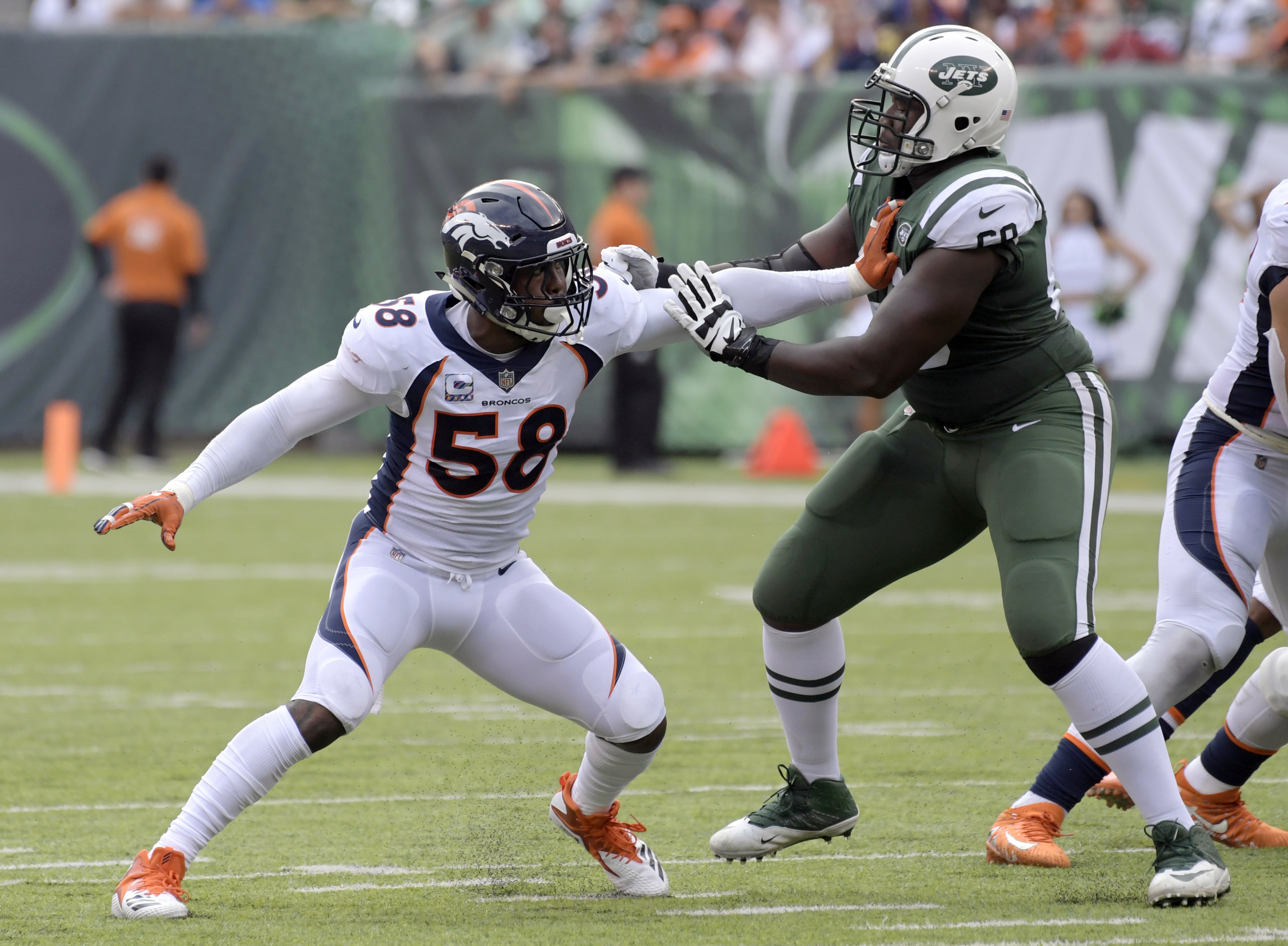 ENGLEWOOD | Von Miller has done the math and believes he has the solution.
He's gone three weeks without a sack and the Denver Broncos have gone three games without a win.
"To win," Miller said Thursday, "I've got to get sacks."
Although he's being chipped or double-teamed on most plays and quarterbacks are getting their passes off lickety-split, Miller acknowledged he hasn't beaten tackles 1-on-1 much, either.
"I've had opportunities to rush the passer, I just haven't been able to get home," Miller said. "It doesn't matter if it's one rep to get there or two reps. That could be two sacks or forced fumbles that I'm not taking advantage of."
So, Miller said, beginning Sunday when the Broncos (2-3) host the Los Angeles Rams (5-0), he's taking it upon himself to stop both quarterback Jared Goff and Denver's skid.
"I've just got to run over my guy, run straight through him, put him on his back and just get a sack," Miller said.
And Miller offered that he hasn't been playing the run all that great, either, accepting the blame for Denver's myriad woes, including allowing an eye-popping 323 yards rushing to the Jets last week.
"I can fix that," Miller said. "I like living in a world where it's me and the problem is me and the quickest way to fix it is me."
Miller insisted he's not shouldering too much of the blame or burden, either, for the Broncos, who have slipped to 7-14 under head coach Vance Joseph.
"Too much what? I've got to get sacks. That's what I do. I've got to get sacks," Miller said.
"I've gotten 87 1/2 of them. I've played games where I got a lot of sacks and I've played games where I didn't get any sacks. I'm going to have a little bit of both going forward. It's just the phase that I'm in right now, and I've been here before. I've gotten out of it before."
Miller was held without a sack for the final month of the 2016 season, which cost him in a one-vote loss to Khalil Mack for NFL Defensive Player of the Year honors a year after he was the MVP of Super Bowl 50.
Miller also went without a sack in the opener last season, extending his sackless streak to a career-long five games before he corralled Dallas' Dak Prescott twice in Week 2.
Getting back on the sack track is "No. 1 on my list," Miller insisted. "It's the only thing I have to do on the football field. It's something that I'm pointing the finger at myself and I'll be able to get it fixed. I've just got to get it turned around quick."
Miller isn't alone in his misery.
The Broncos have managed just five sacks since dumping Seattle quarterback Russell Wilson a half dozen times in the opener last month, three of them by Miller.
Denver boasts an abundance of edge rushers featuring three first-round draft picks in Miller, Shane Ray and rookie Bradley Chubb.
It's a defense that's set up for "getting sacks and getting pressures," Miller said.
"That's how I want it to be. I don't want to be in a defense where we're playing zone all day and it's about the corners. I want the defense to be about us, and it is," Miller said. "I just haven't been doing my job how I'm supposed to do it. And I'm on it. I'm going to get it fixed."
At age 29 and in his eighth NFL season, "I'm in my prime," Miller noted. "I want to take advantage of all the games and all of the opportunities that are out there for me."