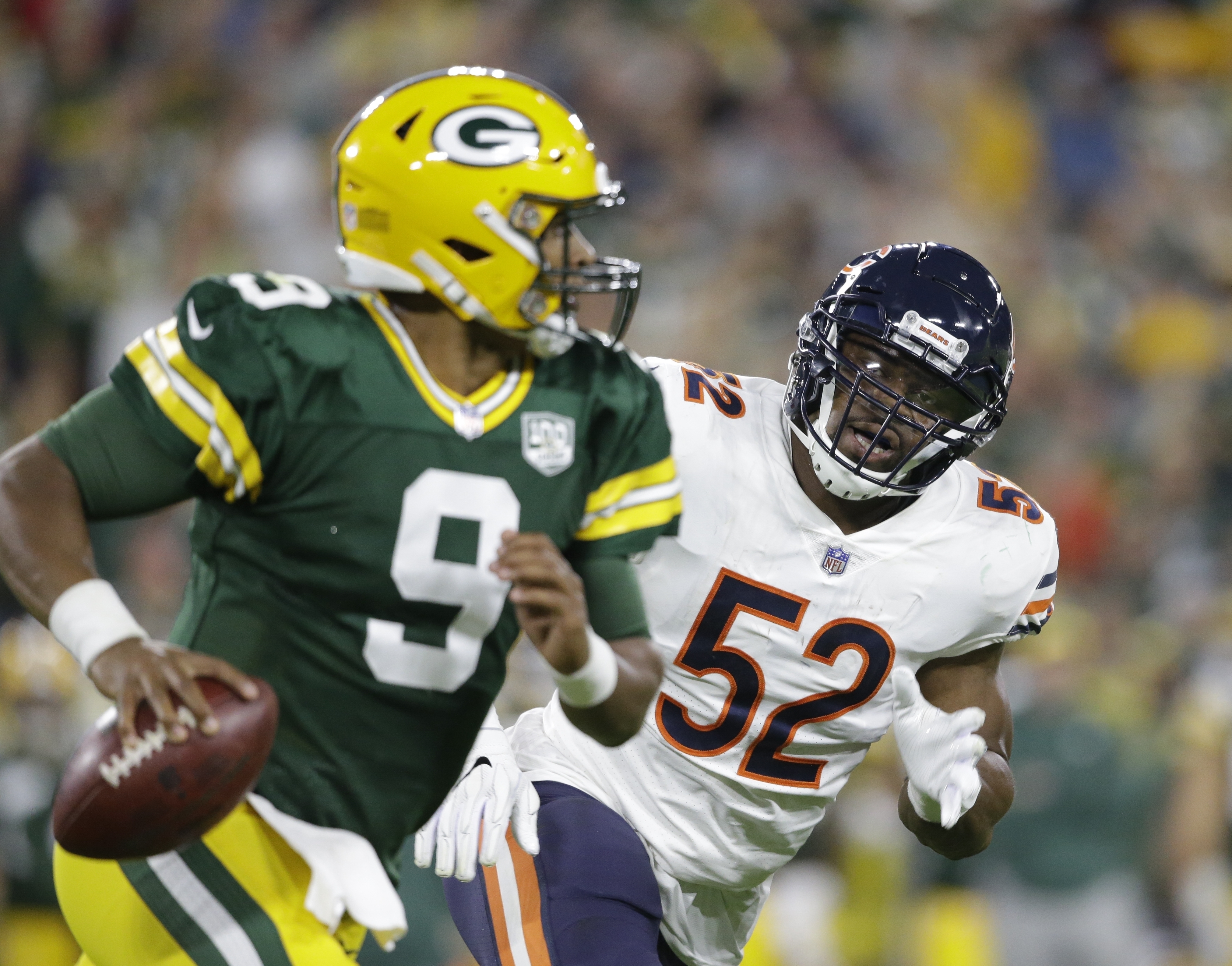 DENVER | Von Miller might be the only one at Denver Broncos headquarters lamenting Khalil Mack's startling trade from the Oakland Raiders to the Chicago Bears.
"I mean, honestly, I was shocked," Miller said. "I always felt like Khalil and Aaron Donald were untradeable guys. J.J. Watt, I thought guys like that were untradeable. Then they traded him. A guy like Khalil, he only comes around once every lifetime. You want to keep guys like that."
The Broncos' star linebacker said it's "going to be a little weird" Sunday not seeing his friend, whom he's trained with the last two summers, when the Raiders (0-1) visit Denver (1-0), where Mack once collected five sacks in a single half.
"He's talented," Broncos QB Case Keenum said, "but I'm pretty sure they're going to play 11 guys. They're not just going to put 10 out there without him."
Raiders new/old coach Jon Gruden said he's been asked aplenty about the trade that sent shockwaves through the NFL and smiles across locker rooms across the AFC West.
"And rightfully so," Gruden said. "He's a great guy. He's a great player. It's unfortunate we don't have him. But we feel we did the right thing for this football team, for the future of the Raiders and for this building process.
"I know we've got to prove it. But so does he."
Mack began doing just that Sunday night at Green Bay , fresh off signing a six-year, $141 million contract, $26.5 million more than Miller got in 2016 in the shadows of his Super Bowl 50 MVP performance.
Hours after Miller wrecked Seattle's game plan by sacking Russell Wilson three times and snaring the ball out of power back Chris Carson's arms for a forced fumble and fumble recovery, Mack burst into the NFC North conversation with a pick-6 and a strip sack of backup QB DeShone Kizer in which he, too, snatched the ball from his opponent.
Whereas Miller's showing led to a 27-24 Denver victory, Mack's dominant debut was rendered a footnote when Aaron Rodgers returned from a knee injury at halftime to lead the Packers back from a 20-point deficit for a 24-23 win.
One night later, the Raiders lost 33-13 to the Rams, barely touching quarterback Jared Goff just over a week after trading their star pass rusher to the Bears for a package that included two first-round picks. Bruce Irvin had the only sack when Goff held the ball too long.
Mack is still on the Raiders' minds.
Quarterback Derek Carr said he misses his friendship more than his play on the field.
"We still text, and we still talk all the time, but not seeing him every day is weird," Carr said. "I think that was the hardest part."
Other subplots as the Broncos seek their sixth straight 2-0 start:
KING STING
Broncos punter Marquette King didn't want to talk about Gruden this week, but he made it clear he had hard feelings over his release from the Raiders this spring.
He said he never had a chance to speak with Oakland's coach before getting jettisoned.
"I just saw him on car commercials and stuff," King said. "I get to see him two times a year."
And that was certainly a factor in King's decision to come to Denver.
"I just wanted to find the best place that I thought I would fit," King said. "I think there is somewhat of a revenge factor in there, too."
BRYANT BACK
Broncos coach Vance Joseph said Martavis Bryant's re-signing with Oakland only adds to Denver's already stiff challenge Sunday.
"Absolutely. He's a guy that's a vertical threat. I faced him in Cincinnati when he was in Pittsburgh for six games. He caught a 98-yard touchdown on my secondary, so I won't ever forget that," Joseph said.
PRESSURE POINT
After trading Mack, there were questions about how the Raiders would generate a pass rush. The results weren't good in the opener as Oakland had one sack and four quarterback pressures against the Rams.
The Raiders had more pressures in every game last year with Mack leading the defense.
Gruden said playing better defense on first and second down will give Bruce Irvin and Arden Key more chances to get to the QB on third down.
"You have to get them on third-and-long when you can cut loose your blitzes and some of your great rushers," he said.
HOUSE OF HORRORS
Gruden has had little success in Denver in his career, losing all five trips to the Mile High City. Gruden lost every year with Oakland from 1998-2001, and again with Tampa Bay in his final year as a coach there in 2008.
In all, Gruden's teams are 1-9 against the Broncos, with the one win coming in Oakland in 2001. The Raiders won 38-28 on Nov. 5, 2001, behind three TD passes by Rich Gannon.
He has fond memories of that lone victory over Denver.
"That was the greatest win of my career as the Raiders coach, beating the Broncos," Gruden said, "because I knew how far we'd come in just a few years."