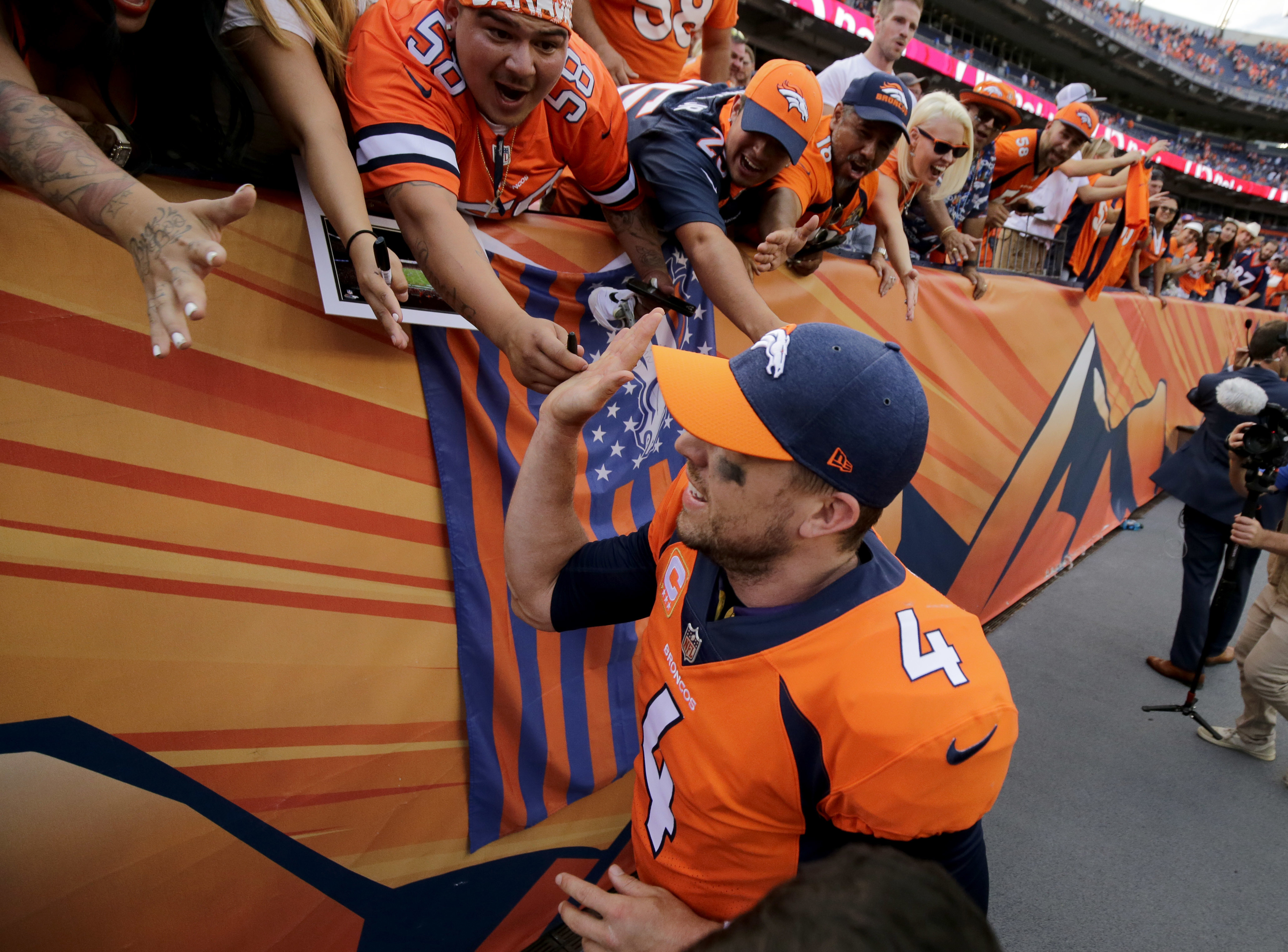 DENVER | Brandon McManus kicked a 36-yard field goal just inside the right upright with six seconds left, pushing the Denver Broncos to a 20-19 win over the hard-luck Oakland Raiders and denying Jon Gruden his first win as a head coach since 2008.
With no timeouts and 18 seconds left, Case Keenum hit Tim Patrick for a 26-yard gain to the Oakland 18. Cornerbacks Gareon Conley and Leon Hall couldn't tackle him inbounds and McManus came on to give the Broncos (2-0) their first lead.
The Raiders (0-2) lost despite a stellar outing by Derek Carr, who completed 29 of 32 passes for 288 yards and a score four days after Gruden called him out for passing up throws to Amari Cooper in Oakland's opener.
Cooper caught 10 passes for 116 yards Sunday.
"I don't think Derek threw an incompletion today," Keenum marveled. "I never saw the ball hit the ground when he was out there. That's unbelievable to play quarterback like that. But we just kept fighting. We've got a lot of fighters in that locker room."
The Broncos trailed 19-7 late in the third quarter before McManus hit a 39-yarder and Keenum scored on a 1-yard keeper on fourth down with 5:58 left.
Denver's defense held and the Broncos got the ball back at their 20 with 1:58 left. A holding call pushed them back 10 yards but Keenum hit Emmanuel Sanders for 21 yards and Jake Butt for 14.
On second-and-10 from the Raiders 44 with 18 seconds left, Keenum found Patrick, who turned upfield but finally raced out of bounds on the Oakland sideline, setting up McManus' game-winner.
"It's a tough loss," Gruden said after falling to 1-10 against Denver. "Really proud of our team. We had opportunities I think to come out of here with a win. I credit Denver."
The Raiders took a 12-0 lead at halftime after holding the Broncos to just two first downs. The Broncos blew two golden opportunities. One came when linebacker Todd Davis was called for holding, negating a strip sack by Von Miller and Domata Peko's fumble recovery at the Oakland 20 in the first quarter.
Denver's initial first down came when Phillip Lindsay burst through the line for a 53-yard gain, but Keenum's pass to Butt was intercepted by Rashaan Melvin at the Raiders 1.
The Raiders had to settle for field goals twice after Miller blew up plays.
First, he sliced through the line to dump Marshawn Lynch for a 4-yard loss from the Denver 4, and then he sacked Carr on third-and-3 from the Broncos 21. Mike Nugent's field goals of 26 and 46 yards gave Oakland a 6-0 lead.
The Raiders made it 12-0 on Lynch's 1-yard dive late in the second quarter but Shaq Barrett blocked the extra point.
"Who knew that would be huge?" Keenum asked.
"I'm mad as hell about that play," Raiders right tackle Donald Penn said. "But even without that play, we should have closed out that game. We had many opportunities to. We've got to find ways to get better. That's what makes good teams and mediocre teams. And right now, we're a mediocre team because we haven't found a way to close out games."
Denver's defense was on the field for more than 20 minutes in the first half of the hottest home game in team history. It was 92 degrees at kickoff, leading to thousands of empty seats as fans stayed on the concourses for much of the first half, watching the action on televisions.
While Keenum only had five completions for 38 yards before halftime, Carr had 158 yards on 18-of-19 passing.
HOT TAKE
The kickoff temperature of 92 degrees bested the old mark of 91 degrees on Sept. 19, 2010, against Seattle. To accommodate fans, the Broncos set up several hydration stations throughout the parking lots and encouraged fans to drink lots of water.
INJURIES
Broncos new right tackle Jared Veldheer left with a concussion in the second half.
UP NEXT
Oakland: The Raiders visit the Miami Dolphins on Sunday.
Denver: The Broncos hit the road for the first time, traveling to Baltimore to face the Ravens on Sunday before a showdown with Kansas City at home.